20 Magnificent Rustic Christmas Decorations And Wreath Ideas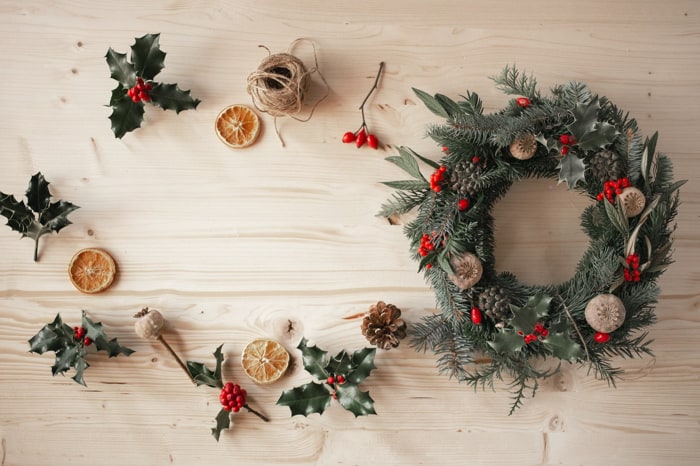 Christmas is around the corner again! And if you want to go for the rustic Christmas look this year, we've got ideas for you!
Rustic Christmas decorations go well with any home interior and fit in a small home too! You can even get some of these materials from the dollar store! Or in your backyard!
Enjoy these rustic Christmas decors ideas for your home that will get you in the mood for Christmas!
1. Simple
Keep your Christmas decor minimal with heavy use of natural materials. The following decorating ideas can be placed in your home for a farmhouse, cottage interior!
Firstly, instead of placing wreaths at the door, you can use a long branch at the window and tie wreaths to them for an easy window display!
Draping a garland around picture frames or a vintage-looking poster (like the one below) works well for minimal and rustic Christmas decor too!
You can also hang mistletoe from archways and door frames with a plain ribbon or twine!
Garlands on the shelf, cupboard, mantel, etc. with some candles scattered around them make the place look elegant! With minimal effort!
Adding a small Christmas tree, wound with fairy lights gives a bucolic appearance! You don't have to add ornaments to the tree either!
2. Owls
We love how season-appropriate these adorable owl ornaments are! Perfect for cottage-inspired Christmas decor!
Or rather, for any home interior – farmhouse, modern, traditional, etc!
Tip: Consider scattering them in groups in your Christmas tree, with larger sizes on the bottom and smaller-sized owls at the top!
Besides that, you can decorate willow wreaths with them as well! And place the wreathe at your front door where the owl can greet your guests!
3. Chalkboard
Chalkboards are great timeless Christmas decors that bring in a rustic element to your home! Especially if they have a wooden border.
Write out a greeting or a line from your favorite Christmas song, or draw out an advent calendar!
Put them on a shelf or mantle with other Christmas-themed items such as candles, tinsel, statues, pinecones, or even candies to make them more interesting!
Instead of writing, you can just hang a garland over the chalkboard too! Adding some ornaments such as Christmas socks, candy canes, ribbons, etc. help amplify the Christmas spirit!
The chalkboards you get do not have to be large, you can put small chalkboards anywhere and not worry about having space for them!
4. Bells
Another traditional yet popular Christmas decor is bells! The key here is to find antique bells made of galvanized steel for a rustic charm!
To prevent them from looking too plain, add some natural elements by tying them together with leaves, flowers, pine cones, berries, branches, thick ropes, etc.
Consider hanging them at your front door together with a wreath or near your balcony for some cottage vibes! They look especially good against textured or colored backgrounds.
Note: Do make sure to hang larger bells against something solid that can withstand their weight as they can be quite heavy!
5. Red
Nothing looks boring with the color red!
Since red is such a striking color that draws attention easily, keep the red decor to 1 or 2 key pieces in your home.
Like this red wagon filled with Christmas-themed items on your front porch to bring some vintage vibes and make it look rustic-worthy!
Or just hang up some simple red ornaments on your Christmas tree! They go well with golden ribbons too!
6. Aged Wood
Earthy elements are necessary for rustic Christmas decor.
Look out for crates, boxes, or trays with an aged or stained wood texture. A couple of these will naturally bring farmhouse vibes to your home and add warmth too!
Again, you can fill them with some Christmassy items such as candles, pine cones, angel statues, candy canes, Christmas dolls, etc.
Place them on the dining table or anywhere you desire!
Even old wooden chairs will serve as a base for other Christmas decor on display for a classic and rustic appearance!
7. Pinecones
Pinecones are an easy fix for more rustic-looking Christmas decor! Use them for the dining table as part of the centerpiece:
Either by scattering them on the table or placing them in a wooden tray/bowl for sylvan charm!!
They can look very classy in a modern setting too! And when you pair them with candles!
For something more refreshing, add some fresh greenery (e.g., leaves, small indoor plants, berries, etc).
8. Antiques
Antiques are another must-have for a rustic Christmas interior! You can include them both indoors and outdoors!
For instance, an old-fashioned picture frame, a sled, an antique rocking chair, candle stands, stuffed animals, signs, flower baskets, or even a mirror!
Add ribbon, tinsel, bead chains, a burlap, or tartan cloth if you want!
Placing some candle stands with a retro-style mirror gives this space a Parisian look! Notice the use of an antique marshmallow tin for the Christmas tree too!
Antiques are lined up on a high ceiling shelf in this photo. There is an antique gold photo frame on the left too.
9. Traditional Tartan
In addition to bringing something more traditional, you can add tartans as part of your rustic Christmas décor too! Just a hint of tartan is enough to give a festive touch!
Tartans ribbons go well with wreaths and Christmas trees too:
You can place tartan blankets in your bedroom and they appear extra cozy!
Or you may add tartan table runners and napkins to your tablescape! Do add some greenery to look merrier!
10. Rustic Glamour
Along with a neutral palette of pinecones and homemade ornaments:
Ornaments or ribbons in metallic colors (e.g., gold and silver) are excellent eye-catchers on a Christmas tree and an effortless way to add a sense of luxury to a rustic interior.
This tree looks exquisite and stylish even with little color:
Instead of draping the Christmas tree with ribbons or tinsel, you can always consider tying them to the individual ornaments!
Notice the twigs dipped in gold too!
Brown and brass is another great color combination besides gold and neutrals:
You don't have to limit this style to just the Christmas tree:
Here's a mantle dressed up in gold and leaves!
Silver on white has a wintry effect:
11. Berries
Get a bunch of red berries (or Poinsettias )and sprinkle them around your rustic Christmas decorations (e.g., Christmas tree, wreaths, and garlands)!
The rich red of the berries add color to faded browns and greens:
12. Muted Colors
Some might say it's drab but we think there's elegance in simplicity. And colors are no exception!
Christmas decor in neutral shades is very rustic-worthy too!
They also go well with natural textures such as rattans, wood, etc.
Cut out the green and add a little gold for a luxe feel:
13. Leafy
Skip the ornaments and use an abundance of foliage! Which also complements the innate texture of wood, burlap, rattan, etc.
Another wreath variation that's more wild:
They look luxurious with some candles too!
You can even drape the chandeliers with branches for a graceful appearance!
Leafy garlands look great on banisters! To make them extra exuberant, you can hang socks, candy canes, ornaments, or ribbons!
Try decorating your mantle with them as well for a delicate touch!
14. Baking Inspiration
It might be surprising but, if you have baking items at home, you can turn them into rustic Christmas decor as well!
Get some wooden spatulas, gingerbread men, cinnamon sticks, cookie cutters, etc and simply incorporate them into wreaths! They make your home appear more inviting!
Cookie cutters can make the perfect ornaments! They can be tied into garlands, hung on the Christmas tree, near the windows, etc. using just ribbons!
Or you can bake salt dough cookies for ornaments!
15. Creams And Off Whites
Other than that, creams, beige, ivory, and off whites are inoffensive colors that can be incorporated into any interior style to make any space extra solacing!
Choose cushion/ pillow covers, throws, Christmas tree ornaments, rugs in these colors to give a soft charm and rustic energy to your home!
16. Rustic Blues
For something more unexpected, use a bit of blue to decorate the Christmas tree or wreath with blue ornaments, ribbons, lights, etc.
This wreath looks rustic and breezy with some blue in it too!
To keep this rustic, consider duller hues of blue:
Or have natural textures and materials (e.g., hemp, burlap, wood, etc) accompany them!
In this inspiration picture, blue baubles and plaid are used to dress up this tree. Together with pinecones or pale green, brown, or burgundy baubles!
Another wreath variation with blue berries instead of red ones:
18. French Country
If you love French country-style anything, then you'll be glad to know that it works for rustic Christmas decor too!
A dash of soft dusty pink, ornate white objects and gold objects are important for this look!
You might not happen to have a fancy mantle, plaster ceilings or wainscoting on your walls:
But you can always change up other things in your home!
For example, this bedroom has textured white bedding, among another things like the antique metal bed, plush white knit socks with pink ribbons.
Yes, antiques help complete the French country style too!
See what you can find in your local thrift shop, look for objects with elaborate carvings. And spray paint them white!
Lace and pearls are another way to mix French elegance with otherwise plain Christmas decorations.
19. Amber Glass
Another unique way to spice up rustic Christmas decor are amber glass bottles! You can place them on the dining table, mantle, or shelf!
Use an amber bottle as a vase, and if you can find larger jars, fill them up with fairy lights, pinecones, or Christmas ornaments. Or just leave them empty!
20. No Tree Skirts
Are tree skirts needed? No, you can make the Christmas tree ravishing even without them! And this is a chance to add more wood textures to your overall Christmas decor!
Just replace tree skirts with a wooden crate for a country style look! A must for a farmhouse- interior!
Or you can even use rattan baskets! As they go well with most home interiors!
Use a burlap sack. Or wrap the bottom of the tree with some hemp, canvas, or jute cloth for a simple finish that's very rustic!
Conclusion
Take this post of creative rustic Christmas decoration (and wreaths) ideas to decorate your home for this most wonderful time of the year!
Some of them don't require too much time, and if you're really running short on time, go for a simple Christmas décor theme!
Related Articles