20 Modern Bedroom Decorating Ideas For Men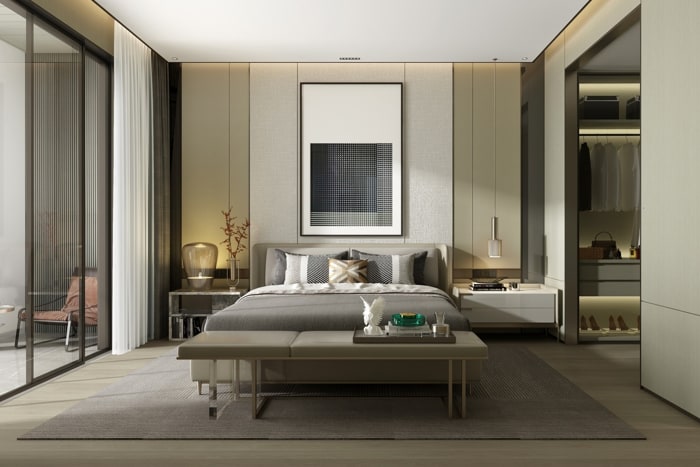 The conventional men's bedroom conveys maturity and independence. Therefore, the interior of a men's bedroom is quite different from how we normally perceive a female or child's bedroom.
Here are 20 different modern masculine bedroom decorating ideas that might inspire you! We made sure to include some that are budget-friendly too. So, fret not!
Along with some modern bedroom looks worthy of a 5-star hotel that will surely intrigue you!
1. Soft Grays
Other than black and dark blue, soft grays are a great color for a masculine bedroom!
You can incorporate them into different elements of the bedroom such as linens, curtains, blankets, walls, accessories, etc.
To avoid the bedroom space from appearing dull, try different hues of gray in warm tones tending towards pink or brown (like in the bedroom below).
Keeping darker grays to a minimum makes the space appear more spacious.
2. Scandinavian Inspiration
A Scandinavian-styled bedroom is a popular interior style that can look masculine too. The color palette does not stray far from black or white. That includes the bedding.
Introduce natural textures with wooden furniture with simple profiles- bed frames, cupboards, shelves, etc. They suit both dark and light-colored walls too!
To make the bedroom more modern, you can add dual pendant lights of any type or hang artwork over the headboard:
You can get a similar effect with landscape wallpaper too!
3. Warm Neutrals
Neutral colors such as brown will always be a top choice for many mainly due to the warm effects they bring!
To keep things interesting, mix and match different shades of brown (lighter, darker, creamy, etc.) for different components in the bedroom:
Such as furniture, blankets, bed frames, wall, floor, rugs, etc.
Notice how subtly different the color hues are in this bedroom. There is no particular color that overpowers the other colors:
Warm neutrals stand out with plain white walls too. The key is to have a good source of natural lighting!
This bedroom appears light and airy:
Even for a minimally styled bedroom, warm toned neutrals for the bedding really make the room so much more inviting!
4. Concrete Walls
Concrete walls are not just for industrial spaces, they work well in the contemporary-style bedroom as well!
And they give off masculine vibes too due to their dull tones!
In this bedroom, they complement darker accents of black and dark gray as seen in the photo below where they are incorporated into the rugs, blankets, and chandelier:
Alternatively, wood and cement make an excellent pairing in this bedroom. And together with a natural light source, they give a refreshing atmosphere!
The rough-looking texture of concrete goes well with modern decor and sleek furniture too (desk, lamps, paintings, armchair, flat-screen tv, etc):
5. Exposed Brick Walls
Brick walls are versatile and suit any bedroom interior (modern, Scandinavian, coastal, etc.) They command attention in a room and the rough texture simply expresses masculinity!
Do take note of how each of these bedrooms have an abundance of natural light sources to prevents the walls from looking dull.
A wooden floor perfectly balances a brick wall:
You can consider hanging up picture frames, placing potted plants, etc. to create an effortlessly stylish setting:
Brick walls don't have to be in the usual red or brown tones either. Gray works too!
6. Accent Walls
Other than exposed brick walls:
If you feel that your bedroom is too plain, accents walls are a great choice to add texture for a masculine bedroom.
With the right lighting set up (e.g., LED lights and bedside lamps), they easily focus the eye on the bed.
And another option would be wooden panel walls. In shades of brown or gray.
Add potted plants similar to this bedroom for some natural vibes!
7. Modern Silhouettes
Different shades of cool gray are seen all over this bedroom – the large padding behind the bed, the geometric chandelier, bed linens, carpets, and curtains.
Instead of clashing with each other, they enhance the appearance of the bedroom with a tinge of elegance. Without requiring many prints or textures.
Just choose fittings and furniture that have a distinct shape to them for a modern appeal.
White walls, ample day light from the window, and lamps prevent the bedroom from appearing gloomy and dark.
8. Wall Niche
Looking for something unique that can be put to good use? Then you should consider wall niches.
They are best placed above the headboard for an ultra-modern vibe!
And they easily become a focal point too! Just by adding some well-placed items to it! (e.g., souvenirs, crystals, teddy bears, etc.)
If you have limited space in your bedroom, a wall niche is a smart choice to fit in a portion of the bed surrounded by built-in cupboards for neat storage (as seen in these bedrooms):
9. Minimal
For a minimal style bedroom, you can get away with bare white walls. Taking care with the use of color.
Observe the limited color palette usage in these bedrooms:
If, however, you do feel the need to make the bedroom more attractive, do consider adding pops of colors such as black, orange, and brown to the pillowcases, blankets, etc.
If the walls are too plain for your liking, a few picture frames or bedside lamps/pendant lights work brilliantly too!
10. The Artist
This bedroom has a variety of accents and textures. It looks sophisticated with the white walls and white bedding.
There is nothing to distract the eye from the wall behind the bed. And if you notice, the colors within the room all relate back to the wall mural.
The furniture is an eclectic mix of modern and mid-century pieces.
For this bedroom, the use of bright yellow is complemented with mustard and forest green. There's no missing that stylish chandelier at the bedside either!
It literally points down to the greenery in the room too.
Placing a mirror at the bedside might seem odd but that is one way to dress up a plain wall and to make a bedroom appear extra modish:
11. Dark Walls
Black walls are usually preferred for a masculine bedroom for the dramatic but cool aura they exude.
Do take note that good lighting is required to ensure the bedroom is vibrant and not too dark!
Dark colors suit textured and non-textured walls too!
The atmosphere of this simple bedroom is enlivened with an elegant globe chandelier, expansive glass divider, white satin curtains, and a carpet within the same color palette!
Wooden furniture blends in with dark walls too:
As for this bedroom, the dark palette is made cozy effortlessly by the white sateen bedding, dual chandeliers, and plush cream carpet: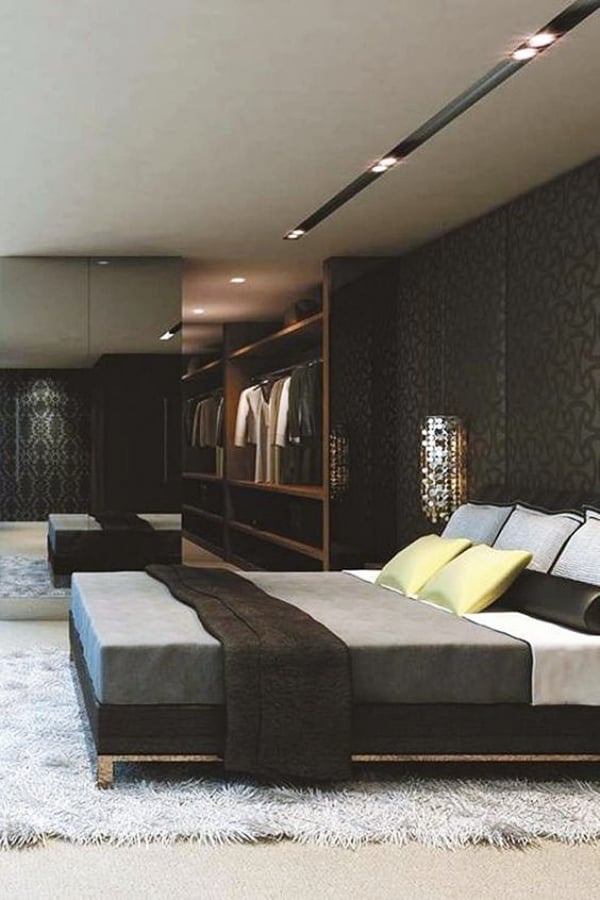 12. No Frills
Frills or no-frills? Frills tend to make the bedroom old-fashioned.
Therefore, for a modern bedroom, you should definitely try no frills. The lack of frills is suitable for a more formal or masculine environment too!
Even with some colonial-style wooden furniture, you can get a balance between a rustic charm and modernity!
13. Suede
Suede divans and bed frames are an ideal and easy way to achieve a cool contemporary approach.
Earth tones paired with white sheets are agreeable. Plain rather than patterned bedding brings out the texture of the bedframe as well!
This bedroom still looks complete despite the plain white walls as there are attractive Herringbone floorboards, and an intriguing glass pendant light, along with the bed!
14. Warm Browns
Other than the gray and black bedroom interiors that are prominent in this list of modern bedrooms, chocolate brown is an amazing color choice too for a masculine bedroom.
Try them all over – the walls, pillowcases, sheets, blankets, bed frame, etc. or just selectively. As seen in the following bedrooms:
In the mix of browns, you can insert gray, white or black accents to further enhance those brown tones!
15. Wood Tones
Even though wood relates some rustic elements to a bedroom interior, you can balance it out with furniture of contemporary design.
Soft gray bedding set, the uniform wall gallery behind the bed, and a restricted color palette all add poise to the wooden tones of the bed frame, floor, and dresser.
Wood tones don't necessarily have to be in the exact shade as long as they're in similar warm tones, including the floorboards!
PS: Platform styled bed frames that have built-in side tables are very trendy and elegant:
And in this inspiration photo, the light from the contemporary lamps at either side of the bed highlight the edges of the furniture, and pictures above the bed.
Wood tones do go well with a white interior to give a refreshing atmosphere:
16. Cool Tone Browns
Ashy dark brown makes this modern bedroom look very luxurious. Together with the thick carpet and large bed.
We love how the accented wall at the head of the bed adds texture without being over the top. There are no bright colors or striking patterns competing for attention as well.
Note: Most of the furniture in this room are not very high, which makes the overall room look more spacious. Along with the huge windows.
This dark chocolate slat accent wall together with built-in LEDs highlights completes this modern bedroom decked in various hues of cool-toned browns.
17. Blues
Faded blues are always welcome for any bedroom space. The color just feels very relaxing and with this color, you just need to paint the walls or change up the bedding!
Muted brown shades and light wood tones complement soft blues. Notice how they blend in perfectly with the wooden plank floorings:
Throw in some indoor plants and a simple chandelier, and the environment becomes extra soothing:
18. Accent Ceilings
The notable feature in this bedroom is the painted ceiling together with white walls.
This union (as well as the green headboard of the bed) makes the bedroom appear smooth, modern, and more spacious too!
Not forgetting that fashionable ceiling fan!
To keep this bedroom looking as masculine as possible, the bedding is relatively simple. With neutral colors like gray, brown, and black(masculine colors).
19. Industrial Lights
Industrial lights are matched together with dark-colored walls to give the bedroom a dark, mysterious vibe that suggests masculinity.
To make the bedroom less dreary, switch out the dark bedding for light neutrals instead. And instead of a black industrial wire pendant light, you can go for something unexpected – like red!
Alternatively, you can hang more than one industrial light of assorted shapes and lengths:
20. Wall Murals
Wall murals can transform a bland bedroom (regardless of size) into something artsier.
Just be sure that the headboard doesn't block the salient features of the mural from sight!
Having the other walls plain and putting up a single pendant light keeps the focus on the wall mural too.
If you're not sure what mural design you want, a world map looks very urban and polished:
Conclusion
Refer back to this post for ideas that can be invested into a modern masculine bedroom! Don't be afraid to mix different styles if you wish!
Use your own creativity (and what you already have) to spice up your bedroom interior. There's no rush to fully decorate your bedroom in one shot either!