20 Brilliant Corner Shelf Ideas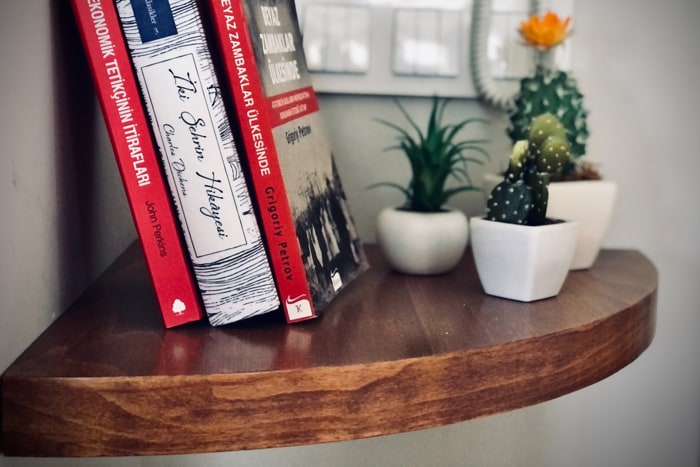 A corner shelf is great if you have a small home. Corner shelves are simple to install and may be used around your home to store all of your favorite collectibles while also enhancing your living space!
With a few simple tools and a little imagination, you can make use of all of your home's empty corner wall spaces. In a variety of rooms, such as your living room, dining room, or bedroom.
Corner shelves include floating shelves, corner bookshelves, glass shelves, and L-shaped shelves, to mention a few. Let's have a look at a few examples!
1. Accordion
These types of shelves have a sleek and unique design that integrates curved and square shapes.
This style of the shelf would be suitable for a modern setting.
While a smaller version (like the one in this photo) can be used as a wall-mounted side table in a bedroom or as a decorative display in a bathroom.
2. Overlapped
The combination of wood and metal brackets is ideal for creating a rustic-style interior. Rather than just a pair of plain floating shelves!
Furthermore, a small shelf like this can be engaged in a confined place to make a lonely corner more eye-catching.
Rustic charm sparkles in this corner shelf design of planks with aged wood stain. Instead of stacking them vertically, one on top of the other, overlapping them creates more interest!
3. Wrapped
These box shelves wrap around the corners of the wall, transforming the corner into a display space.
This is a minimalist design for those who care about function and appearance!
Do you have a 'nook' in your kitchen that you've been concerned about?
You can make better use of that space by installing corner shelves like this one. Who wouldn't want a little more storage space in the kitchen?
They look great against a tile backsplash too!
4. With Drawers (Piano Desk)
This wooden corner shelf with a drawer is the right choice for tiny bedrooms because it is both simple and useful.
Plus, it is ideal for any interior style!
Especially in all-white with some other shelves to accompany it! With a design like this, you can use a corner wall as a study area with storage!
In this other variation, the corner shelf looks more modern with black paint and horizontal detailing. It has a hidden drawer just like a piano desk.
So even if it looks small, there's room for a pot of flowers or a photo frame! And to store your keys!
5. Cubed
In place of a normal flat shelf, something a little more striking and relevant would be a better choice for a contemporary home!
These stacked cubes look incredible and fit well into an unused corner. The wooden blocks are both decorative and functional as a lovely shelf with a sense of mystery.
6. Zig Zag
A shelf like this is a fantastic match for a wooden interior! Wood looks good with plain white walls too.
In addition, these corner shelves provide aesthetic appeal to a room. Even when sparsely decorated!
And hence, this style of shelving serves as a fine example of a corner shelf decoration idea.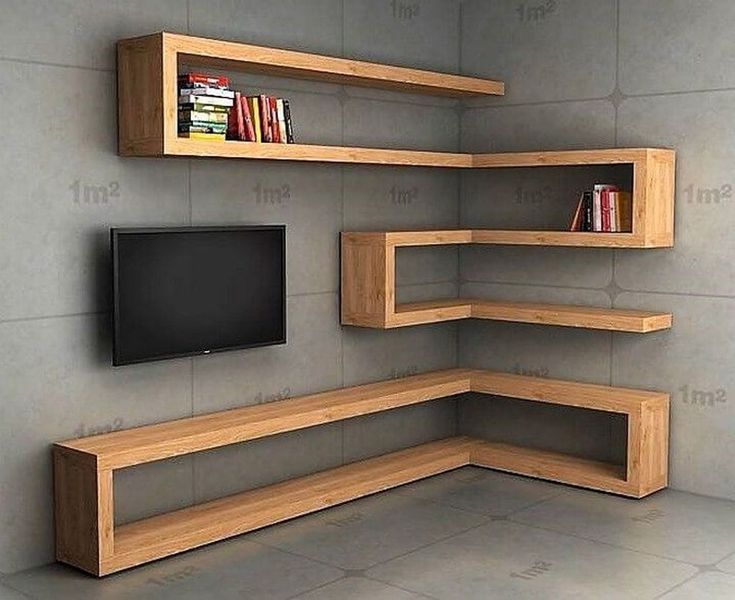 7. Triangles
With the addition of triangular shelves, white walls may be rendered elegant and trendy!
Besides this, triangular shelves are ideal for storing toiletries in a tiny bathroom with limited storage.
This design is also suitable for larger bathrooms as well. It can be filled with a variety of plants and decorations to create that desired spa-like retreat!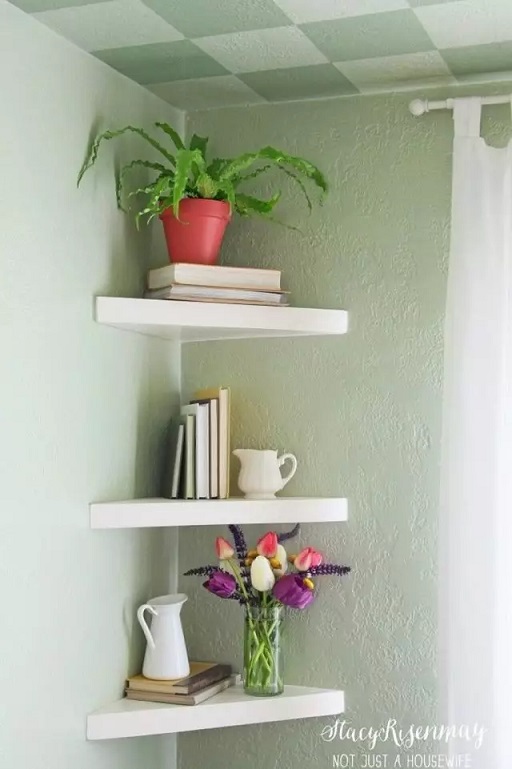 8. Modular
When you want versatility, a modular corner shelf like this is an excellent way to maximize the available space! With plenty of room to adjust to your preferred shelving height!
These shelves, which are ideal for books and decor objects, add height and interest to a room. And because they are so customizable, you can use them to fill up an empty corner.
Add plants and lights to brighten up the space and provide that much-needed freshness!
9. Reclaimed Doors
Don't throw those old doors out just yet! Instead, you can turn them into a pretty, texturized corner shelves like these!
Your plain doors will become a stylish addition to your bathroom, living room, or bedroom. Particularly if you're after the rustic farmhouse style!
Fix some hooks and you'll be able to hang towels and keep all of your essentials in one convenient spot! Isn't that amazing?
10. Geometric
A brightly colored geometrical corner shelf will add a pop of color to your room while keeping your floor clear and preserving precious leg space.
Thus, geometric corner shelves are ideal for common areas like the living room, dining room, bedroom, and home office, as well as the hallway and even the kitchen!
11. Industrial Piping
If you want a shelf with a more industrial feel, metal pipe corner shelves are a perfect choice! And would look great in both industrial and rustic settings!
They are also ideal for a little indoor garden or for displaying personal keepsakes and daily essentials.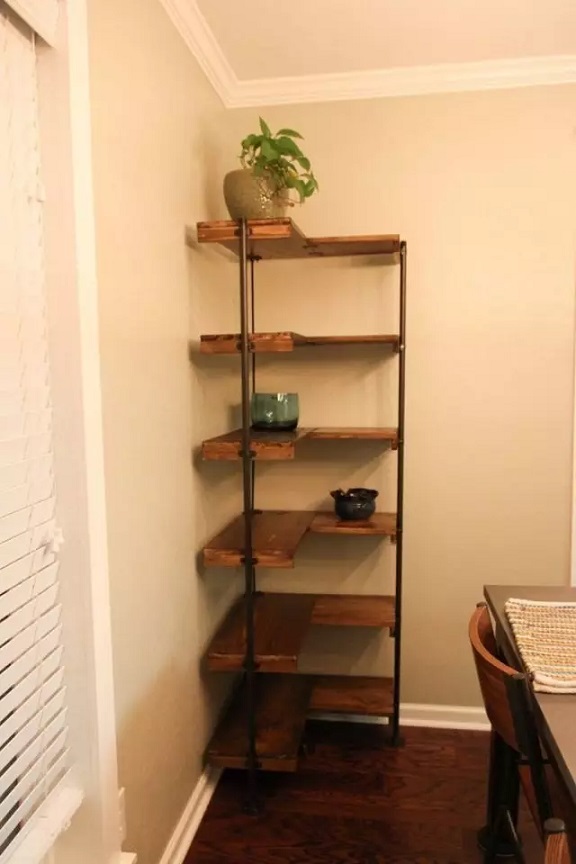 12. Tree Shelf
Picture a shelf like this in a child's bedroom or playroom!
Or you can use slabs cut from a wood trunk as corner shelves to give your home a rustic, natural look!
The visible wood grain offers a flash of pattern, while the natural texture of the bark stands out from the smoother wall surface.
Alternatively, rustic meets modern design when you combine wood corner shelves with glass shelving:
13. Cat Tree Shelf
Cat trees are often bulky and take up a lot of space in your home. So why not turn an unused corner into your cat's private retreat with wall-mounted shelving?
Better still, cover the cat tree shelf with material for cats that cats like to climb and scratch!
If your cat loves to snuggle up on a branch, this beautiful cat tree made from natural logs and trunk pieces will simulate the feel of a real tree but in an indoor environment!
14. Increasing Sizes
You need extra storage at your office, but do you want it to have a more unique style? It would be amazing to stack these in a corner in graduated sizes!
This style of shelves are a lovely addition to any rustic or modern, industrial environment as a great display or storage feature.
These would also look really good attached to cupboards for an extra display area in a farmhouse kitchen.
15. Light Source
Corner shelves such as these are are an excellent way to develop a functional workspace in even the smallest of areas.
Good under cabinet lighting and a comfy chair to sink in will greatly improve how you feel about your working station!
And though they're fantastic for decoration, these shelves may also be used to store a variety of items, including souvenirs, books, off-season clothing bins, accessories, and paintings.
16. Between Cabinets
Your wall cabinets are nicely mounted. But do you have an empty space in between the cabinets?
Make use of that unused area by fitting in a set of smaller open shelves like this. After all, extra storage is always appreciated in a kitchen where clutter accumulates so easily!
This design is also excellent for laundry rooms with modern interiors!
17. Minimal (White)
What do you think about these minimalist corner shelves?
This hanging shelf is adorable for a nursery or a child's room. It's a great way to fill up some empty space in a room.
And they're also a fun and interesting feature to any dull corner of the room!
In this other inspiration photo, instead of having the shelf stick out, let it blend in with the walls and let the items displayed on it be the focus of attention!
White floating shelves have a classic style that blends well with any interior – be it traditional or modern!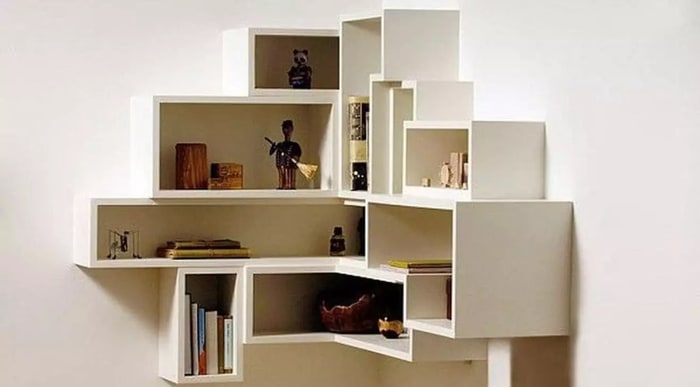 18. To The Ceiling
Small, raw wooden corner shelves with equal heights to display your treasures: a feasible and elegant method to display your personal collections while utilizing corners in your home!
A contemporary bedroom can incorporate a tall minimalistic corner shelf like this to use in place of a shorter bedside table.
19. Ladder
In black, these shelves are modern and elegant thanks to the curved fronts of the tiers! Ladder shelves look great in a living room, study or workplace.
To showcase a collection of cherished books or antiques!
Plus, any farmhouse chic, rustic Boho, or Americana theme will harmonize well.
There are also corner ladder shelves like this one where the beams are inversed. And each shelf is a different size from its neighbors:
20. Combined
Revitalize white walls with an system of integrated corner shelves that combines different styles. They will not clash with each other if they are made of the same material!
Light wood shades give off a Scandinavian vibe. Don't forget the house plants!
White is another color you can use for effortless blending between different styles of corner shelving: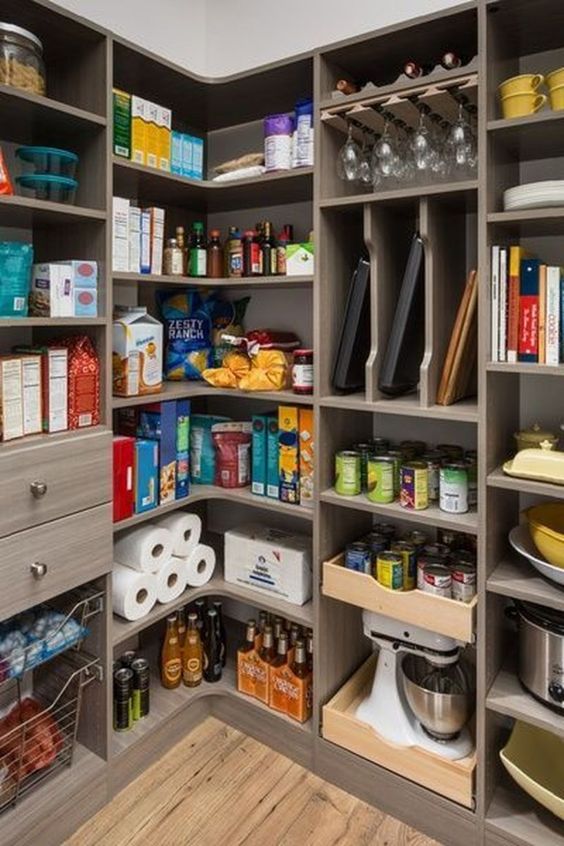 Conclusion
Corner shelves are a brilliant way to make the most of those awkward corner areas, and they're reasonably easy and enjoyable to make if you like DIY projects!
Most of us have empty corners in our homes, so it's worth thinking about how you might use these places for decoration or effective storage.