30 Gorgeous Holiday Christmas Craft Home Decorating Ideas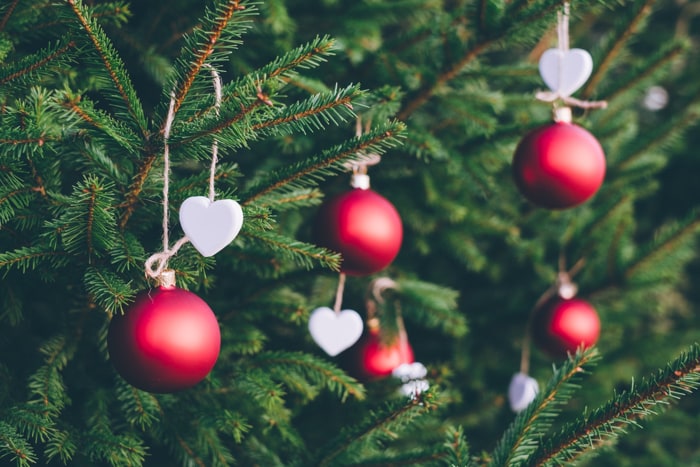 Let's make this year's Christmas extra special with homemade DIY projects that look more expensive than they actually are!
There's also nothing like Christmas crafts and decorating to get the whole household involved, and in the holiday spirit!
Make sure you check out the whole list as there are ideas to suit all kinds of interior styles!
1. Framed
Who knew that old photo frame in the attic could be so pretty?
All you need is a splash of gold paint, ribbons, and old Christmas tree ornaments from previous years.
2. Tree Skirting
That's right, frames can be used to fashion a tree skirt too!
3. Dress Up Wine Bottles
Give your wine bottles some character with buttons and other scrap supplies you have lying around!
Or wrap the entire bottle, pop on a Christmas tree ornament, and glittery ribbon!
4. DIY Wreath
What will your wreath look like this year? This is probably the first piece of décor that your guests and neighbors will see.
So you may want to spend a little more time and effort on it!
5. Look Around
You don't have to go out and buy new Christmas decorations. Something as plain and uninteresting as a spare plank of wood can be painted easily!
Imagine this board on your porch with potted plants around it. You can hang it on the wall too!
6. Pinecones
There are so many pinecone craft ideas – here are our favorites:
Little pinecone Christmas trees!
With corks for stumps:
Pinecones on a ribbon:
Hang them on your door, dangle them from a wreath, or string pinecones along for bunting!
7. Yarn Trees
Roll up some card to make a cone, wind yarn around while hot gluing the yarn in place as you go. Wrapping glittery string around is another way to secure the yarn to the paper cone.
They're absolutely delightful in groups on the mantle or a shelf!
Macramé weaving is another option:
8. Acorns
Gather some acorns and paint them gold. They can be strung along for bunting, hung on your tree, or put into a clear jar with some fairy lights and other Christmas-y objects!
9. Candle Holders
Here are a couple of unusual candle holders – the first idea with the ladles will suit the farmhouse, or even an industrial interior.
While these stump candle holders are more modern!
10. Tiered Trays
Break out the English tea set you have, and decorate it for Christmas. Feel free to put some treats in too!
11. Fairy Lights
Effortless with maximum effect!
Stuff fairy lights into a jar with baubles and other Christmas ornaments. And you're basically done!
Or loop them around the stair railings (or porch rails) with some faux pine leaves for something more classic:
Or add them to a simple DIY stick star to make it more magical!
12. Advent Calendar
DIY a wooden advent calendar board to double up as a countdown display so that the whole household can see it in plain sight:
13. Alternative Trees
Put your carpentry skills (and scraps) to use with any of these contemporary tree designs:
Or use a branch of a withered tree for this wintry décor design:
14. Window Display
If you don't have a porch, the next best thing is your front window. Send out festive cheer to the outside with a Christmas window display of your own!
They don't have to be as dramatic as storefront window displays either. Fairy lights and candles work just fine.
A little old fashioned but this window sill does not lack for Christmas spirit!
On the other hand, this is a window display that is more modern (Scandinavian even):
15. Christmas Village
Have you been collecting a lot of Christmas décor over the years? Put them all together to make a miniature Christmas village inside your home!
16. Snowy Scenes
Any pretty glass container will do for this DIY Christmas craft. Cotton fluff does the job for snow. Add fairy lights to your homemade "snow globe" if you want!
17. Snowflakes
Put your paper cutting skills to the test with snowflakes of different shapes, patterns, and sizes!
Or you can get some snowflakes from the dollar store to make a wreath.
18. Natural
Don't want plastic ornaments this year? Dried citrus fruit and flowers look just as beautiful on a tree!
19. Little Helpers
Okay we admit it, we just wanted another reason to feature more pinecone projects!
Look how cute these are!
Instead of pinecones, you can paint toy figurines:
20. Walnuts
Speaking of cute, save your walnut shells for these homemade Christmas tree ornaments!
PS: Use a wooden bead for the faces.
21. Clay Crafts
If you haven't tried air dry clay or polymer clay before, here's your chance to get real creative!
Of course, there's nothing wrong with simple. These gnomes should be fairly straightforward to recreate!
When you're comfortable working with the clay, you can try more complex shapes like this cheeky Santa!
Or these little huts that look like they were inspired by the Grinch:
22. Crotchet & Knitting
And if we can hardly blame you if you prefer to spend your spare time knitting or crocheting instead!
23. Sweet Pastels
Why not try something a little unorthodox this Christmas:
Channel some candy pinks and pastels into your Christmas projects for an irresistibly sweet fantasy inspired by The Nutcracker!
For instance, use pink glitter in place of white.
You can fashion this igloo out of candy!
Or turn your old Christmas into ice cream cones with some paint!
25. Minimal
And lucky for lazy people like us, minimalism is still trendy:
Because minimal Christmas décor is wonderfully elegant and equally easy to set up!
You can even skip on ornaments completely for your tree!
26. Crystals
Bring back the sparkle of crystal ornaments for your DIY Christmas home décor!
Form icicles to hang from your tree.
Or make divine little angles!
27. Playful
Prefer to keep your Christmas décor light and cheerful?
Borrow some of your kid's toys for a table centerpiece:
Or to decorate the banisters!
Or use colors that are not normally associated with Christmas to paint quintessential Christmas icons!
28. Touch Of Black
The color black isn't just reserved for Halloween. As you can see in the following photos, black can be extremely elegant!
Particularly in a home that is mostly black and white:
You can extend the theme to Christmas wrapping too!
29. Ocean Vibes
If you happen to live by the sea, we'd be surprised if you haven't done this style of Christmas décor before!
For those of us who don't live by the sea, it'll be a little trickier to get some of the materials for these crafts. Albeit not impossible!
You can use old fishing nets to wrap baubles:
Paint oyster shells (or any other shells) for tree ornaments!
Or make jellyfish out of beads!
Driftwood makes for quaint Christmas trees too.
30. Succulents
Going with the trends, succulents have made quite the stir in many countries. If you're one of those who jumped on the band wagon:
Why not incorporate succulents into your Christmas crafts?
They're enchanting as table centerpieces:
Can be grown in baubles:
Hung from your Christmas tree in their own little pots:
Or grouped together in a wreath:
But if you want to challenge yourself, you can make a tree out of them!
Conclusion
Regardless of the time, you have left before Christmas rolls around the corner, you still can apply many of these DIY Christmas craft ideas to your home!
However, if you really don't have the time (or energy) for the more elaborate projects, just go with minimal Christmas décor! Which looks like you tried, without actually trying!
Related Articles