20+ Modern Rustic DIY Christmas Ornaments Designs Ideas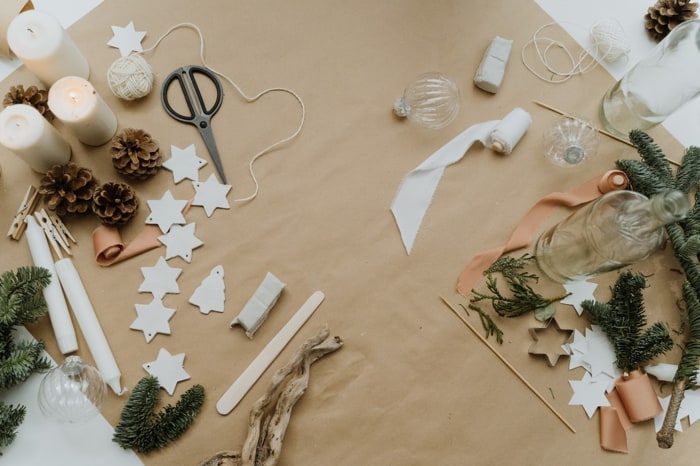 Having a Christmas tree is one thing, but what would a tree be without the necessary Christmas ornaments to go with it?
Here are more than 20 ideas that you can take inspiration from to match all your home décor this Christmas!
And you can make them easily with things that you probably have lying around in your home, backyard, or the closest park!
1. Twine Them
All you need are some scissors and a ball of jute twine. Wrap these around your old Christmas ornaments for a fresh new look!
You can take this same concept and wrap the bottom of mason jars with tea lights inside!
2. Keep The Colors Simple
The key to a modern rustic Christmas decoration is to keep to a natural color palette. You'll find that the color red is not necessary to add that Christmas atmosphere to your home after all!
Or that you just need a hint of red with some key pieces!
3. Go Natural
Sticking with the same neutral color palette, adding a natural element like a pine twig can look so amazing! And it's ridiculously easy to do too!
Pinecones on their own will work on a Christmas tree. You can give them little Santa hats or bows to make them a little less plain!
Use them for bunting even:
4. Skip The Skirt
Your tree doesn't need a skirt this year. You can use brown paper, woven baskets, a burlap sack or a wooden crate instead!
5. Add Antique Accents
Make a trip to your local thrift store and see what you can find.
Try to find an old metal or ceramic pot or jug. Faded paintwork and tarnished metal is preferable for a rustic look!
Have an old baking tin lying around? You can use that instead!
6. Don't Forget The Walls
If you can find some around (in your basement, attic or local thrift store), you'll be surprised what old wooden shutters can do for your walls!
Alternatively, old photo frames will work too! Pick wintry scenes that are minimal. Or skip paintings and photos altogether!
For a modern touch, you can make your own pictures to frame by drawing simple outlines of trees, adding faux pearls as baubles!
7. Pick Up Sticks
No need for a pointy gold star this year, try a homemade star made of sticks and twine! Smaller stars can serve as tree ornaments too!
Similarly, you can glue or tie a bunch of sticks (of the same length) together to form shape!
PS: Cinnamon works too (and smells divine).
Or even a wreathe!
You can paint part of the sticks white for a wintry effect too.
8. DIY A Mini Christmas Tree
Yarn tassels make for adorable Christmas tree paintings.
You can string several along a string of twine as bunting!
Here's another variation:
9. Sew Some Ornaments
Use big stitches and twine for that rustic charm!
10. Add Frost To Mason Jars
How pretty do these look? And you can achieve this look with some Epsom salt and decoupage glue!
11. Consider Citrus
Maybe you've tried the neutral Christmas theme before and want something that's bright but still natural:
Try dried citrus peels! You can use grapefruit for a darker hue!
12. Minimalist Gift Wrapping
Following the rustic but modern Christmas theme, remember that less is more! Even when it comes to wrapping gifts!
You can save on expensive printed gift wrap this year!
13. Bake Some Ornaments
Organic hand-cut shapes work too! If you do want to decorate your baked ornaments, keep it minimal for a modern look!
You can use them on your tree and personalize your gifts!
If you use salt dough, you can scent them as well:
14. Deck The Halls With… DIY Wreathes & Garlands
Again, less is more! Especially if you want a contemporary style!
Note: If you're up for something more rustic, check out our article on rustic Christmas deco and wreathes for some ideas!
You can make mini ones out of rosemary sprigs!
And sometimes, just adding leaves is enough!
15. Leave The Tree Bare (Almost)
This might seem counterintuitive but we'll let the pictures do the talking.
16. Add Fairy Lights
Fairy lights make such a difference to your space! Arrange them on your tree, in a glass jar with pine cones, on a garland or as part of a wreathe!
17. Hang Burlap Stockings
Instead of bright red stockings, you can make Christmas stockings out of old gunny sacks or burlap bags.
It's an easy enough way to incorporate more natural textures in your home without breaking the bank!
Similarly, a jute table runner on your dining table or console table can serve the same purpose!
18. Make A Snow Globe
If you want to try making your own snow globe this Christmas, you can skip water and just add small twinkle lights!
Try to simplify your final design – a single pine cone dusted in glitter looks snazzy too!
19. Pair Plants With Glass
Obsessed with mason jars? Quite frankly, we are too! This winter, pull them all out for a good cleaning. The same goes with empty glass bottles!
Use candles, twine and plants (live or fake) to get them ready for the season!
20. Minimize Table Décor
When it comes to decorating the main table, don't go crazy with it! A few candles and a couple of pine cones or a few eucalyptus branches should do the trick!
21. Go White
If you have brightly colored furniture or cushion covers and rugs with loud patterns that do not fit the color palette you're going for:
An easy fix is to change to plain covers or drape a white blanket or throw it over them. This will bring more cohesiveness to the overall Christmas décor in your home!
Conclusion
Modern rustic Christmas ornaments and décor can add festive cheer to your home without being over the top!
We especially like that many of these ideas don't involve spending a lot on things you only get to use once a year! And you can keep many for spring just by adding flowers!
Related Articles