20 Awesome Bedroom Door Decoration Ideas
Bedroom doors are the gateway to your cozy resting place!
And if first impressions matter, the same can be said of your bedroom door since it's the first thing anyone sees of your room!
Thus, the style of your bedroom door is worth looking into. There are many ways to bring life into bedroom doors and make them striking and inviting! As you will find out in this post!
1. Contrasting Paint
Contrasting colors are good for making an obvious distinction between the walls outside (or inside) your bedroom and the door.
You can choose duller colors such as grey together with white as a color combination that's not too conspicuous, but still sets the door apart from the wall.
Another way to add life to bedroom doors is by choosing a door color that fits your personality!
For example, blue or purple convey an air of confidence, calmness, and friendliness!
While warm and bright colors like red, yellow, and orange give off an impression of an extroverted, down-for-fun personality!
2. Flowers
You could also get creative and decorate the border of your bedroom door frame with unique floral arrangements. Or make a one-of-a-kind wreath for your door!
Unleash your inner creativity using vibrant greens and flowers or any DIY products you can find at your nearest store. Dry flowers can be an interesting alternative too!
3. Geometric
Use masking tape to paint different shapes across your door. This adds interest to your bedroom door, and gives it a personal touch besides!
This style of bedroom door decor will no doubt, suit a bright, modern interior!
You can use the shapes to frame surrounding objects or wall art too!
4. Art Canvas
A paintbrush and some imagination can also bring life to a door!
Paint patterns with something you are fond of. Simple flowers are a good start if you're not a particularly skilled artist!
Have fun with colors! Go sunny with a cheery yellow, warm with sky blue, or bold with bright red!
After all, it is your bedroom door and you can paint whatever lights up your fancy!
Birds are another beautiful subject for a bedroom door:
You can always just paint the corner, rather than all over the door!
5. Art Gallery
Basic white doors are the perfect opportunity to use your bedroom door as your own personal canvas!
Shaker doors with simple square indents already provide convenient frames. Go a step further by painting different murals for each partition!
Note: This would be a fun bonding experience to try with your roommate!
6. Piano Keys
A striking bedroom door design like this gives a clear impression that the room belongs to a music enthusiast!
It's a fun but stylish way to decorate a bedroom door too!
7. 3D Stickers
If you're feeling lazy to paint or just don't have the time or skill, 3D stickers can transform your boring bedroom door.
They add character to your door and provide more texture via a 3D effect. There are designs that can make your door look more luxurious too!
8. Tufted
For a plush, warm, and welcoming vibe, you could opt for tufted doors.
This elegant choice of bedroom door decor can be tailored in a wide range of textures, materials, and finishes.
Furthermore, they help soundproof your bedroom!
9. Sticker Murals
This option is perfect for you if you are someone who does not have a lot of time to work on your bedroom door:
Door sticker murals come in a variety of styles that will brighten up your day!
10. DIY Moulding (Paneled)
Custom moulding would be a suitable choice for those who enjoy woodworking at home! Moulding makes any cheap or plain door looks more expensive.
And this style of door is key for a farmhouse interior too!
However, if you are not familiar with woodworking, you can always order moulding from a professional. Or get stick-on variations from a DIY store or online.
But keep in mind that not all doors could be decorated with wood moulding. This idea would not be suitable for plastic or aluminum doors.
11. Corkboard Or Chalkboard
Adding a chalkboard to your bedroom door will allow you to constantly change the design of your door easily! And whenever you feel like it!
The same goes with a corkboard where you can pin your latest interests or memories!
12. Mirrored
Small bedrooms with a limited amount of space may mean you have to forego having a full-length mirror.
But by fixing a mirror to your door instead, you can have it as decoration and to give the illusion of a bigger space.
And at the same time, you can use it just like a full-length mirror! If you need more storage space in your room, you can try to find a mirror like this one – with built-in jewelry storage!
13. Bunting
This one is a classic idea found in student dorms!
Students who want to make their room feel like a second home can add banners and flags to their doors for some festive vibes all year long!
You can implement this idea in your home too, a bit of bunting makes your bedroom door look engaging and exciting! And it's so easy to add!
14. Snacks
Use a transparent shoe organizer to store some snacks and treats behind your door as your secret goodies stash!
You can arrange them by color for the fun of it too!
15. Another World
Dress up your door with inspiration from your favorite story or movie. This is ideal for a child's bedroom or for your own bedroom door!
It takes separating your resting place from the outside world to a whole other meaning!
16. Change The Knob
Changing your knobs to modern glass door knobs gives your door an elegant and luxurious touch! Especially if you have a Parisian-styled room!
But if you are not a fan of glass knobs:
You can pick gold or brass antique knobs to make your door look classic and timeless.
But then again, why stop at classic when you can have something more unique?
17. No Door
This may remove the stress of decorating a bedroom door entirely!
In its place, hang a large curtain over your doorway to partition it from your hallway. When the curtain is open, your home looks visually more spacious!
Of course, you are giving up some privacy when you remove your bedroom door completely. That's why this bedroom door idea would fit a studio apartment with just 1 or 2 occupants.
18. Photos & Clippings
Use photos of happy memories to decorate your bedroom door and add a little nostalgic touch to it.
Change your design and pictures based on your mood. So your bedroom door can serve as a reflective board of the good memories you had for the month!
Similarly, curate your own little art gallery by putting up your favourite pictures around the door frame: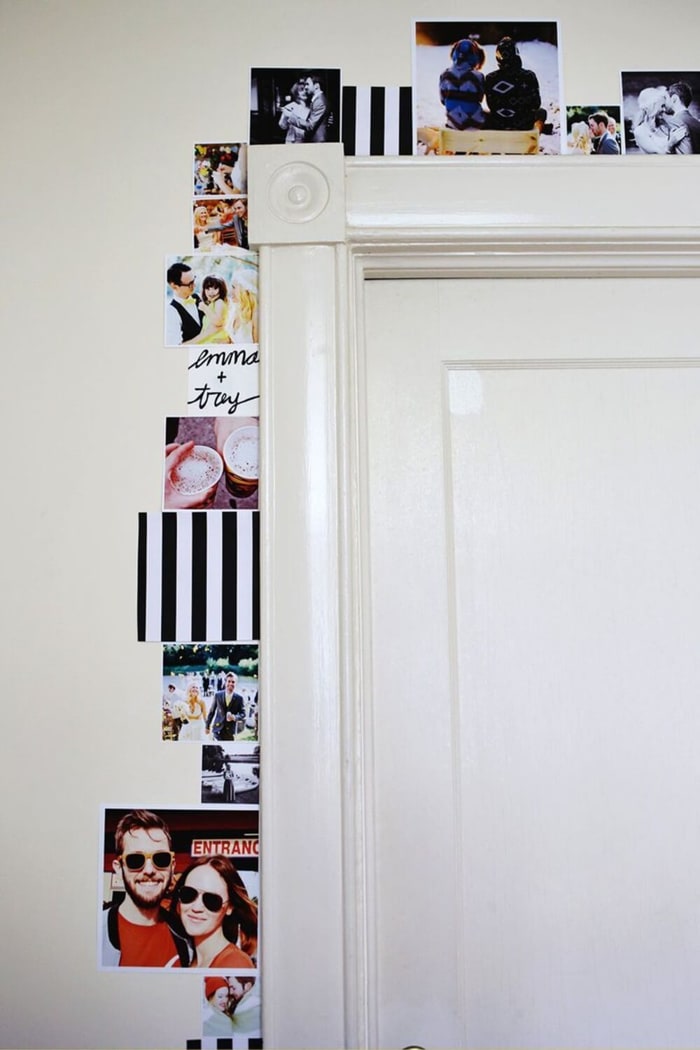 You may prefer to keep them colored or all monochromatic, like in this picture:
19. Tongue And Groove
If you would like a relaxed, informal country look for your door, and have some carpentry skills:
It's possible to DIY your own tongue and groove door from the door!
But you can also make a faux barn door!
20. Combined
Combine the earlier styles above for a really unique bedroom door! The choices are endless!
Conclusion
At the end of the day, a bedroom door represents your room and your personality.
So you should decorate your bedroom door the way you like it! There is no right or wrong, just let your imagination run wild and free!