20 Lovely Boys Room Design Ideas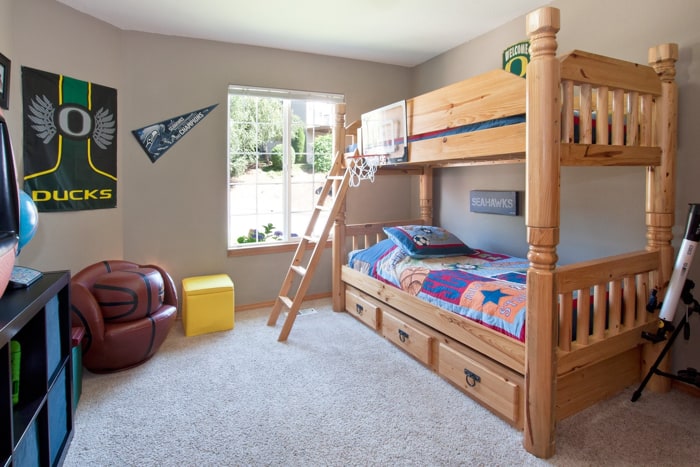 Despite the title of this post, we feel that many little girls would also love rooms like this! Likewise, we have nothing against little boys who want "traditionally" more girly rooms.
That said, we would consider the following rooms conventionally boyish. With plenty of blues, greens, space, and sports themes. But there are some gender-neutral designs as well!
Let's take a look, shall we?
1. Star Wars fan
Whatever show your kid is currently really into, you can use that to your advantage as a theme for their room. Using paintings or posters, figurines, and stuffed animals.
Leaving the rest of the room fairly simple.
And when they grow out of it or change alliances, it's easy to switch out the theme too!
Loose furniture can always be rearranged and replaced too. The same goes for light fixtures and bedding!
2. Rattan
What we like about wicker and rattan furniture are the soft edges and intricate shapes. Do note that because of all those woven details, extra dusting might be in order!
That aside, the half tone wall with the scallop/ cloud trim lends a playful look to the room.
There are many colors on the wall but they are desaturated compared to the richer blue and mustard bedding. In this way, the wall doesn't feel overly cluttered.
And the focus of the room is still the bed.
3. Muted Patterns
Mixing and matching patterns is easier when they're all in different shades of gray, black, or white!
While the beaded details on the bed frames and matching wall sconces add some fun!
4. Wood Panels
Plain walls can be a little boring.
Add some texture and color with dark green wall panels! Lighter colors really pop out more with a darker backdrop like this!
Here's a room with vertical wall moulding instead:
5. Plain And Simple
Of course, the great thing about white walls is how high they can make the ceilings look! Especially when wall decor is kept to a minimum.
White walls also make a room look much brighter! We can't imagine any monsters under the bed in this room!
6. Reading Nook
The best thing about this boys room has got to be the dreamy library cave beneath the bed! Perfect for a little bookworm!
Another variation but with 2 beds – we dig that pop of red!
7. Raised Bed
Some kids like the feeling of being up high:
Another thing that's great about this arrangement is all the storage underneath the bed! And you won't need bedside tables when you can just use shelves!
8. Siblings
This room may suit a pair of siblings with a sizable age gap if separate rooms are not possible.
A teen may prefer the bottom bed while a younger child will be thrilled with the top bunk. Or vice versa!
9. Primary Colors
Starry skies? Check. Bright colors? Check. This room has a good balance of color spread out from each other.
The technicolor chair is what ties all the colors together. And is the ideal spot to read bedtime stories!
10. Monochromatic
Well, almost.
However, this room is anything but boring with its pale green ceiling, wall mural, printed cat curtains, and striped bedding!
And it would not look out of place in a Scandinavian inspired home!
But if your kids can manage to keep it clean and tidy, black and white rooms are very elegant:
11. Tent Bed
Tent beds are delightful whether they have or do not have a canopy. If you choose not to have a canopy, the tent poles serve as great frames for wall murals!
This woodsy themed room will get those wheels of imagination turning!
Another popular version of a tent bed:
Where the overall lack of color doesn't mean it's any less stimulating than the previous room! There is still an abundance of different shapes, patterns, and texture to provide that!
12. Planetarium
Paint one wall a dark blue with white dots for stars. Hang up a mobile of planets (your kid's science project?) and fairy lights and you can achieve your own space wall!
Notice that the rest of the room (plus furnishings) is mostly either in white or navy blue, so that the planets stand out further!
This room has the bed against the space wall and we love that your kid gets to look at the stars and planets right before they sleep!
If you don't want the room to look so dark, you can keep the navy blue wall paint for just the upper third of the walls!
13. Climbing Wall
If you're thinking about putting a climbing wall in your kid's bedroom there's no better place than right above the bed!
At the same time, it's a cool feature wall and you won't need much else to make the room appear more alive!
14. Seeing Double
There's something about identical bed setups that look very polished and put together!
15. Cover The Walls
Picture galleries, maps, educational prints, and posters – you can even frame a few pieces that are done by your little aspiring artist!
Or you can display their favorite toy figurine collection!
When you no longer need a kids bedroom, you can always change out the pictures in the frames! In this room, the picture gallery features vintage photographs and posters.
16. Half Tone Walls
Half painted or two tone walls (whatever you call them) not only hide grubby fingerprints on the wall, but create interest on the walls.
Light blues and dark greens are easy colors to work with. But you can also try yellow or taupe!
17. Farmhouse Chic
Maybe you don't want a kids room that looks too childish. A farmhouse inspired bedroom feels cozy looks charming no matter what age your kid is.
Think faded blues, antique metal beds and dressers, barn doors, plush bedding, and carpets!
18. Subtly Nautical
You don't need a boat-shaped bed, anchors, or boat helms to bring the beach and ocean indoors!
Hints of navy and sand colored hues are enough. Together with ample daylight and wood furniture painted white!
19. Vintage Inspiration
Up-cycle vintage furniture by giving them a new coat of paint! And don't go overboard with wall hangings and furniture for a more modern look.
Pick display cabinets and open shelving to let your kid's toys double as room decor!
19. Antique
We imagine that a room like this would take a lot of treasure hunting in various thrift shops. But this is certainly an unusual kids room in this century!
20. Hammock Bunk
There's room for storage, sleeping, reading and playing in this space-saving hammock bunk bed! How fun would it be to roll onto that hammock net?
Did you notice that the nightlights look like eyes?
Conclusion
There's so much you can do to make a boy's room a fun but comfortable space that is not bland or an eyesore in your home!
Some of these rooms are easy to redecorate when your child outgrows their room style too!