20 Gorgeous Interior Decoration For Small Bedrooms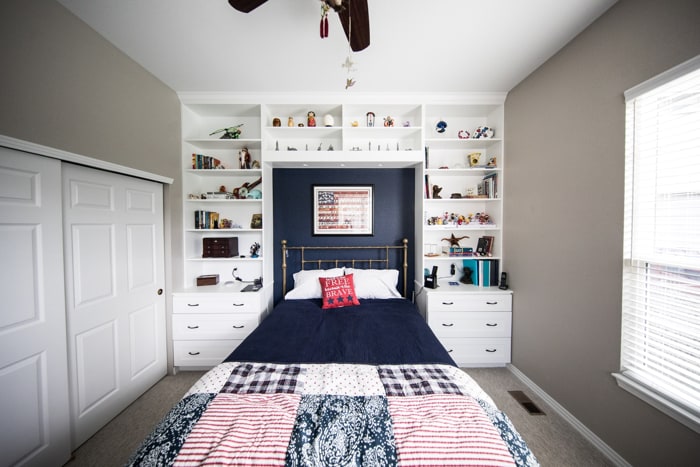 Whether you're stuck in a rental situation, or just want to turn a study into a guest room:
You can make the most of your small bedroom with some planning! And inspiration! A small room doesn't have to lack amenities like a desk or even a walk-in closet.
Just take a look at these creative ways to decorate the interior of a small bedroom!
1. Couch Bed
They're versatile, space saving and cute! What more could you want for a small bedroom?
You can make your own private cinema with a blank wall across from the bed, and a projector.
When against a window, they serve as a reading nook:
Couch beds from Ikea are really popular for a reason – look how much space they save in this narrow room!
And you can pull them out when it's time to sleep!
But you don't have to buy a new couch bed:
With enough pillows, any single bed against the wall will work too!
2. Built-In Shelves
Renovation gives you an opportunity to maximize storage space in a small bedroom. With built-in shelves!
We love this clever ceiling closet – although we would add some curtains or doors so the clothes don't get dusty!
Built-in shelving is perfect if you want to squeeze in a work desk too. And it makes for a very cohesive interior too.
With built-in shelving, you have more control over the color palette too!
You can also have shelving fitted around your bed so you don't need separate bedside tables!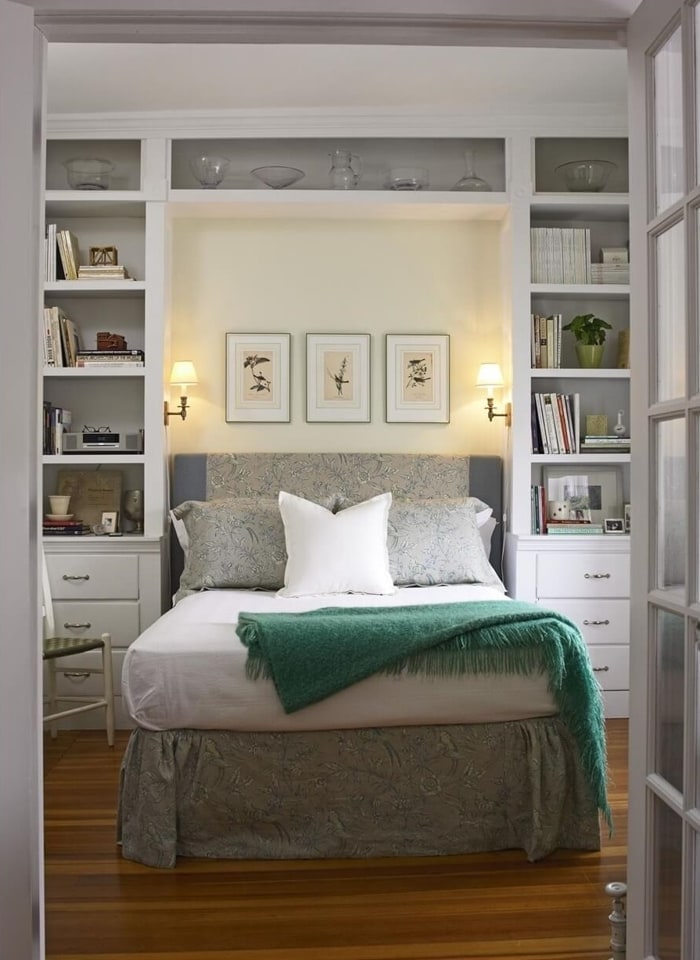 3. Space Saving Walk-In Closet
Now here's how you can fit a walk-in closet that is usually only applicable to larger rooms!
Use a wall divider (maybe not as thick as this one):
Even better, use floor-to-ceiling curtains!
4. Skinny Furniture
Take measurements of the room and for each furniture piece you plan to get for the room. Skinny bedside tables will enable you to fit a more generous sized bed into a small bedroom!
And where possible, keep lighting fixtures on the wall!
5. Mirrors
We're pretty sure most of you are already aware of this trick – use mirrors to bounce light around the room and to make the room seem larger than it is!
To save further space, get a mirror that hangs on the wall instead of a stand mirror or one that has to lean against the wall.
You can never go wrong with a lighter color palette too!
6. Desk Over Bed
Some thoughtful rearrangement can save precious space in a small bedroom. As apparent in this small bedroom with a desk and shelving built over the end of the bed!
Mobile desks like these are also worth looking into if you don't expect to work long hours in the bedroom:
7. Desk Facing Bed
Along the same lines as the previous item, place the desk to face your bed so that it doubles as a bedside table.
In this way, both the bed and the desk in this room get window views and ample light.
8. Underbed Storage
Don't have space for a bulky dresser? Get a bed with built-in storage!
Get really organized with baskets and boxes:
9. Platform
Having a platform in your room makes it more unique. Plus you'll get even more storage underneath the bed!
In this space, the curtains underneath the platform can easily hide clutter and things like suitcases, out of season clothes, etc.
And in this room, both of the 2 exposed sides of the platform (including the stairs) contain drawers!
This room takes it one step further by incorporating a sliding desk built into the platform!
10. Foldable Furniture
For the smallest of rooms, every bit of furniture counts!
If you don't mind working on the floor, foldable tables are a neat solution for a work station that you can pack away any time!
Alternatively, you can have a folding wall table like this one:
Of course, the chairs you use can be foldable chairs too. Or you can keep an extra chair in the closet for the occasional guest!
11. Lofted
When you can raise your bed closer to the ceiling, this leaves you with sufficient room to have a regular sized desk.
Or a desk and a closet side by side:
Or a space to chill with friends (or a book)!
12. L-Shaped
We completely understand if guests or even children can't warm up to the idea of sharing a double bed. In that case, an L-shaped arrangement of 2 single beds might work instead.
The key is to find single beds that don't have headboards!
They can be built-in too.
Or one can be raised as a loft to provide space to fit a desk in!
13. Bunk Beds
Don't underestimate the power of bunk beds!
The following small bedroom design is commonly used for small rooms with a single occupant. Ideally a student or anyone still limber enough to get up to the bed!
Bunk beds don't necessarily have to be very high to be versatile:
This particular bunk bed seems like it was made for this narrow corner! The open lower bunk with its own reading light makes the room feel less claustrophobic!
14. Divide And Conquer
You can use curtains or open cubby shelving to separate the sleeping area from the recreational, or work areas in a small room.
Teenagers will appreciate having their own private space to entertain friends too.
15. Modular
If you can't afford to have built-in furniture for an odd shaped room, modular furniture is another viable solution!
The beauty of modular shelving (besides a custom fit) is that you can modify it any time to flow with your ever-changing lifestyle too.
16. Floating
When you don't have much room for walking, it's best to have furniture off the ground! That frees up the floor and looks visually less cluttered!
Think drop tables, floating shelves, lights, or bedside tables!
Here's an idea that you can DIY when there's no space for a regular sized bed-side table:
17. Wheels
For situations where you don't want (or can't) mess with the walls, mobile furniture (i.e. with wheels) are extremely useful!
There's a reason why the trolley cart is one of Ikea's most iconic products:
Drawer beds fall into this category as well. And if you don't need an extra mattress, you can put toys (e.g. a train track), or store other items here too.
A transparent bedside table with wheels (like this one) does not add to visual clutter as much as a solid bedside table would.
18. Sofa Bed
Good old sofa beds, need we say more? For a room that is predominantly a workspace, sofa beds are a fantastic fit!
19. Murphy Beds
And then, there are Murphy beds that can be pulled down when needed. Or hidden away when not in use!
Bear in mind who the main occupant of the room will be. You don't want elderly folk or young children in the way of one of these beds!
Some Murphy beds have built in desks too:
20. Minimal
This small bedroom design idea is more suitable for a guest room, especially for short term stays.
Or for anyone that has already finished school (i.e. no need for cumbersome textbooks), and will only be using the room for sleeping.
The only furniture you really need is the bed and a chair!
If you do want to include more storage but want a minimal looking interior, go with light colors and leave out handles!
Conclusion
With adequate planning for optimal room arrangement, it's surprising how comfortable a small bedroom can be!
Don't forget to really consider what the occupant needs! Instead of choosing a small bedroom design based on looks alone.