30 Cute Kitchen Wall Clock Ideas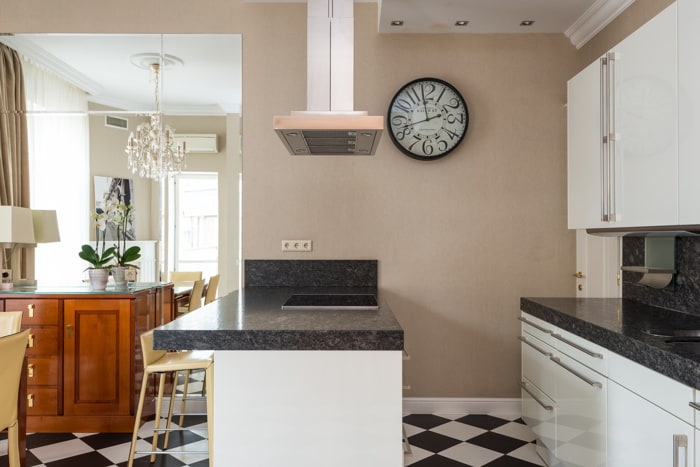 When selected with care and in harmony with your cooking space, wall clocks can add more meaning and character into your kitchen interior.
New trends in clock design are seeing a rekindled interest in vintage timepieces. But where you choose to place your kitchen wall clock makes a difference too!
Below are a few ideas of what type of wall clock you can get for your cooking space. As well as the best place to hang or display them!
1. Above The Stove
A wall clock above your stove is the way to go if you spend a lot of time in your kitchen. And if the dining room happens to have an unobstructed view of the clock too.
Statement colors include black and red that will draw some (not all) attention to the stove area. This is typically the spot where it's critical to keep track of your cooking time!
You can also pick a color that is the opposite of the color of your kitchen cabinetry (e.g. gold vs blue). These are called complementary colors.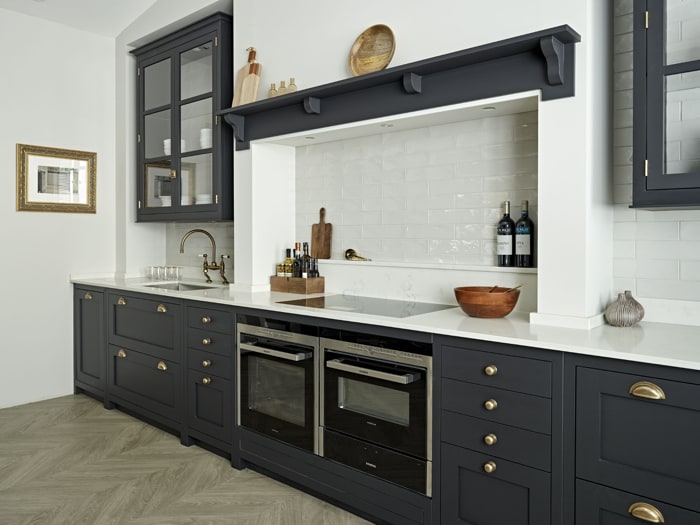 A small clock will be just as useful as a big one if you have a smaller kitchen.
2. On The Backsplash
If you have a striking marble or tile backsplash, hanging a wall clock on it can add further depth to your backsplash.
With vertical or horizontal tile backsplashes, a basic clock will be a foolproof option.
3. Decorative
Wall clocks can come in decorative styles that instantly add character into your kitchen.
Put the clock together with other decorative pieces and create a focal point in your kitchen for everyone to focus on. Moreover, this increases the overall appeal and flair of your kitchen.
4. Corner
With a spacious corner like this, you can afford to hang a big kitchen wall clock. Try to get something that lays relatively flat on the wall.
This particular corner showcases a quirky country kitchen style together with a pastel palette.
5. Sticking Out
This idea is inspired from those clocks that can be seen in bus terminals and railway stations.
Now you can bring it into your own kitchen. Hang it at the entrance of your kitchen doorway so it is easily seen.
Another option is nailing a simple wooden clock to your wall. For a modern and unexpected twist!
6. Timeless
For farmhouse and vintage-styled kitchens, a classic-looking kitchen wall clock is a no-brainer that will remain timeless.
This style of kitchen wall clock will fit seamlessly with your kitchen décor without detracting from other details in your kitchen. Get a clock in the same color palette for a cohesive look.
7. Huge
Large wall clocks are eye-catching, and their magnitude means that you can save on additional pieces of wall décor without sacrificing any impact.
Oversized vintage clocks are also extremely functional – you can see them from across the kitchen easily!
And they are one effective way to include more wood tones into your home.
8. Center
Making a wall clock the centerpiece of your kitchen will give off a minimalistic and elegant vibe.
This can help reduce the need for any other decorations too, especially if your kitchen is an all-white kitchen as seen in this picture.
9. Scandinavian
The smooth wooden trim, metal hands, and minimalist marker details of this kitchen wall clock make it ideal for a modern Scandinavian kitchen.
You are sacrificing readability though when choosing a clock with such small numbers. It then becomes a matter of style over function. Perhaps not the most practical in a large kitchen.
On the other hand, a clock with a clear contrast between the hands and face of the clock still looks minimal and is hence easier to read from afar: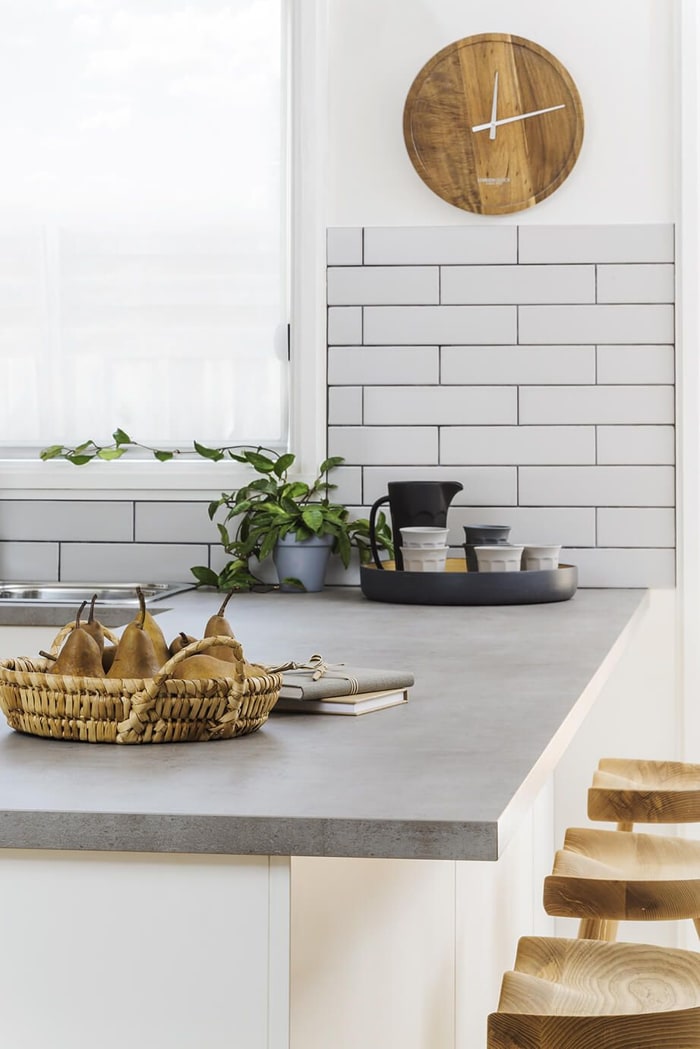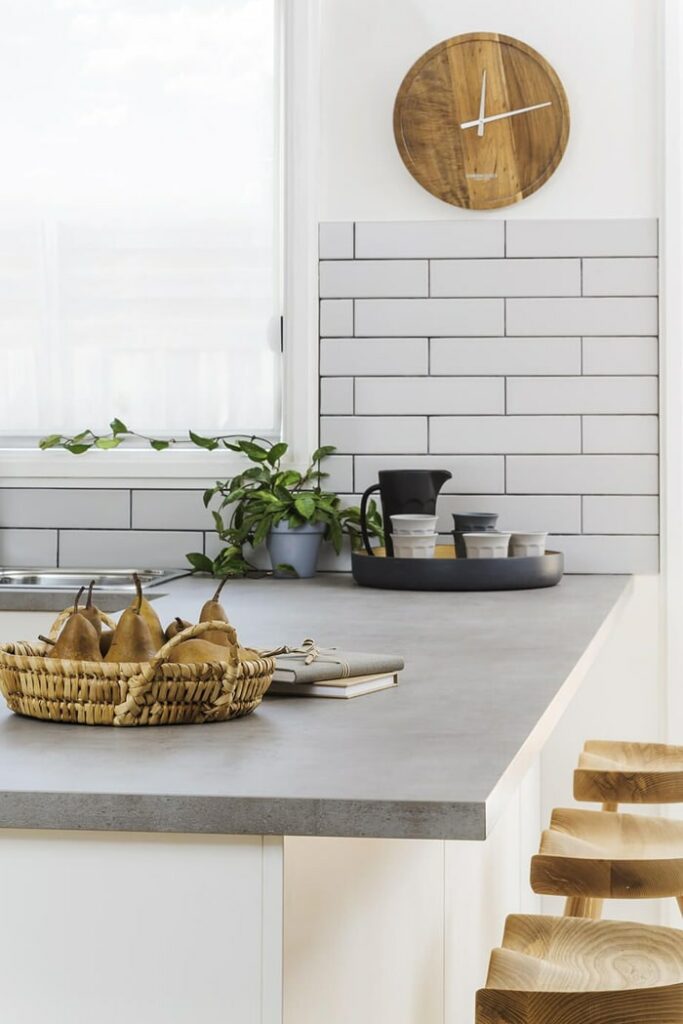 10. Vintage
Scout your neighborhood for any garage sales or flea markets or visit an antique shop for any vintage pieces.
Vintage clocks look good when paired with other antique furniture. And they match farmhouse or country-style kitchens too.
11. Above The Door
If most of the walls in your kitchen are already taken up by cabinets, try placing a wall clock above the door or archway into your kitchen.
From this position, you should be able to see the clock as you are moving throughout your kitchen. And it acts as a nostalgic reminder of classroom clocks from your school days!
Clocks that protrude a bit from the wall add more visual interest:
12. On The Cabinets
Fixing a wall clock to your kitchen cabinets is a space-saving hack that keeps the clock at eye level so it is easier for you to see it.
It also doubles as extra decoration for your cabinets, especially cabinets that are monochromatic.
13. Parisian
Bring a taste of Parisian style to your walls with an ornate brass or gold kitchen wall clock that adds charm to any décor.
Pair it together with a crystal chandelier and other black and white vintage or country-style furnishings (and old photos).
And try to add a little more brass or gold where possible. By using brass knobs for your cabinet hardware. Or gold picture frames and curtain rail rods!
14. Blending In (Gallery Wall)
Wall clocks that blend in with your wall color can be combined with framed art and other wall decor for a gallery wall.
Add a plant or two to instantly spice up your kitchen and make it look cozy and welcoming. Natural woven materials like those used in this kitchen, give off Bohemian vibes.
Alternatively, you can hang your kitchen wall clock with other kitchen paraphernalia!
15. Color Match
You do not have to match the color of your wall clock to your wall specifically. Instead, one way to go about it is to match your wall clock with other decorative pieces that you already have in your kitchen!
Like the glassware, mugs, or other ceramicware that in your kitchen display cabinet.
Doing so creates a sense of consistency in your kitchen.
Another fine example of this is matching the color of your wall clock to the color of your island lamps.
16. Country Chic
Integrate country vibes into your kitchen with a clock that has a thick frame and rounded inward finish.
Especially when paired together with floral walls and some vintage China on display, this really gives out the perfect country chic vibes in a kitchen.
17. Shelved
Rather than hanging a regular clock directly on your kitchen wall, you can place a classic mantlepiece clock on a wall shelf. This causes the clock to stand out more in your kitchen.
As with this green and yellow kitchen, the brown clock placed on the shelf draws the eye upwards at first glance. While tying in the darker colors on the floor with the rest of the kitchen.
18. Match The Backsplash
This kitchen showcases a black clock that matches the black tile backsplash. To appear more uniform, all of the appliances in the kitchen are black too.
In this way, the clock has blends in with the kitchen seamlessly even with many other things going on on the wall!
19. Wood
You can never go wrong with wooden clocks as they can be paired with basically any other decor or fixed cabinetry in your kitchen.
A wooden clock can be used to accentuate certain features in your kitchen or to create a balance of warm tones.
An all-white kitchen looks more interesting with a wooden clock on the wall. Along with the wooden countertops.
For an all-black kitchen, go for a lighter shade of wooded for more contrast.
20. Contrast
Aside from making your clock a focal point in the kitchen, use it to tie other colors in your kitchen (e.g., the flooring).
Depending on your overall kitchen color, try to choose a wall clock that is on the opposite end of the color spectrum. Pick a clock with a lighter color for a dark kitchen and vice versa.
Or just use it as an accent color with other small items in the kitchen! Coral in this particular kitchen:
21. Disguised
A clock shaped like a vintage weighing scale is perfect for a farmhouse kitchen. As long as you have the counter space for it!
22. With The Crockery
Display your clock together with your crockery on your shelving space. A brass frame looks elegant.
Putting a clock on your shelf helps fill up awkward gaps, and at the same time is practical.
23. Open Shelving
On that same note, open shelving is yet another option where you can display your clock with other kitchen items – like your herb garden or spices!
This gives you a bit more freedom as you can move the items on your display shelves from time to time. Whatever your fancy!
24. With A Basket
Some clocks have a hook at the bottom that allows you to hang a basket for additional decoration or storage for your kitchen.
You can place dried flowers in the basket for aesthetic purposes.
25. Above The Sink
This square clock with big numbers fits perfectly well above the sink.
But if you are not a fan of square clocks, you can also use round clocks with bold numbers.
26. Inconspicuous
Get a small clock of the same color tone as the rest of your kitchen if you don't want it to stand out.
27. French Country Style
This bold black clock combined with the classic country open shelving creates a French vintage ambiance.
28. On A Door
Not only does installing a wall clock on a door save space in a small kitchen, but it gives a little something extra to your door.
Depending on the color of your door, you can pick a clock that contrasts with your door.
29. Leaning
Provided the clock is heavy enough, you can simply lean it against the backsplash or wall on your kitchen counter.
Like this marble clock with gold details:
Or this wall clock that looks like it's from an old train station:
Alternatively, you can try to source a clock that looks like a painting:
30. Something DIY
If none of the above ideas suit you, you can always choose to make your own DIY clock.
Grab any unwanted plate around your house and use a DIY clock kit to customize your own clock. Get creative with paint and stickers.
Ordinary kitchen items like a wooden chopping board look very appropriate for a kitchen and can be hung on your utensil rack to save space.
Take a look at this kitchen wall clock made from upcycling egg whisks!
Conclusion
Remember to keep your current kitchen interior style in mind as well as a potential location for the clock when looking out for a kitchen wall clock.
Wall clocks are not only useful but a great piece of additional decoration in your kitchen. And if you want something really unique, consider making your own!