40 Cozy Small Apartment Kitchen Design Ideas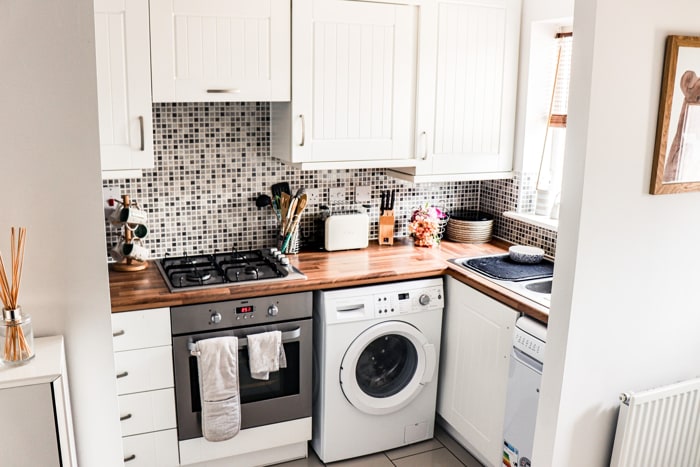 Having a small kitchen does not mean you cannot have a beautiful space! Rather, small kitchens are charming when designed with intention.
As it can be tricky to curate a space that is both trendy and functional, here are some ideas for a typical kitchen apartment:
Whether you are looking for a simple minimalistic design or just modern small kitchen ideas!
1. Lowered Ceiling
2. Cut-Out Wall
This idea is perfect for small-spaced kitchens because it creates a sense of airiness in your house while still maintaining separation between rooms.
It's a neat compromise between an open layout concept and walled-in rooms where you can still see what's going on in the next room, and have a conversation with other people in your home!
And while you're at it, a slab on top of the cut-out ledge creates a neat bar!
For modern appeal, you can form a cutout in an artistic shape or a group of shapes.
You can also opt to paint your cutout's planes or the flat surfaces in between with colors that match the adjoining room's décor.
3. Warm Tones
Wooden cabinets with red undertones will bring a comforting appeal and at the same time, contrast with the smooth and unnatural surfaces of contemporary kitchen counters, cabinets as well as modern appliances.
Warm tones in general, liven up your space for a cozy atmosphere. Just make sure there's ample lighting to bring out those warm hues.
You might want to use them sparingly as highlights too, or they can feel quite oppressive.
Cooler shades like blue and green pair well with warm colors too:
4. Corner Table
Optimize the limited space in your kitchen and take advantage of unused space by transforming a corner into something practical and enjoyable.
Like in this inspiration photo:
Where the wooden tabletop on the window ledge blends in with the kitchen countertop for a more cohesive look. While creating more counter space!
5. Half-Wall
A half-wall can also be used as a room divider to define your kitchen space:
Since they don't go all the way up to the ceiling, you still have the benefit of an open layout. With some privacy and separation. Especially if placed near a bathroom, the front door, or a bedroom.
6. Skinny Island Table
Island tables offer an additional surface area that can be used for food prep, serving drinks, or as a place to perch and hang out with family and friends.
For small kitchens, pay attention to the size and orientation:
Opt for a smaller or skinnier island table to still have adequate space for walking and looks visually more spacious than a typical blocky island.
Moreover, the ample legroom under the island is storage for stools that are not in use.
7. Retro
Using retro amenities to design your small kitchen feels both vintage and modern. There are plenty of ways to implement retro accents!
Like these vintage style pendant lights with bold checkerboard floors:
Retro vibes can also be incorporated by using cherry-red wood cabinets and glossy refrigerators.
You can try a tile-on-tile look for a blast-from-the-past look with modern accents (e.g., cabinet hardware and light fixtures) to make the heart of your home the perfect combination of past and present.
8. Counter Overlap
Overlapping countertops add oomph to your kitchen while simultaneously saving space in a small kitchen.
Instead of a straight slab, you can use polygon-shaped edges to add complexity and character to your kitchen!
Keep it cohesive by using the same material for the kitchen counter and extended bar/ table.
9. Island Drawer
A kitchen island that you can pull out not only saves walking space but looks tidier when shut back. Drawer handles give the illusion of real drawers.
Also, consider adding a pot rack to utilize the space above the island.
Stainless steel tables can be outfitted with a butcher block top for a less industrial look for tiny kitchens.
10. Accent Color
Limited space in your small kitchen should not deter you from giving it a vibrant makeover:
Accent colors will cause a kitchen to look bold and daring.
For example, if your kitchen is white, you can opt to use a bright yellow to accentuate your kitchen and make it stand out.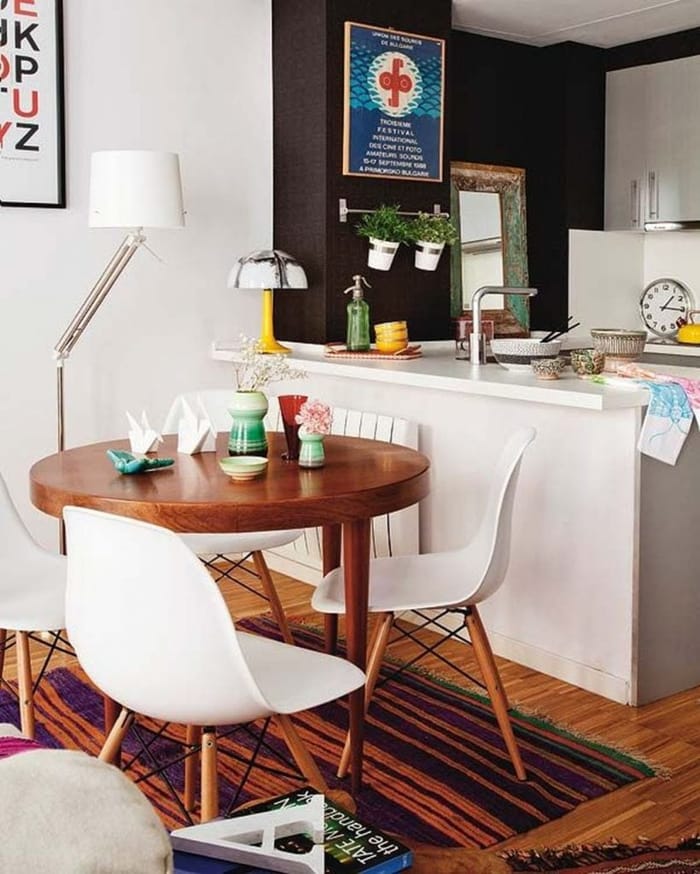 11. Brick Wall
Leaving or adding an exposed brick wall as a partition for your small kitchen will redesign your kitchen instantly and make your cooking space look visually interesting.
It can also serve as a gorgeous accent wall!
Moreover, brick walls will integrate into a small kitchen seamlessly (and not necessarily just for industrial styles either) with their rugged charm and distinct texture.
12. Built In
A built-in kitchen is invariably more coherent and appealing compared to a normal kitchen.
The compact nature of built-in kitchens is perfect to maximize the utilization of the available space. Especially so in smaller spaces like studios and apartments!
13. Folding Island
A folding tabletop for an island counter provides a spot for a cup of morning joe while keeping the floor space clear for the rest of the day.
Save an extra wood slab from your original kitchen counters and install hinges yourself if you're comfortable with woodworking!
To save space in your small kitchen, you can consider a custom-fit table (or hollow island counter) where the table can be pushed under the countertop.
Like in this inspiration picture:
It's easy to clear away the dining table when you don't have guests staying over too. Even better if the dining table is itself extendable!
Alongside the concept of hidden tables, you can also install hidden seats that can be stored away to save space in your tiny kitchen.
In the photo below, the kitchen island has a bar-height bench that can be tucked away seamlessly and slid out when needed.
16. Breakfast Nook Integration
You do not need an enormous kitchen to reap the benefits of a breakfast nook:
The following kitchen achieves this with a round tabletop that extends out over the main kitchen island.
Besides this, there is a pull-out table at the far end of the island for even more dining opportunities and prep workspace!
For a minimalist look, opt for clean cabinetry with wooden countertops to give off a luxurious and elegant vibe.
17. Mirror
Mirrors placed in smaller spaces instantly makes a room look larger because it creates an illusion of depth.
This known interior hack works just as well for smaller kitchen spaces, causing a kitchen space to look bigger than it really is.
It increases the light in the room too!
18. Window Seat
A window seat helps add a stylish advantage to your kitchen. At the same time, it increases functionality without adding a bulky piece of furniture.
So you can have extra seating in your kitchen in an otherwise, overlooked part of the kitchen.
Imagine sitting there to enjoy the nice views outside of your window while you eat or prepare your meals.
PS: If you're not blessed with a scenic view, putting some plants on the sill and hanging them on a rod above the window makes up for the lack of greenery.
19. Narrow
This idea of having a narrow gallery wall is perfect if you have a kitchen with a long corridor running down the middle. And where you cannot afford to have cabinets on both walls.
Note: A narrow kitchen layout is commonly known as a galley kitchen as they mimic the layout found on ships.
Consider having a good lighting scheme to make your tight kitchen feel bigger. There are plenty of lighting options you can try if your kitchen doesn't see much natural light.
For instance:
Task lighting with under-shelf spotlights can also emphasize a certain section in your narrow kitchen, such as the main workspace or your coffee bar.
20. Coffee Bar
Make space for a coffee bar in your plan for built-in cabinets. Movable island counters and bar carts can also serve as coffee bars if you stay in a rented space.
Other than that, you can really turn any spare space into a stylish coffee bar with a built-in niche. And if you don't want to leave the wall plain, you can line the wall with temporary wallpaper.
A wall niche is a wonderful (and convenient) spot to display your beloved collection of mugs instead of hiding them in the interior cabinet doors!
21. Scandinavian
Scandinavian kitchens prioritize on simplicity, airiness, and efficiency. With just a hint of color mostly from the use of wood, and plants.
It's safe bet for a timeless kitchen if you're unsure of what interior style you want as it can be dressed up easily.
This white Scandinavian kitchen has a flood of natural light and light wood tones that balance the darker hues of the wall and floor.
The kitchen is not large, but has a clean and elegant look.
22. Pop Of Red
Implementing one source of bright red into your small kitchen will instantly make your accentuate your kitchen very chic and stylish!
Particularly in an all-white or Scandinavian styled kitchen. Though we could definitely see its appeal in a retro-styled or more contemporary kitchen as well!
23. Glossy
Glossy black-and-white tiles will complement any white or black cabinets that you have in your kitchen.
The tiles will reflect light, creating depth and space in your kitchen. Same goes for the cabinet and countertop surfaces.
Which the wooden table and matte walls contrast well with!
24. Planned Storage
Plan your storage ahead to make the most of what little space you have in a studio apartment.
You can store utensils in a cutlery tray, and install hooks (e.g., suction hooks on a tile backsplash or magnetic ones for the fridge door) to hang mugs.
Another option is getting a cutting board that fits over your sink.
Everything has its place in this kitchen – even the microwave and the fridge, leaving the countertops bare enough for food prep!
25. Pendant Lights
Simple pendant lights provide ambient lighting and can be used as a substitute for a dramatic chandelier that may overwhelm your small kitchen.
You can get pendant lights with fabric or woven shades for an additional luxury or boho factor instead of a bare pendant light that looks more industrial.
26. Open Shelving
Open shelving can work in a small kitchen too:
Although it does look visually less messy if everything is color coordinated and kept together by function (e.g., spices, coffee supplies, cereal, etc).
And if you are not such a big fan of open shelving, have open shelving for one section of your wall.
You can keep the rest of your stuff (that are not frequently used) inside cabinets.
Another benefit of open shelving is the ability to constantly switch up the look of your kitchen (e.g., more plants, decorative mugs, and vases, paintings, etc).
27. Grid Tiles
Small white squared tiles are one way to make a stylish splash in your apartment kitchen without adding too many loud colors in an already tight space.
Choose one wall as a feature wall. Or multiple.
They look great with plants, a Scandinavian-styled kitchen, or even vintage accessories! Like the lights and clock in this kitchen:
28. Saving Space
Living in a studio will require you to utilize your space to the best of your abilities. Try to pick furniture that is more versatile in their mobility or how you can use them.
Heed where you place them too!
For instance, a high table with a bar stool doubles as a working space as well as a kitchen table in this inspiration photo.
Furniture that is hollow and with slender legs are another space-saving hack for a small apartment – visually and physically:
29. Drop Leaf
Unless you live in a rented space, drop leaf tables are incredible space-savers in place of a table if your kitchen is very narrow.
When you don't need the extra workspace, just have the leaves down. Put them up when you have guests or have a project to work on!
There are also regular tables with 2 sides that can be dropped instead of just 1. For these, you can have just one leaf up while the other rests flush against a wall.
This style of table was popular many years ago so maybe a trip to your local thrift shop is in order:
30. Partial Island
Limited space should not keep you away from getting an island for your kitchen.
Opting for a partial island in your kitchen instead saves space but you still get the perks of a full kitchen island.
31. L-Shaped
An L-shaped countertop makes the most of your kitchen apartment and works with both contemporary and traditional cabinetry.
It leaves the opposite wall free to put a small dining table too.
Take this design one step further by using the entire wall to fashion clever storage solutions, from floor to ceiling.
32. Accessorize
Same kitchen as above, but with a different look just by what you use to decorate it! Also, note that the lighting fixtures and blinds have been changed out.
There are now plenty of potted plants. And the chair back covers and rug have been replaced.
The overall vibe is now more cool-toned and modern than the previous woody Bohemian-Scandinavian styling.
33. Clean Lines
Skip hardware to streamline the look of cabinets. White and wood is a color match that never fails to make a space look bigger than it is.
Ideal if you're looking for a well-balanced and minimalistic look with lots of hidden storage options.
Having the black pendant lights clearly outlined against the white cabinets draws the eye up vertically so that the ceiling appears higher too.
34. Plant Heaven
Plant lovers will jump at the chance to include more plants, and why not the kitchen?
If you can't afford to have plants hogging precious little counterspace real estate, create space for the plants with wall shelves or put them at the top of your cabinets.
With the exception of a countertop herb garden so that you can pluck fresh herbs to season your meals with ease.
35. Clever Storage
The trick to maximizing a small apartment kitchen is to organize your ingredients, utensils, and appliances with clever storage.
Like cabinet-sliders for counter-top appliances so they slide in and out of hidden cupboards. For rental-friendly solutions, use shelf dividers, suction or magnetic hooks, and Lazy Susans.
Don't forget your kitchen island (if you have one)!
36. All White
Simple and sophisticated, an all-white kitchen still leaves plenty of room for experimentation but is fresh, clean, and timeless:
You can pick out a tile backsplash of an unusual shape, rather than the usual subway tiles for instance. Or you can match all of your hardware to the light fixtures.
In the photo below, the gold knobs pair with the single ceiling light.
37. Mobile Island
Mobile islands have the characteristics of your normal kitchen islands, but with wheels!
Push it aside when you want to host a dinner in your small kitchen. Or bring it closer for a serious baking session!
38. Timber
Even the smallest pop of timber has an instant warming effect in a contemporary space, which could otherwise come across as a little cold.
Mixing timber with other elements such as glass and marble will elevate your kitchen interior further.
Having warm-toned woods together looks very inviting too:
39. Divider
If you desire separation between your living area and kitchen, an alternative to a full wall is a half-wall room divider.
The idea here is to separate the kitchen from other areas without disturbing the style of each room too.
In order to achieve an effortless transition between both spaces, the apartment below sticks to a clear color palette for both rooms:
40. Scandinavian Meets Farmhouse
This kitchen uses the rustic, woodsy charm of simple Swedish and Danish décor together with down-to-earth and practical feel of American farmhouse style.
There's ample storage capacity with the double stacked cabinets. And built-in appliances keep the counter open for food prep:
Scandinavian farmhouse kitchens use lots of white too.
Conclusion
Smaller spaces do not mean you should limit yourself when it comes to designing your small apartment kitchen.
With some planning, you can fully utilize all the space that you have in the kitchen. Including having guests over! Without it looking like a cluttered mess all the time!