30 Adorable Colorful Kids Bedroom Design Ideas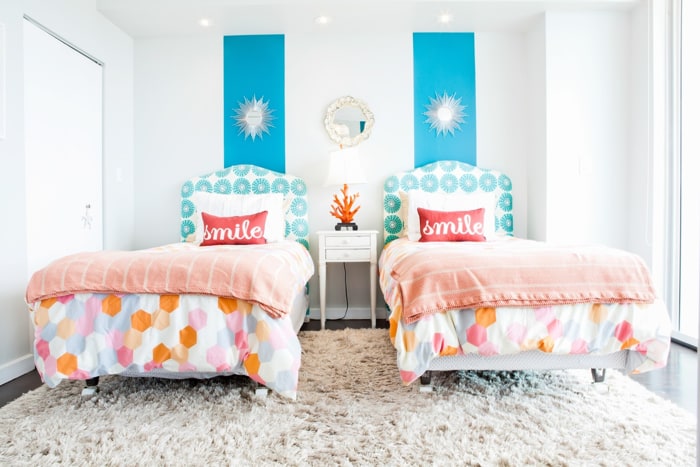 A kid getting their own bedroom is a rite of passage for every child. It symbolizes a kid gaining the right to privacy and their independence.
It is normal to expect your kids to start expressing their own opinions as they grow up, thus take this as a golden opportunity of customizing their bedroom together.
Here are some creative and fun kid's bedroom ideas and designs that you and your child can draw inspiration from!
1. Printed Bedding
When it comes to finding the best kids' bedding for your kids, comfort, color and durability are key.
But bedding is also one of the easiest ways to change up the look of a bedroom!
Base the choice of bedding off your kid's favorite characters or do a little mix-and-match with different patterns and colors.
Siblings that share a room can have different bedding too:
2. Rainbow Bookshelf
Paint several wooden boards in the shades of a rainbow and nail them on your kid's bedroom wall to make a colorful DIY rainbow bookshelf.
Depending on the length of your wall, you can also buy multiple boards to create as long of a shelf as desired.
Color coordinating storybooks with the shelves will also encourage your kid to have fun while tidying up their bedroom!
3. White Vs Color
White color is a good base to accentuate and feature other colors in your kid's bedroom.
For example, white bedding with colorful pillows and blankets, or any other stuffed toys that your kids have.
Or a white bookshelf to contrast with colorful storybooks.
4. Stripes
By painting vertical stripes or using vertically striped wallpaper, you can add height to a room.
And at the same time, they're very stylish and chic!
5. Art Gallery
Designate one of your kid's bedroom walls to be a gallery wall where they can put up recent artwork they made.
Another alternative to framing up artwork is to get some rope and fix it to your kid's bedroom wall. Give them some clips to hang their drawings.
This would also make it easy for them to change the landscape of their bedroom anytime they like with new paintings.
Painter's tape works too:
6. Pastels
Pastel tones are simple to incorporate in a snap and they blend in well with wooden tones and white furniture pieces.
You can use shapes and colors that remind you of marshmallows!
Pastel prints are not too much either:
7. Chalkboard
A chalkboard in your kid's bedroom is not only a huge canvas to scribble on anything they like, but you can also use it to subtly educate them!
An alternative to this if you are worried about chalk dust would be a whiteboard and some colorful non-toxic washable markers.
8. Flower Wall Mural
Flower murals create visual impact in a kid's bedroom. And look stunning besides adding more vibrancy!
Keep the surrounding bedlinen and furnishings relatively plain and in neutral shades and allow plenty of natural light in so the mural can take center stage!
9. Hot Air Balloons
Miniature hot air balloon models dangling from the bedroom ceiling that also function as lamps are a unique design idea for a kid's bedroom!
Pro-tip; paint a blue sky with some white clouds on the ceiling (and walls) so the whole bedroom looks like a floating dream!
10. Rainbow Wall
Using painter tape and careful brushstrokes, your kid's bedroom wall can be turned into a rainbow of stripes.
If you want to embark on a project like this, do not allow the paint to fully dry before you remove the tape. Conversely, the paint must be fully dry before you proceed (i.e. taping and painting) to fill in the next color.
Caulk can also be an alternative to secure the tape lines, so the paint does not seep through the adjacent color.
For something less bold, use pastels and only paint a portion of the room rather than a whole wall!
11. Yellow & Mint
Yellow is one of the most versatile colors when it comes to interior design for a kid's bedroom as it is timeless and cheerful, and works perfectly in a bedroom of any gender or age.
A combination of yellow and mint in your kid's bedroom is both trendy and easy to pull off with clean whites and greys mixed in.
Yellow gives off a bright and sunny look whilst mint provides a cool and refreshing vibe that is easy on the eyes.
12. Dots Of Color
Cut out circles of different colors and sizes with your kid and use them to decorate the walls:
Smaller polka dots will give off a more traditional look while larger dots are associated with more contemporary spaces.
13. Sprinkles
Aside from polka dots, you can also cut out small straight lines that resemble sprinkles and stick them on your kid's bedroom wall.
Sprinkle stickers can also be used to add a sweet and colorful touch to any bedroom as they come in a wide variety of colors.
14. Half Tones
This is a great way to add a little contrast and texture to your kid's bedroom.
There are various types of interesting combinations out there such as monochromatic tones or using two contrasting pastel colors.
This is a great way to add a little contrast and texture to your kid's bedroom.
There are various types of interesting combinations out there such as 1 color for an accent wall or two contrasting pastel colors.
15. Pom Poms
If you like a touch of whimsical décor, pom poms are ideal as they add color and warmth to any part of the room.
You can make colorful pom knobs to go with your cupboard or even add pom-poms (or tassels) to your curtains.
16. Ceiling Decor
Give your kids' bedroom a 3D vibe by adding some ceiling décor.
You can hang banners, dangling airplane models, or just adhere glow-in-the-dark stars!
17. Earth Tones
One of the best ways to create an inviting space for your kids is by implementing earth-tone colors.
Use furniture with clean profiles and a mixture of browns, greens, reds, yellows, oranges, greys, with a bit of black for a natural and simplistic vibe.
18. Paint The Ceiling
Another fun way to jazz up a kid's bedroom is to paint the ceiling! If you're not sure what to paint, stripes are a safe bed.
Just use the same colors as accents around the room for a more cohesive look. Like the ribbons on the curtains, the flowers, and books of similar pink hues in this room:
19. Reading Nook
Single out a little corner in your kid's bedroom and make a cheery and welcoming reading nook with colorful throw pillows, assorted plushies, and cushions!
Throw in a beanbag, some bookshelves, and a little table close by for a productive area where your kid can do all their drawing, reading, and writing.
20. Accent Wall
Accent walls can be used to frame the main pieces of furniture or areas of activity in a kid's bedroom.
The block of color draws attention to a particular area in the room – as seen in this inspiring bedroom:
21. Contemporary
Create layers of fun in your kid's bedroom to reflect their unique and vibrant personalities.
Use loft or bunk beds to make the area look bigger and add some whim with cloud-shaped lights.
For shared bedrooms, you can also literally draw a line to separate the two halves of the room and design each partition differently using complementary colors (e.g. grey and yellow).
22. Doors
Doors play a big role in determining the aura of your kid's bedroom from the get-go.
Use the door as a design element in a kids' room by painting it in a bright color:
You can also make a DIY sign with your kid and hang it in front of the door.
23. Town Mural
Wall stickers or paint can be used to create building cut-out designs like these:
They can be of similar height in the same color family (e.g. pastels):
Or low to the ground around the flour skirting, as in this bedroom:
24. Beige, Yellow And Salmon
Another fail-safe color combination:
Beige, yellow, and salmon make a room bright, attractive, and cozy!
Incorporate these warm tones through painting a beautiful sunset mural on the wall or using orange bedding in your kid's bedroom.
Don't forget about curtains!
25. Neon Beds
Upcycle an old metal bed frame with a wash of brightly colored paint!
Neon beds easily become the centerpiece of a bedroom. Especially in a mostly-white bedroom:
But don't be afraid to experiment with colorful bedding and murals too:
26. Paint The Trim
When white walls are too boring but you don't want to commit to painting all of the walls:
Choosing to paint just the ceiling and floor trims, or window frames is an understated way to give a kid's room character!
27. Peach
Peach is a perfect color choice for those looking for a balance between bold bright colors and light pastel colors.
Like yellow, it goes well with many plain or patterned furnishings. And looks fun!
28. Green
For kids who are constantly on-the-go and active, shades of green around the room would be a good choice as they would feel that they are always surrounded by nature.
Because of how the human eye is drawn to green, you don't need a lot to make a room pop!
Red and yellow are great colors to pair with green as well:
29. Dark Walls
It might surprise you, but you can use dark walls for a kid's bedroom too:
Similar to using lighter colors, painting the walls darker contrast with whatever you put on them. As long as the items or decor are not darker than or too similar to the shade you have chosen.
30. Complementary Colors
Study a color wheel to help you figure out what shades look good together.
Blue and orange are known color combinations that photographers like to use for that reason:
Purple and green are another complimentary pair of colors:
Similarly, the same goes for more pastel/ fluorescent shades like in this bright pink and electric mint bedroom:
Conclusion
In many ways, decorating a kid's bedroom is totally different from decorating your own bedroom! You can experiment with more youthful colors. As we've shown in this post!
At the same time, the presence of inevitable clutter from toys is a lot less obvious in a colorful kid's bedroom!