30 Best DIY Christmas Gift Ideas For Everyone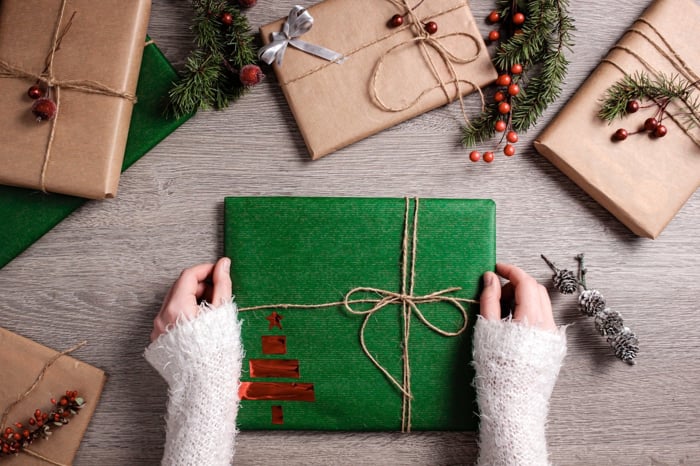 Homemade presents are not everybody's cup of tea. If you're really not sure what to get someone, a gift card to one of their favorite stores may be a better idea.
However, for someone you're close to, these 30 DIY Christmas gift ideas are worth the extra effort!
They're all about making the special person feel extra loved! Revolving around their home decor, hobbies, self care, and taste buds!
1. Candles
Candles, but ones that you don't see everyday! Starting with these magnificent oyster candle holders!
Not forgetting teacup candles! Dainty porcelain antiques are the best!
How about pressed flowers in a transparent cup?
Enamel mugs are charming too!
2. Handmade Pottery
Organic shapes are actually all the rage now. Which makes this craft even easier!
A matching set of small dishes will make stunning displays for jewelry and other bits and bobs!
3. Dressed Up Booze
This Christmas, why not bring your own team of reindeer to rival Santa's?
If there's no particular holiday, this pineapple disguise is great for delivering a chuckle or two, chocolates, and wine!
4. More Candles
This box made of old photo frames will blend well with most interiors. And your recipient can reuse it time and time again!
5. Crotchet Cactus
It might be sending the wrong message so make sure the recipient is someone you're close with! Perhaps a niece or nephew who has recently picked up sewing?
6. Bohemian Pot
If you know that the person is really into Bohemian decor, they'll find numerous uses for this jute/hemp rope pot with adorable yarn tassels!
Make them a set of assorted sizes. Or put a surprise gift inside!
7. Repurpose Old Books
Remove the pages from old hardback books, and stuff them with bamboo skewer sticks to make an unusual knife holder!
Ideal for a farmhouse style kitchen!
8. Plant Holder
Find an old photo frame that can stand on its own, or whip a simple frame up with some spare wood pieces.
Drill a couple holes on top so that you can hang little glass jars from it! Gift this to someone who adores succulents! You can also use fake plants or tea lights!
9. Travel Jar
A physical reminder to your loved one that they should prioritize what they love doing – travel!
One day, they'll have enough for their dream destination! You can put some cash in to start them off too!
PS: You don't have to painstakingly paint a map on, decoupaging one onto a glass jar works too.
10. Oysters (Again)
If you have a talent for painting, these oyster shell trinket dishes make a very unique gift!
11. Bookmarks
Broken bits of pressed flowers arranged as if they're blowing in the wind add a whimsical touch to the otherwise common concept of bookmarks with pressed flowers!
12. Personalized Care Package
Stuffing a mug, or basket with their daily essentials or favorite products is a safe route to go if you don't know what they currently have in their wish-list or shopping cart:
And you want to be sure that they will put your gift to good use! This works for minimalists too!
Just don't try this with someone who isn't a close friend or it could come across as creepy.
13. Fishing Game
Kids don't need expensive toys to have fun! Make a pair of rods (or more for each kid + friends) and matching pairs of fish (or number them) so that there are some rules to the game!
14. Customized Bookends
Use dinosaur figurines, My Little Pony toys, or superhero figurines, etc to make awesome bookends out of simple store-bought or thrift-ed bookends!
They can look expensive depending on the materials you choose:
You can even make key holders! Or jar toppers!
15. Custom Table Lamp
You can take the previous idea a step forward and make an epic lamp featuring their favorite characters or even playing out a scene from their favorite movie or book!
16. Felt Desserts
For a kid's pretend tea party! This works for felt cooking ingredients too.
Or for a vegetable garden of their own!
17. Cookie Mix In A Jar
Maybe they're a fan of cookies you make, you can let them try out the recipe for themselves! This gift idea is not advisable for someone who hardly ever touches the oven though!
For foodies, you can make them a food board!
18. Christmas Morning Box
Be sure to check the expiry dates of the perishables first!
For coffee lovers, put their usual flavors and one new one to try!
19. Desktop Calendar
Some designs (like the one shown) can be reused the next year too! If you go for a full-sized calendar, you can pre-mark dates that are important to you both!
20. Long Distance Letters
If your loved one is moving away to start a new chapter of their lives, you can write them a set of letters to open when they reach certain milestones, or depending on their mood!
Opening a letter feels so much more personal than reading an instant message!
21. Organizer
If you know some carpentry:
Not only is this a very practical gift with great versatility, but you can personalize it with an engraving!
22. Customized Rubik's Cube
A fun way to display memories! Printing the photos in the respective colors rather than in full color will help a lot with solving the puzzle faster!
23. Polaroid Display
Have a bunch of Polaroids from last year and don't know what to do with them? Frame them up to remind a friend of good times shared!
You can also choose one very special occasion that the photo represents to both of you and create a themed display!
24. Cute Stationery
Use polymer clay to make adorable stationery like push pins, safety pins, magnets, pen toppers, etc.
There are so many options but how cute are these succulents paper clips?
25. Bath Bombs
Learn to make homemade bath bombs!
Or bath soaks! Gingerbread and peppermint are festive scenets you can try!
26. Travel Game Sets
Altoid tins can be turned into mini game sets and portable board games you can take with you on the go! Invent your own game!
27. Dollhouse Furniture
Know someone with a doll house or who loves dolls? You can contribute a homemade furniture piece – perhaps their very first one!
28. An Organizer For A Hobby
Chances are, they need ways to organize their ever-growing hobby – be it collecting figurines, sewing, gardening, etc.
You can DIY a customized shelf or set of matching organizers to hold all their things!
Or paint mason jars to hold baking or cooking utensils:
29. Sew Something
If you know how to sew:
There are a tonne of things you can make! Bags, scrunchies, aprons, stuffed toys, lunch boxes, bag inserts, packing cubes, tea towels, napkins, tote bags, bowl covers, etc.
And things like this reading pillow!
30. Homemade Dog & Cat Treats
Let's not forget the furry family members!
Don't forget to wrap your Christmas gifts!
Conclusion
It's a shame when handmade gifts are not appreciated! We personally like sticking with practical gifts so they don't end up that way!
Food is a safe bet in our books too!