20 Stylish Bedroom Chandelier Ideas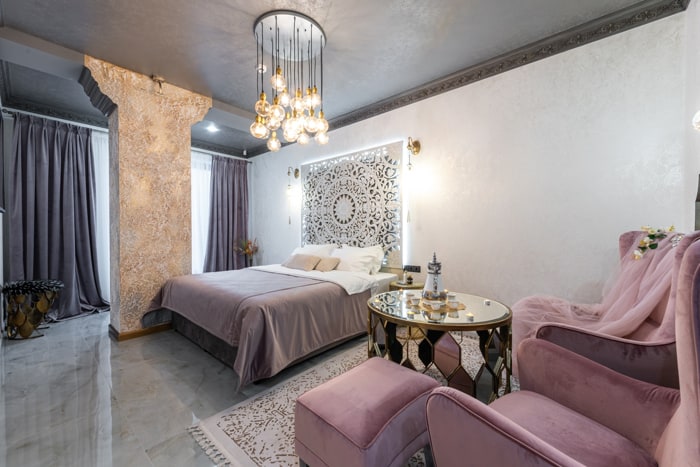 Need something to glam up the bedroom? Try chandeliers!
Chandeliers can add an elegant touch to a bedroom with their unique designs! Your bedroom doesn't have to be big to accommodate certain chandeliers either!
Here are a few stylish bedroom chandelier ideas to help you choose one for your bedroom interior!
1. Caged
A caged chandelier perfectly complements a rustic, Southwestern, or Mediterranean bedroom interior due to its old-fashioned charm!
These types of chandeliers can come in brown, silver, white, and black!
However, light-colored walls best suit dark-colored chandeliers and vice versa to highlight the curvy outlines of the chandelier. Cage chandeliers suit both a textured/ patterned or plain wall too!
2. Sputnik
We're sure you've seen these eye-catching chandeliers around:
Sputnik chandeliers typically have branches with light bulbs on either end, resembling a light explosion!
Thus, they add a fun and youthful vibe to the bedroom. But still, look classy with their sleek silhouette. We prefer this contemporary chandelier in a modern-styled bedroom.
But they can blend in with a mid-century room style too.
Dark but mainly plain walls such as dark blue, dark gray, black naturally outline the soft glow of the chandelier.
Consider your room ceiling height before getting one of these as there are various designs suitable for a low or high ceiling. The one in this picture is better for a high ceiling.
3. Medieval
The dramatic effect of these candle-styled chandeliers accommodates any bedroom interior from a modern-styled to a farmhouse-style interior.
A chandelier like this looks graceful in a modern-styled bedroom. And for a farmhouse-style bedroom, they add to the antique look!
We prefer them in a spacious bedroom due to their grand appearance!
4. Delicate
We love how a simple chandelier paired with a loft ceiling makes the bedroom more elegant effortlessly!
You can find different patterns in these chandeliers, such as flower patterns, raindrops, leaves, etc. Common colors include gold, brass, black, or silver!
Pay attention to the height when selecting a chandelier like this for a large and small bedroom!
Light and mainly plain walls will bring out the fine details in the design of the chandelier!
5. Beaded
It might be surprising but beaded chandeliers have been attaining popularity in the last few years!
Even though they are seen as a dated style, many have fallen in love with them due to their classic appearance!
There are various colors to them such as blue, green, brown, white, black and more!
However, white beaded chandeliers are more versatile since they suit light/dark-colored walls that are textured/plain.
A mid-century, Bohemian, Scandinavian, antique, or farmhouse-style bedroom is more appropriate for these chandeliers as they make the bedroom look graceful!
6. Paper Lantern
If you're looking for a simple, light yet modish chandelier, a paper lantern should be considered!
The soft glow that radiates from the paper lanterns gives a warm energy to the bedroom!
These chandeliers come in various shapes, sizes, and colors that make them suitable for any room size and bedroom interior!
Don't want much contrast between the lantern and the rest of the room? Choose a dark paper lantern for a dark wall so one doesn't appear to be louder than the other!
However, we best prefer paper lanterns for a light-colored wall as they will make a bedroom look more spacious!
Paper lantern chandeliers are an excellent choice for minimal or Japandi style rooms!
Tip: Consider getting a medium-sized chandelier if your bedroom size is large, to add expanse to the bedroom!
7. Wood
Somehow these simple wood chandeliers make the bedroom look modern and very stylish! At the same time, the earthy wood element of these chandeliers makes any bedroom feel airy!
Thus, they would best suit a farmhouse, Scandinavian, or contemporary-styled bedroom.
And although they are fine for patterned walls too, we prefer them with plain walls for clear outlines and a refreshing feel to the bedroom!
8. Geometric
We find these geometric chandeliers intriguing with their beautiful structural designs!
Due to the versatility of these chandeliers, they are suitable for any modern bedroom interior!
There is a wide selection of these chandelier types to choose from too. They can come in various shapes – triangular, circle, diamond, etc.
And they also come in several colors too such as brown, black, silver, and gold! Metallic colors like gold and silver are great for a bedroom (with/without patterns) with dark walls.
This combination enhances the chandelier's symmetrical silhouette and makes the bedroom appear extra sumptuous!
9. Feathers
You can make your bedroom look luxurious with feather chandeliers too! Because they don't have a bold outline, your bedroom doesn't have to be large to fit a chandelier like this!
These chandeliers balance a modern, Bohemian, or Mediterranean-styled bedroom as they have a light, soft, feathery texture that makes the bedroom extra dreamy!
Moreover, the feathery details of these chandeliers are clearly defined against dark and plain walls!
It is possible to find feather chandeliers in different colors like black, pink, champagne, etc. But white in particular, can brighten up a bedroom naturally and add exuberance!
10. Sleek
If you're looking for a chandelier that suits any bedroom type, it's probably a sleek looking minimalist chandelier!
These chandeliers are suitable for any bedroom interior due to their modern yet traditional branched features! That goes well with any wall color too!
However, they best suit a large bedroom and also one with a high ceiling as they can be quite huge!
This of course, depends on the design you choose. Fewer branches will look less imposing in a small bedroom.
11. Tassels
Tassels are coming back into the limelight!
Especially for a cottage or Bohemian-style bedroom as they flawlessly add posh vibes to a bedroom! And they even make a bedroom look more inviting!
Soft hues and plain walls perfectly match these chandeliers as so that the delicate yet fashionable tassels show up distinctly without any interference from a patterned wall!
These chandeliers can be quite large, and are therefore more ideal for larger bedrooms.
12. Crystal
Crystal chandeliers are timeless and won't look out of place in a modern, mid-century, or Scandinavian-styled bedroom.
Crystal chandeliers are a must for a French-themed room:
Rooms look very welcoming and bright because of the way the crystals refract light and distribute it around the bedroom!
Tip: Consider a small-sized crystal chandelier for a bedroom with a low ceiling, they make the bedroom look capacious!
13. Cage Drum
We love how these cage chandeliers make the bedroom seem more enthralling with their distinctive shape and latticework!
These chandeliers go well with a cottage, coastal or industrial-style bedroom due to their simple yet slightly retro appearance that fits in a mid-century era!
You may want to pick one for a wide bedroom since the cages can be quite large!
Gold, white, brass, and black are a few colors in which these chandeliers come in! Gold brings drama to a bedroom with light or dark walls!
14. Globe
Another chandelier that looks best in many different interior styles:
The symmetrical, rounded shape of these chandeliers look wonderful from any angle of the bedroom!
Therefore, you don't have to place them directly at the center of the bedroom! Placing them at the side or at the end of the bedroom works well too!
Even though both patterned/non-patterned walls match these types of chandeliers, plain walls and subtle prints really draw attention to the curvaceous profiles of these chandeliers!
15. Woven
The natural elements of these woven chandeliers blend beautifully with a neutral bedroom!
Along with white walls and ceilings, these chandeliers make the bedroom look bigger than it is!
Tip: Consider placing them in a bedroom with windows similar to the picture below as they make the bedroom appear brighter!
You can choose a woven chandelier for a small bedroom for a light and airy feel!
Interior styles that go with woven chandeliers include Japandi, minimalist, Bohemian, Mediterranean, cottage, etc.
16. Dual Chandeliers
In case it did not occur to you yet:
But having a pair of chandeliers – one at either side of your bed looks effortlessly luxurious and ultra-modern.
These dual chandeliers can be of any variety – globe, woven, sleek, wood, etc. And work well in many bedroom interiors too!
If they hang lower, they are considered pendant lights:
You can also hang them next to each other on different lengths:
This bedroom appears voguish and appealing!
17. Bubbles
If you have a generous bedroom with a high ceiling, these bubble-themed chandeliers will look great in them!
They are perfect for a modern-styled bedroom if you want something unusual but classy!
There're various colors that you can find these chandeliers in – black, pink, yellow and even clear ones too!
Naturally, transparent bubble chandeliers will go well with any wall color and even those with subtle patterns!
While colored bubble chandeliers will look stunning with light walls (like the one in the picture below) so that neither overwhelms the other!
18. Organic
We're referring to the shape here and not the material of the chandelier. There are rounded, triangular, squared, and even oval ones (similar to the one in the picture)!
In white, organic chandeliers can make a small bedroom look large easily! For instance, the clean contour of the wobbly egg-shaped chandelier adds volume to this bedroom!
Such chandeliers really complement a bedroom with a muted color palette too!
19. Wide
This unique chandelier style can bear a resemblance to a branched tree or bird's nest to give the bedroom a delightful luxurious appearance!
A large modern bedroom is preferable for these chandeliers as they are very space-consuming!
Consider the bedroom wall color too! Dark walls(with minimal pattern) will emphasize the salient features of these chandeliers compared to a light background!
20. Oriental
You definitely do not want to miss these traditional Moroccan or Persian style chandeliers! Bohemian or oriental bedrooms will match with these chandeliers.
They also go well in a large or small bedroom since there are various sizes that these chandeliers can come in!
The intricate design of these chandeliers is more apparent on textured or plain walls compared to a patterned wall that will compete with the chandelier's design!
Conclusion
We hope that this post has given you a wide range of ideas regarding different types of chandeliers that can your bedroom more attractive!
Go for something that inspires you personally and makes you feel happy! And as a rule of thumb, keep the height of your ceiling and room size in mind!