20 Latest Dining Room Design Ideas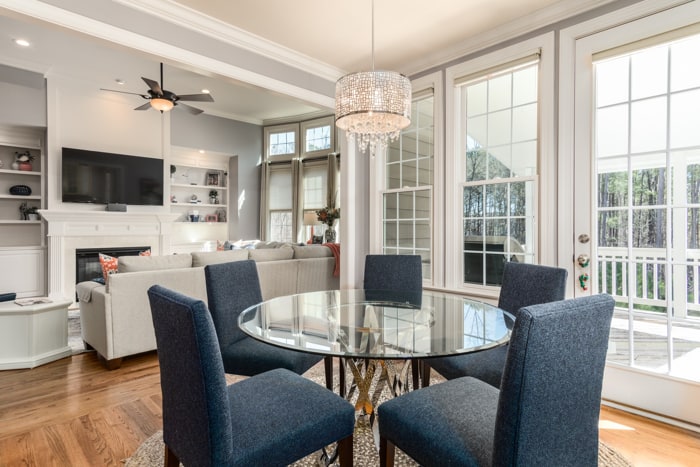 Based on what we see on Pinterest, these dining room designs are still very popular. We have included design ideas that are timeless. And others that are extra special!
If you're someone who likes to decorate their home according to the seasons and holidays, you may want to pick a simpler design that can be dressed up. Nothing too bright or flashy.
For those who love to thrift or DIY, we have some designs in this list that are sure to appeal to you!
1. Curved Spindle Chairs
This style of chair can fit many different interiors – minimal, Scandinavian, bohemian, rustic, farmhouse, etc.
They look good as a set, or mixed up with other chairs of different design (and colors)! See more examples further down this post!
2. Rattan
If you're not sick of rattan yet, this natural material (along with other similar materials) is still finding its way into home interiors!
They make any space look warm and inviting!
You can find them in more contemporary setups too:
They do not even look out of place in this luxurious looking space!
3. Breakfast Nook
Not only does a breakfast nook save space, but an arrangement like this can sit many people comfortably without having to shift chairs around!
Keep it modern with black window panes, chairs, and lighting fixtures.
4. Elegant Farmhouse
Another style that is still going strong. Especially if you have a lot of space in your home, farmhouse can look very grand together with a large display cabinet.
This is one of those dining room designs we mentioned that is more versatile and can be changed up for any season!
5. Earthy Tones
As long as they are in the same family of earthy hues, you should be able to fit multiple pieces of different colors in the same room.
Just keep the walls and windows fairly plain (no colorful prints).
Brassy light fixtures look great though!
6. Cafe
Somehow, these dining room interior designs remind us of a cafe!
Find a place by the window for maximum light and cozyiness.
If you have a larger room to work with, sliding French doors are another interesting feature you can add.
7. Antiques
We love the contrast of shabby looking antiques against stark white walls! Particularly the texture created by the mix of aged woods from the chairs and dining table.
The wall painting has greens and browns in it to tie the lamps, potted plant, and wood tones together.
In this dining space, the color palette is less obvious. Although beige (walls) does go very well with teal and other shades of faded blue!
Despite its rich brown wood and apple green upholstery, the antique couch does not detract from the living room. Putting it in the shadows and beside a dark fireplace helps!
Aged wood textures and warm toned woods along with the antique crystal chandelier and carpet, really brings elegance to this small dining room.
8. Built-In
For a dining space that's tailored to your home, and suited to a minimalist or Scandinavian interior:
Wall nooks look effortless and minimal too, while providing plenty of storage:
9. Colorful Country
Country style gets a refresh in this wonderful dining room. It looks cohesive because all the colors fall in the same palette – blues, greens and browns.
With white and grey for the walls, window trim, table legs, and 4 of the dining chairs.
10. Mostly White
Or you can forgo color and just keep your dining room airy and bright!
A sofa against the wall is another way to create a cozy corner without requiring any built-in seats!
11. Mixed
Mix up chairs of varying heights and from different kinds of styles for an eclectic industrial space. More so if you add many different materials too like plastic, metal and wood.
This kind of dining room design can look neat too. Particularly if you stick with thin profiles for the table and chairs.
The lights you choose can have a significant effect on the mood in the room too. In this room, the white pendant lights seem to amplify natural light in the room.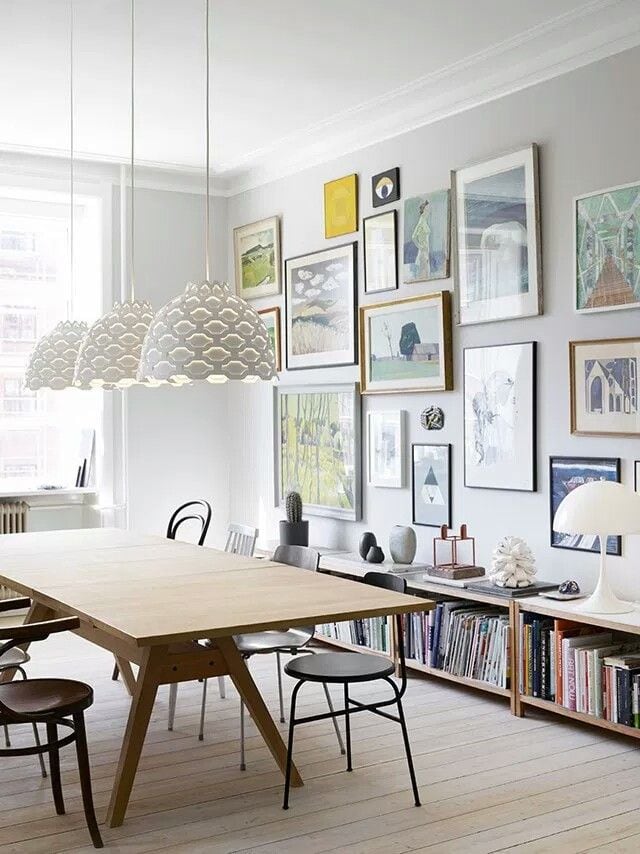 12. Upholstered
Tufted chairs find another use in these dining rooms!
They are really bulky so perhaps, this is not the best style for a small home!
To save space, you can just add tufted chairs for the head and foot of your dining table!
13. Accent Color
You must be clear on the accent color you want if you choose to go ahead with this dining room design!
Green makes a bold choice in this space and we're not mad about it! It works with the wood flooring and black chairs and window frames!
If the chairs were green instead:
Yellow is another statement color that pairs brilliantly with navy and bright greens too.
On that note, why not have 2 bold colors? You can see hints of the same yellow and fuchsia red of the curved back spindle chairs in this dining room.
Blues and browns will always look good together:
14. Prints
Adding printed wallpaper in this dining room brings depth to it. A good way to take advantage of the arched door way that frames the dining room.
Since it covers a large area, go with a print that looks more demure (e.g. dull colors, with no bold outlines, etc).
This dining room utilizes the same colors in the tapestry – blue and red to keep things more unified! Even the striped blue upholstery of the chairs don't look out of place!
And if you do want to go all out with prints on your furniture, keep your walls plain and white!
This room incorporates so many striking prints and colors which could easily have become messy if not for the carefully planned symmetry in the room!
15. Island
Really make the kitchen the heart of your home by using a giant or extended island counter as the dining table too!
You don't necessarily have to use stools:
A bench works as well!
Here's a stepped down variation that is no less attractive:
16. Art Gallery
Instead of merely being a place to have meals, a dining room can be your source of visual inspiration without having to leave your home to visit an art gallery!
It's all about playing with shapes:
You can contrast a chunky table with sleek lightweight chairs. And the room will not look boring even without an accent color.
But don't be afraid to break some rules!
17. Modern Lights
Amp up a conventional set of wooden dining furniture by changing the light fixture to something more modern:
18. Color
Similar to experimenting with prints, keep the walls white and stick to 2 to 3 main colors (wood tones and plants don't count).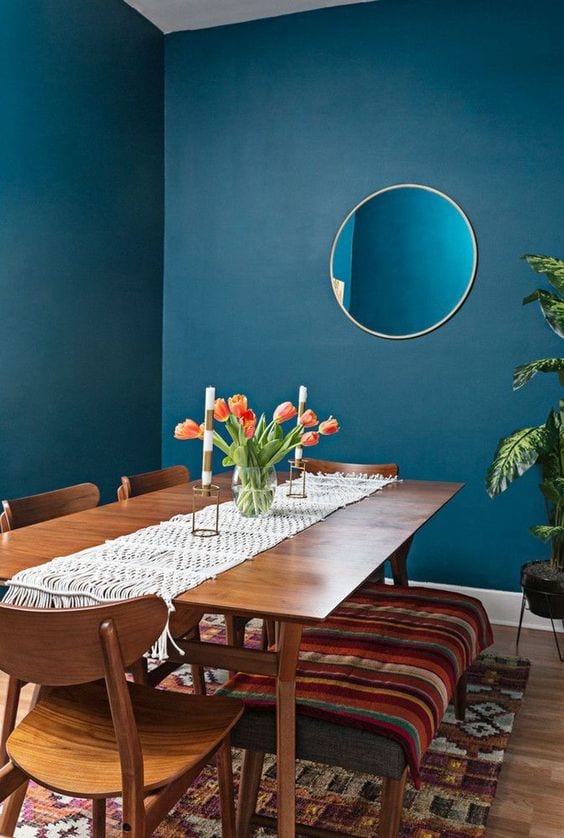 You can use contrasting colors like red and green:
Or different shades of the same color, blue in the case of this dining room design:
While pastels offer a invigorating change:
19. Round Table
Another classic solution for a dining room in the corner, round tables make for easier sharing of food and conversation!
You can use them for breakfast nooks too!
20. Multipurpose
Perhaps the biggest change from having to work from home for so long, is how we have realized that a room can serve more than one purpose!
Take this dining room/ home school classroom for instance:
You can merge your living room and dining room as one to save space too:
Add bookshelves and you have a dining room that serves as a library and study!
Conclusion
Between planning the interior for your kitchen and living room, the dining room can be taken for granted. However, this is another opportunity to further personify your home!
Many of these dining room designs suit larger homes. But even if you have a smaller home or don't throw too many parties, it's still possible to have a stylish dining room!