30 Best DIY Ideas For Kitchen Storage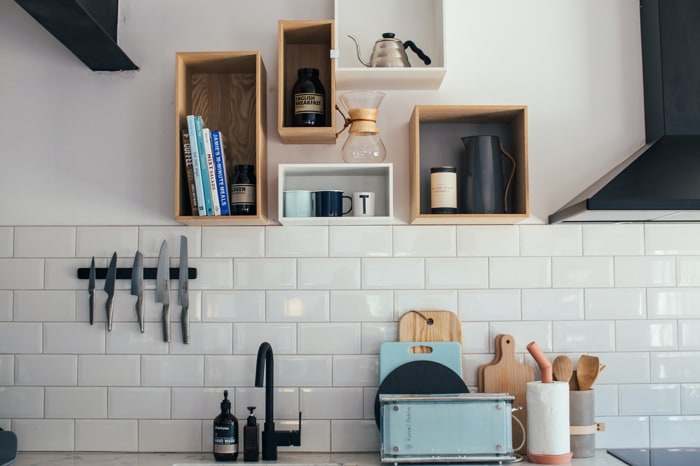 Looking to maximize unused spaces in your existing kitchen? Or maybe you've moved and found that your new kitchen doesn't have enough space for your extensive collection of bakeware!
Here are some inexpensive ways to increase the storage capacity in a basic kitchen. Carpentry skills are not a must for all of these DIY kitchen storage ideas but would certainly come in handy!
You may also need to make a trip to your nearest dollar store. But the more sustainable route is to see what you can come up with using stuff that are already in your home!
1. Shelf Dividers
An easy fix for your standard kitchen cabinets with inadequate built-in partitions! Shelf dividers leave a lot of room for height customization too.
And they'll keep your non stick frying pans safe from scratching each other!
2. Lazy Susans
Circles will arguably take up considerable space on a shelf.
Which is why a Lazy Susan makes more sense in cupboards that are hard to reach (i.e. too low or too high)! Or in corners!
Alternatively, you can fix them to the bottom of your cabinets and drill some hooks on for a very practical carousel of kitchen utensils!
3. Hooks
Hooks – so simple but so versatile! Fix them in a cupboard, on the walls, on the side of your cabinets, inside the door of your cabinets, etc.
If you're hanging cast iron pans, make sure you get durable hooks or ones that are rated for a high maximum weight!
4. Open Shelving
Built-in or modular, open shelves let you see what is in low supply from one glance! More so, with transparent containers.
And you'll likely be more accountable for your mess when it's out in the open. For smaller items, baskets will be your best friend!
Here's a thought, if you remove the doors from your existing cabinets, you can have open shelving without having to buy or make new shelves!
5. Drawer Organizers
It's not that hard to make your own drawer organizers with spare wood from past projects.
You can also salvage some sturdy boxes from food packaging, tissue boxes, or gift boxes from last year's Christmas!
Stiff cardboard with notches work as flexible drawer dividers too! Don't forget baskets!
6. Extra Shelves
There are shelf racks you can buy that can slide neatly onto the bottom of your cabinets and shelves.
They usually cost very little but are incredibly useful!
You can also get some brackets to fix to the underside of your shelves or cabinets to create a custom fit slot just for your chopping board!
7. Door Storage
The inside of cabinet doors is another overlooked area that can be turned into extra storage!
You can attach a rail and use S-hooks to hang cleaning supplies.
File and document holders are excellent for storing cling wrap and other miscellaneous kitchen items.
There are products specifically made to hang over the standard kitchen cabinet door as well.
8. Bag Storage
Plastic bags are bad for the earth and we're not going to get into that in this post. However, reusing them is one way to keep them out of the landfill.
And if you still can't live without them (e.g. need them for bin liners), here are some ways to keep them tidy and ready to use in your kitchen:
The budget method is using a plastic bottle with a wide mouth!
While a more aesthetically-appealing upcycling project could be painted coffee tins with slits on the top for you to remove bags!
And here's how you can store paper bags neatly!
9. Baskets
From metal wire mesh baskets to woven baskets, to hammocks – they come in all shapes and sizes. And are durable and attractive at the same time!
Use them to keep chopping boards, baking racks, etc.
Produce that do not need to be in the fridge:
And for a more sophisticated version of the previous use for baskets – you can replace your drawers with them with some modification!
Or fix them to the wall:
10. Crates
Keep your cookbooks (or potatoes) on hand with some crates on wheels:
Use them for drawers to hold fresh produce:
Or assemble an entire kitchen island out of several crates!
11. Storing Pot Lids
There are a few ways of storing pot lids vertically – in the first inspiration, horizontal beams are enough to keep pot lids of assorted sizes secure.
If you don't have as many pot lids to store, you can afford to use hooks. You will need as least two hooks per pot lid!
12. Wine Racks
The side of your cabinets is a pretty good place to put a wine rack.
13. Pot Racks
Stain some wood planks and put them on the wall for a pretty pot display:
We like that this pot rack is placed by the stairs – a relatively unused place in many homes.
14. Peg Boards
Peg boards can be changed up easily to suit items of differing sizes and function.
For a more rustic look, you can hang baskets on them.
They work just as well horizontally too as customizable drawer dividers!
Here's a fancier variation:
15. Spices
Spices look best when they're in matching containers. If that's not possible, you can look into a spice rack like this one.
Which can be fitted on the inside of your cabinet doors!
Here's an interesting way to store spices – a drop-down drawer:
Alternatively, a tiered spice rack would suit a narrow but wide drawer. Pick a drawer close to the stove to optimize your efficiency in the kitchen!
You can also keep your spice jars upright in a drawer and organized by sticking labels on the tops of the lids!
Or fix magnets to the lids so that they can stick to a magnetic surface. Some people just stick them on the fridge but we don't advise that since the heat from the fridge can spoil the spices.
16. Under Cabinets
Skirting for cabinets is frequently a wasted opportunity for more storage but you can change that yourself with the right hardware and a drill!
They make a nifty wine cellar that you can open out easily!
And offer another place that you can keep bakeware!
They are at the right height for pets too!
17. Pull Out Chopping Station
This would be a lot easier if you haven't installed your kitchen cabinets yet. Then you have more room to fit in something like this clever pull out chopping station/ island counter!
Better still, arrange it right over the bin so the peels can drop in! We do imagine that there's a tendency for stuff that you don't want in the bin to fall in anyways!
18. Stool Storage
Fancy a mobile island on wheels? This design has a place to keep the stools out of the way when you don't need them!
Along with towel rails on either end! And it has drawers on the front and a drop-leaf table at the back for further prep space and storage.
A good source of inspiration for a DIY project if you want an island but are short of space in your kitchen!
19. Extension Rods
Just a single extension rod can be so useful!
And we're sure you've seen this hack on the internet before:
You'll need 2 rods for this configuration but it'll make more sense out of the awkward cavity under your sink!
With a bunch of extension rods, you can turn a huge drawer into a more organized one!
And who's going to stop you from using extension rods vertically?
20. Knives
Get crafty and raid your local thrift store or secondhand bookstore for old books that you can turn into this chic knife holder!
We fully understand that book lovers might find the above idea distressing. Alternatively, tightly bunched bamboo skewers work too!
And so do beans! But we think this is might not be very good for the beans in the long term. If your knives are wet, the moisture might lead to sprouting beans or mold!
If you want something more professional looking, try this drop down drawer with magnets!
21. Bulk Bins
No open shelves or pantry? No problem!
A large drawer can be transformed to hold large containers of bulk food. So easy and convenient for food preparation!
It works for pet food too! Just make sure your pet can't open it on their own!
22. Dog Gate
We just had to include this smart storage for a dog gate!
23. Opened Packets
Keep open packets fresh and visible with these simple but brilliant ideas to store them using binder clips, S-hooks, or a clothes hanger with clips!
This works for inside the fridge too!
24. Spaghetti
Pringle tins and other similar chip tins are just the right size to store spaghetti! Wrap the tins in spare gift wrap to cover up the exterior!
25. Over The Stove Shelf
If it's not possible to drill hooks or hang anything from the wall above your stove, you can make a shelf that fits over your stove instead!
Of course, this works for sinks too!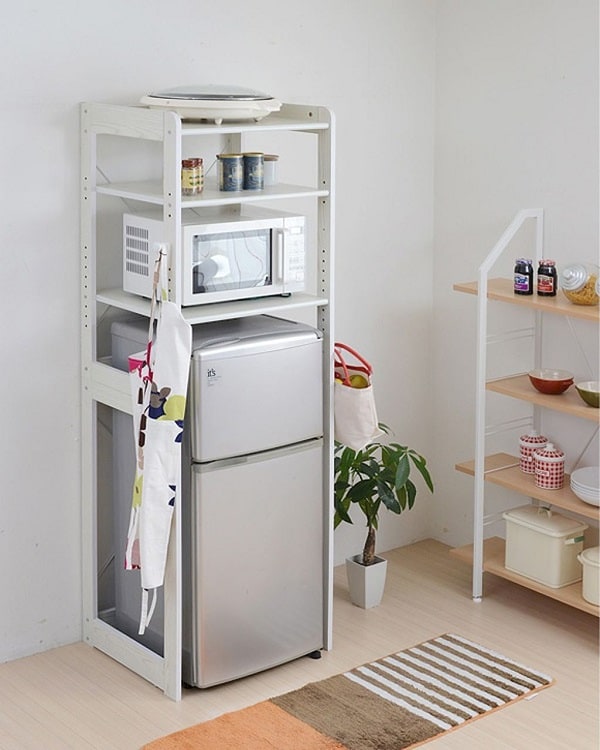 26. Cutlery
After acquiring enough metal cannisters, you can combine them with an old board to make your own customized cutlery caddy!
On the other hand, old denim is tough enough to keep cutlery!
Here's another cutlery storage idea that you can make with chains, a bit of wire, some paint, and old mason jars!
27. Magazine Holders
Magazine holders still have use in this digital age. But for keeping things other than magazines! Store your cookbooks, or bakeware!
Some cardboard between the pans would be a good idea to prevent scratching and chipping though!
28. Sauces
Egg cartons can be upcycled to hold sauce jars upright. So that you don't have to struggle to get sauce out of the bottle the next time you want some!
29. Corners
What better way to make full use of a corner than a corner-shaped breadbox? You can make your own custom-fit corner breadbox!
30. Dish Rack
Old clothes hangers can make a lovely dish rack with a few dowel sticks and well-placed screws!
Conclusion
Think your kitchen is lacking storage? Think again with these DIY kitchen storage ideas! Any kitchen (regardless of size) can benefit from many of these organization hacks!
And you may not even have to leave your house or spend a lot to get the supplies to make these too!
Further Reading