20 Unbelievable Practical DIY Towel Storage Ideas
From sleek wall-hung bathroom furniture and spa baths to color therapy lighting and sound systems, there's more choice than ever when it comes to customizing your bathroom!
Towel storage need not be boring!
Here are more than 20 ideas for DIY towel storage. Many can be repurposed from thrift finds! And some take hardly any effort to set up!
1. Dual Towel Rack
There are many ways to go about this DIY dual towel rack. You can use wood, metal, pipes, etc.
Perfect for a family that never seems to have enough towels!
2. Baskets
Hang them on their side or by their side, you will need to drill at least 2 hooks on the wall.
If you don't want to drill any holes in the wall, there are specific stick-on hooks (i.e. heavy duty adhesive hooks) that can take more weight too.
Or those that use both vacuum suction and an adhesive backing to firmly hold to a tiled or glass surface.
Especially on wood siding, this style of towel storage is compatible with farmhouse chic!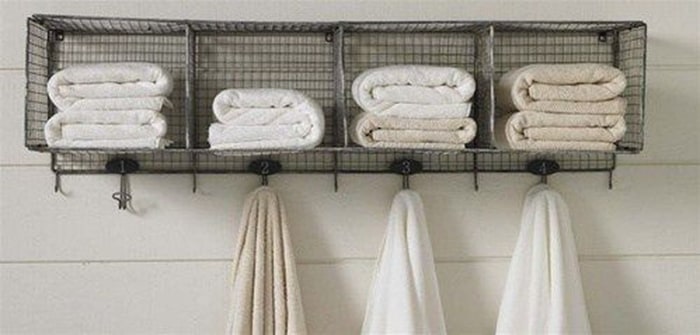 3. Baskets (Continuation)
In case you didn't already think of this, the baskets will work on the floor or on a raised surface (e.g., shelf, stool or chair) too.
4. Wine Rack
You can make this a DIY project if you pick one up from a thrift store or garage sale. There's no telling what precious antique you'll find in your neighborhood thrift store!
For wooden wine racks, just sand and stain it a darker hue.
You'll save more floor space if you hang the rack on the wall!
5. Belts
In place of metal or wooden rods, you can just nail some wide straps to a shelf. Space them apart according to they size of your towels!
6. Crates
You don't even have to do much for this one:
Just tip a crate onto its side, and stack a few more to make a customized shelf. You can also put the crates on wheels!
Paint them any color you want!
Hang them up as shelves with or without some shelving brackets:
7. Natural Ladder
This rustic branch ladder would fit right in with a farmhouse interior! Use ropes to further secure each rung.
Driftwood and young birch saplings will work for this DIY project.
8. Nautical Inspiration
Alternatively, you can string wooden rungs and make a rope ladder to hang your towels on!
The materials you choose can produce a more modern look too:
Another variation of a rope ladder – this one hangs from the ceiling:
9. Bookends
Have enough space to spare on the bathroom counter? Try bookends! This could work for shelves too.
10. Boat Cleats
Boat cleats can hold your towels on smaller wall shelves!
11. Horseshoes
Horseshoes can serve the same purpose to safeguard towels from falling off dainty wall shelves!
12. Picture Frames
Nail/ glue some picture frames together and you'll have a one-of-a-kind wall art that is functional too!
You'll need some really strong hooks though! Consider the weight of the towels when they are wet!
13. Backdoor
For extra storage in the bathroom or linen closet, just hang a wire rack behind the door!
Or 2 towel rods:
14. Spa Trolley
Fill a kitchen trolley or dining cart with your favorite bath treats, candles, extra towels, a bottle of wine, etc.
15. Step Ladder
A step ladder can be used as a side table with the rungs for towel storage!
16. Hanging Basket Tier
Make your own basket tier with spare organizers you have. Hang it from a towel rack or a hook on the wall or door.
17. Foldable Wall Rack
If you don't always need to hang up many towels, this is a storage solution that can be camouflaged with the wall (paint it the same color) and put away when you don't need it.
18. DIY Swivel Rack
Maybe you have parts leftover from your last industrial pipe project, this is a rack style you can imitate for a DIY project:
It's up to you to decide how many levels you want to add!
19. PVC Pipes
Hydroponics project didn't work out? You can turn it into an outdoor towel rack by the pool, gym equipment, or hot tub!
20. Tool Caddy
An old tool caddy (or spice rack) can serve a new purpose as bathroom storage for towels and other toiletries if you hang it on some hooks!
Paint the caddy to match your bathroom!
21. S-Hooks
The power of S-Hooks – need we say more? They're cheap and extremely versatile!
22. Moses Basket
Not just any basket but that old Moses basket that has not be used for years since the kids (and grandkids) grew up!
23. Built-In Storage
Renovating the bathroom? This is an idea you can use if your bathroom has some awkward space between the wall and the bathtub or shower stall!
24. Shelf Dividers
Look at this clever use of shelf dividers in a linen closet!
25. Look Up
This one is for the tall folks! The area above the bathroom door is seldom used but you can change that with a wall rack!
Conclusion
Ok, we lied and we actually have 25 instead of 20 towel storage ideas! Some of them are probably not what you would consider DIY though because they're incredibly simple!