20+ Best DIY Repurpose Old Jean Ideas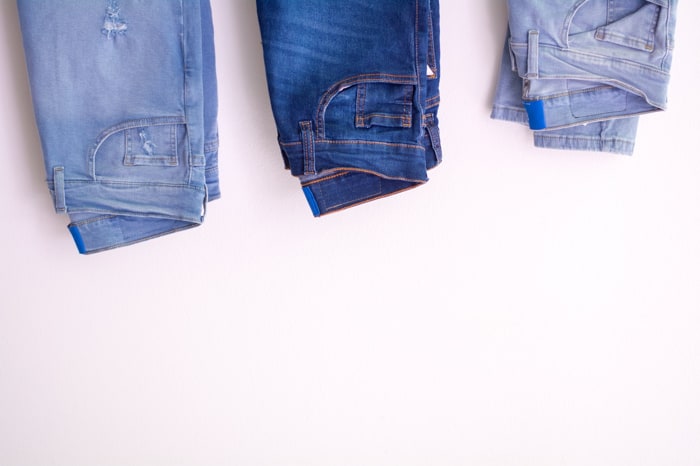 Do you have a closet full of old clothes that you just don't wear anymore? While you can donate some to thrift stores and charity shops, many are already at their limit! And a lot ends up in the landfill!
One great way to keep clothes in circulation is to repurpose your old denim pieces! This fabric is not only resource-intensive to make, but lasts long and goes with anything!
That said, here are more than 20 ways to upcycle your old denim jeans, skirts, dresses – what have you. You do need a sewing machine and a tough pair of scissors for most of these!
Note: You do need a sewing machine and a tough pair of scissors for most of these!
1. Fix The Problem
If the main reason you're getting rid of your jeans is because they don't fit, there are ways to expand (e.g. elastic, matching denim, contrasting cloth), or narrow down the waistline too!
2 small darts at either side of the center belt loop at the back is a quick fix to taper the waistband. And possible but tough with handsewing!
The "proper" way is to rip part of the back waistband and down the entire back seam to sew it back closer together.
Although, this does mean that you have to remove and transfer the back pockets further to the sides. And put the belt loops and waistband back again! A job you might want a tailor to handle!
You can even make your own maternity jeans without having to cut the jeans!
2. Change Up The Style
We love the look of these jeans! Denim on denim on a whole other level!
Or you can embroider hidden dainty (or loud) flower motifs on your jeans!
And it doesn't have to be just flowers either!
If you're good with a paintbrush, you can use the back of your jacket for a canvas!
Or the back pockets!
3. Make A Skirt
Cut the pant legs to the desired length of your new skirt. Rip the inner leg seams, and connect them using the remaining material from the pant legs leftover. Simple right?
You can leave the hem raw or add some embroidery, lace, buttons, etc to dress up your new skirt!
4. Fashion A Bag
There are so many ways to go about this! A rectangular clutch, rucksack, yoga mat bag, cross body bag, backpack, handbag, tote bag, duffel bag, etc.
Any of these are an opportunity for a patchwork masterpiece too!
Go plain or crazy with embellishments!
If you just use the back pockets and a belt loop or two, you can make a little pouch to charge your phone in!
5. Design A Personal Apron
Such a hardy material will make the perfect apron for gardening, baking, painting, or wood crafting even!
6. Organize Your Workspace
Join several denim pieces together and make a table mat with pockets that hang over the edge of the table! Super handy for a sewing station!
Or you can hang your new organizer from behind the door or over the arm of your sofa in the living room!
Besides that, you can make a functional cover for your desk chair too!
7. Furnish Your Home
If you have enough scrap material or stuffing from old pillows, you can make these incredible ottomans out of your old denim jeans!
Integrate pockets into the design and they'll serve as extra storage too!
On that same note, you could make seat cushions!
Or pet beds for your fur baby!
8. Make Sturdy Rugs
If you have lots of denim, time and patience – you can take up the challenge of making a braided rug out of denim!
9. Decorate Your Next Party
Back pockets make for adorable bunting! They've already got the right shape for it!
Speaking of those back pockets, they can be used as part of your tableware décor!
Or you can cut out shapes in denim strips. And wrap these around mason jars with tea lights inside for an enchanting display!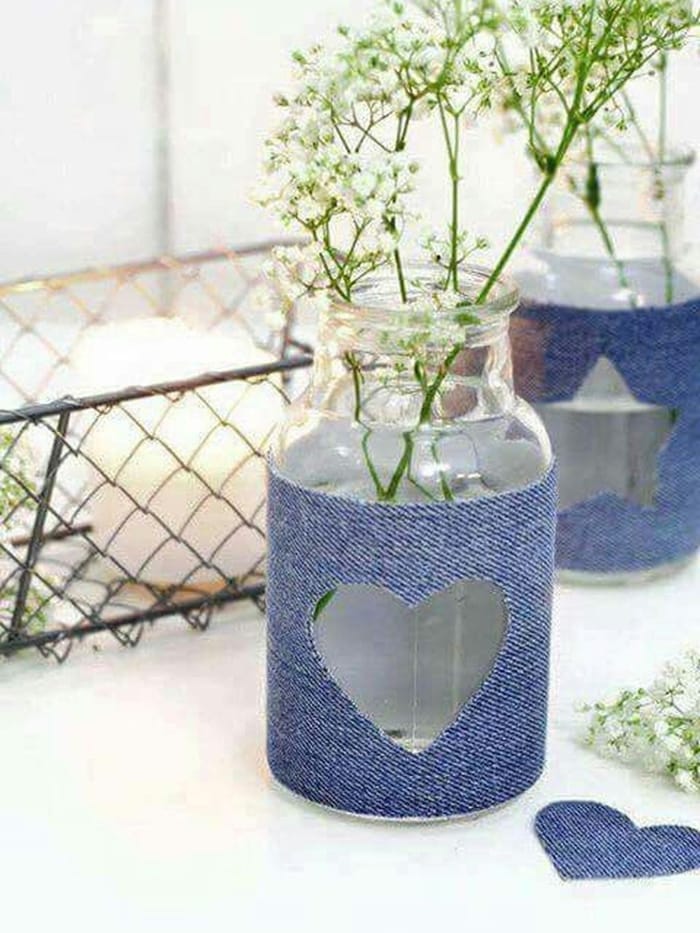 Denim roses and flowers are beautiful too! A bouquet of denim flowers will last you for years!
10. Chew Toys For Your Pooch!
The durable quality of denim is just what you need to make dog toys that last and will satisfy your dog's cravings to chew your slippers!
11. Play Baseball
Yes, you can turn your old jeans into baseballs! Embroider your name or favorite team on if you want!
12. As A Door Stopper
Door stoppers don't have to be boring! Just makes sure to fill them with something heavy!
13. Stuff Them (Christmas Stockings)
You can hide even more gifts in the pockets too!
14. Greet Guests With A One-Of-A-Kind Wreathe
Forget dried flowers and crepe paper, denim scraps can looks just as good on a wreathe. And can be reused for years!
15. Give Your Toilet Roll A Home
An easy, practical and cute diy you can make for your bathroom!
16. Protect Your Hands!
No need for a store-bought oven mit when you have a sturdy and thick pair made of denim! With pockets too!
17. Go On A Picnic
Patchwork style will jazz up any picnic spread!
18. Cover Your Bed
Definitely a statement bedspread and warm too!
19. Hang Them Up
These look great in a country-style interior. And they block out the light as well!
20. More Organization!
Have paintbrushes; make up brushes or knitting needles that are always getting lost?
A wrap like this can keep together when you're on the go! You can go zero waste and make your own cutlery kit too!
21. Put Them On Your Feet
Who can say no to these cute mouse ears?
You can sew a matching set for the whole family!
22. Keep Your Gear
Electronics, notebooks, diaries, etc can do with some personalization and protection. You can even add pocket and belt loops to hold pens!
23. Bring Joy To The Little Ones
Your kids will not say no to a new bed buddy!
Here are some ideas to inspire you:
24. Take A Well Deserved Nap!
Whether you're making one for your cat or yourself, denim hammocks are less boring but just as supportive as their canvas counterparts!
Conclusion
Which of these DIY repurpose old jean ideas are you going to try/have tried?
As you can see, denim does not have to be limited to just clothes. And can be a staple outside of your closet!