20 Stylish Soft Grey Cabinet Design Ideas For Your Kitchen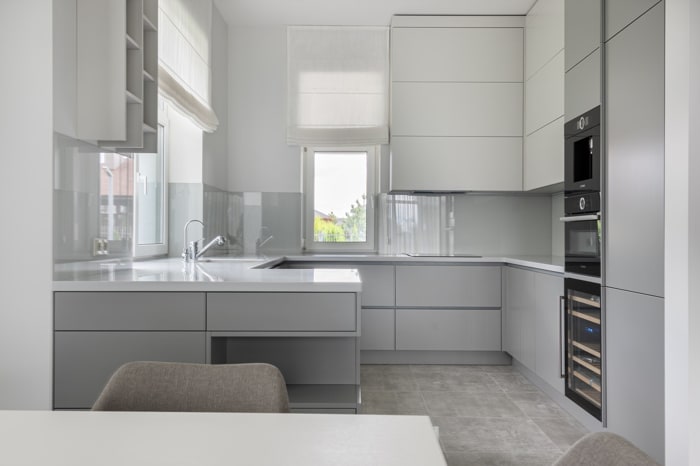 Soft grey is one of the most versatile colors you can choose for a kitchen. It can look modern, luxurious, or rustic!
Because of its versatility, it can be confusing to know what hardware to choose. Or if you should go all grey or use some wood tones or white to offset some of the grey!
We're sure you can find a style that you like in this post!
1. Black Marble Countertops
There is actually a lot going on in this kitchen:
But look at how the accent colors harmonize with each other in this kitchen. Black counter tops, chairs, open shelves, and window panes.
The black windows have a white outer frame/ sill around them too. Which blends seamlessly with the white upper cabinets. Most of the storage containers, plant vase, and various jars are in white too.
As for the white marble backsplash, it does not detract or contrast with the other colors. But connects the white walls to the black countertops.
So there's no missing that gorgeous slab of wood on the island counter! The brass hardware, kitchen utensils, and pendant lights serve to bring out the warm tones of the wood too!
Note the striking similarities in this kitchen as well:
Here's another variation of black marble countertops but with silver hardware:
2. All Grey With White Counters
Notice that while all of these kitchens have grey cabinets (upper and lower) and white countertops:
The hardware varies from silver, black or gold. And the style of the hardware can be modern or antique!
See how modern hardware can affect the overall look of the kitchen in the following examples:
3. Panel Moulds
And if you want a more farmhouse-inspired style overall, choose an elaborate panel mould for your cabinets!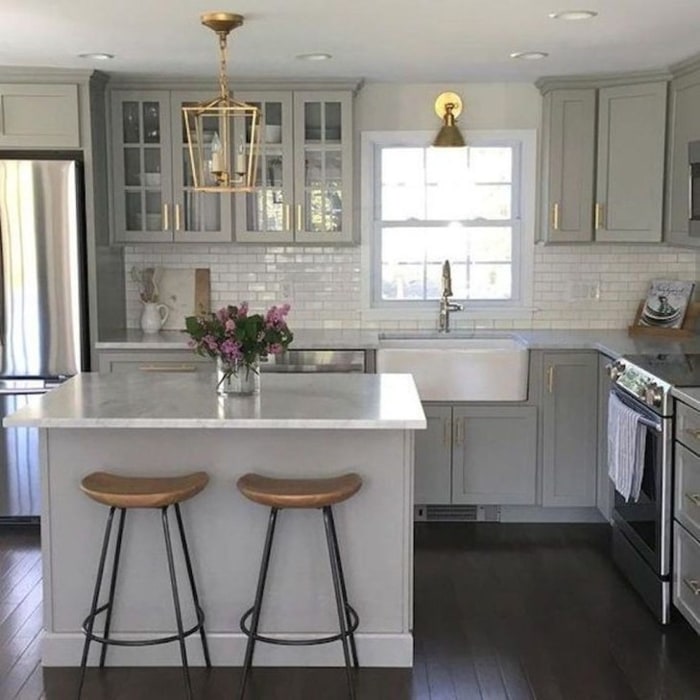 Skirting boards at the top and bottom of the cabinets contribute further to the effect!
In contrast, a flatter panel mould without any siding gives off more contemporary vibes!
And here's a kitchen without any panel moulds:
4. Grey Contemporary
Skipping handles completely will give your grey kitchen a more modern feel.
You can also take the minimalist route and skip upper cabinets altogether!
A critical point of the aesthetic is to keep all of the counters as bare as possible too! Plan your cabinet storage wisely to avoid clutter creeping up onto the counters!
Although clutter isn't all evil:
Avoid bright colors if you want that Scandinavian look – the color palette should only consist of white, grey, black – with light wood tones and plants!
5. Contemporary With Wood
And unless you want your kitchen to have the opposite of an inviting atmosphere, use wood to bring some warmth back!
6. Wooden Accents
Here are more examples of how adding wood can change the cool appearance of grey kitchen cabinets!
Especially if you have floors in the same color!
You can also choose to integrate the wood as shelving as in the following examples:
7. Change Up The Backsplash
And instead of a tile or marble backsplash, you can opt for wood panels for a country look!
Forgoing upper cabinets in this kitchen leaves the eye free to admire the rafters! Which match the wood panel backsplash too!
This herringbone layout is another alternative for a tile backsplash, rather than the horizontal white tiles that are more common:
Narrow tiles provide a different look – we like how they subtly draw the eye up towards the glassware collection in this kitchen!
8. Let There Be Light
You can never have too much natural light in a grey kitchen! Again, notice how the kitchen has wood and gold tones thrown in little doses.
Like the light fixture, the gold door knob and cabinet handles, that picture frame, serving boards, wooden blinds, floors, etc.
9. White Upper Cabinets
Of course, not all houses are blessed with that much natural light:
Having white upper cabinets can really help to reflect more light into your kitchen! Pair them with glossy white countertops!
10. Glossy Grey
Another way to introduce more light into your kitchen without relying fully on artificial lighting during the day:
Is to choose a glossy finish for your grey cabinets, instead of matte!
Here's a kitchen with matte grey cabinets for comparison:
11. All Grey
If your kitchen is bright enough, you can go for all grey from top to bottom!
12. Showcase The Floors
If you're getting pretty tiles for your kitchen floors, you may want to keep your kitchen cabinetry relatively simple.
Grey cabinets are really great at allowing other details in a kitchen shine – like the gorgeous plaster ceiling trim on the walls of this kitchen!
And the herringbone wood floors which is nicely tied in with the wooden board on top of the counter!
13. Brick Walls
Exposed brick walls are contrast beautifully with grey cabinets too.
14. Matching Countertops And Backsplash
Intentionally matching up your countertops with the backsplash can give a luxurious impression!
So does matching the hardware with the tap fixture and other accessories (like that soap dispenser bottle)!
15. Create A Wall Display
Designate one brightly lit wall in your grey kitchen to display your favorite objects!
Keep the color palette consistent to avoid it looking messy! In this kitchen, there is well-balanced distribution of white, wood, green, and black.
16. Dark Walls
Dark walls make grey cabinets pop.
We love the balance that the singular pendant light in this kitchen supplies:
Together with the cabinet on the left, it frames (and directs the viewer's attention to) the small wall shelf perfectly.
17. Muted Tones
With everything in similar faded hues, nothing in particular stands out in this kitchen.
Which is exactly what makes the whole room looks all the more spacious! The fact that the kitchen is directly facing the light source works too.
18. Dark Grey Cabinets
Built-in ceiling to floor cabinets in light grey complement the dark grey shade of the upper cabinets, backsplash, and counters.
We like how the cavity created by recessing the upper cabinets adds depth to the otherwise, flat profile of the kitchen.
The light wood pendant lights and bowl accentuate the natural light that falls on the island. A clever choice by the designer to offset the dark upper cabinets.
19. Unusual Accent Color
Grey cabinets give you the opportunity to work in another color that can easily overwhelm if used generously.
It doesn't always have to be just white and grey!
20. Grey As The Accent Color
An all-white kitchen is another way to feature grey as the accent color!
This kitchen ties in the large grey island counter with the grey wall clock and pendant lights in the same hue.
The stone floors are a subtle blend of white and grey too.
Conclusion
It's hard to mess up a grey kitchen! The color is timeless and you can change the look in the future without having to knock down the whole kitchen!
Other Kitchen Ideas