30 Gorgeous Formal Living Room Decor Ideas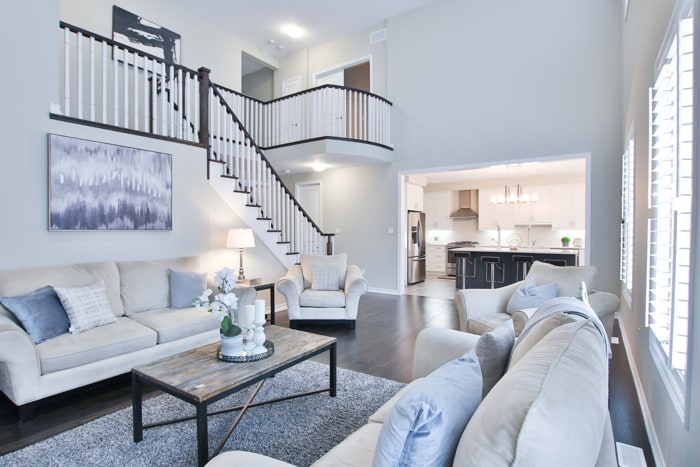 The living room is where you would normally host friends and family. Or even a potential client or business partner. You never know when you need to make a good first impression!
So it's important to carefully consider how best to utilize and decorate your living room. It also gives you the chance to express your stylistic flair!
See this list of 30 formal living room decor ideas for some design inspiration. Whether you just want to renew your living room for the season or completely revamp it!
1. Rich Brown Accent
Leather furniture is one of the simplest ways to incorporate this versatile color into your house. It's a classic style that makes a great fit for a formal living room!
The monochrome interior enhances the luxurious brown sofa in this living room. Adding softness to the space, the rich brown color makes the room feel warm and comforting.
On the other hand, creamy whites and greys dominate this living room. The brown armchairs add effortless style:
You might not notice it at first, but there is quite a lot of texture going on too – the plants, rug, wainscotting on the walls, as well as touches of gold and brass.
2. Neutrals
With a neutral colour scheme and some modern-looking furniture pieces, a formal living room can be put together effortlessly!
And when you feel like it, you can add a burst of colour with accent pieces (like pillows) without changing too much about the space.
Neutral colours do wonders in rooms where darker-toned furnishings might be overwhelming. They also look great with natural wood.
Along with other textures like velvets, linens, leather, or bulky knits. Even warm metallics can be used to up the ante in your living room:
3. Accent Colour
Neutrals will never go out of style, but we're moving on beyond grey now. Hazelnut, sage green, beige, and black are other suitable accent colours for formal living rooms!
Furthermore, pay attention to the profile of the furniture you choose:
Furniture with soft profiles (like the couches here) add a more homely atmosphere and balance out the solid lines present in this room (e.g. lamps, mirror, ceiling light, coffee table).
In this living room, the colours blend well with each other. Adding a touch of modern farmhouse charm to this space!
Accent colours enable us to clearly define the interior:
Just like this cozy living room, which features light wood tones, faded blues in a mainly monochromatic colour scheme!
4. Play on Shapes
The organic curves and silhouettes in this neutral living room add movement and visual interest while still being comforting.
In the inspiration photo below, there are allusions to nature:
From the circular folding screen to the curved sofa, layered rug, and stacked coffee tables, while the colour scheme adheres to the urban setting.
This space is elegant and refined while also being a little fun!
Soft rounded edges of the tables, chairs, and sofas give this interior a Scandinavian feel! In addition, the vertigo pendant light steals the show.
5. Bright and Airy
This light-filled and airy living room is particularly rich in white and natural light! The long drapes draw the eye up towards the generous ceiling!
The room looks formal with its lack of color but welcoming at the same time!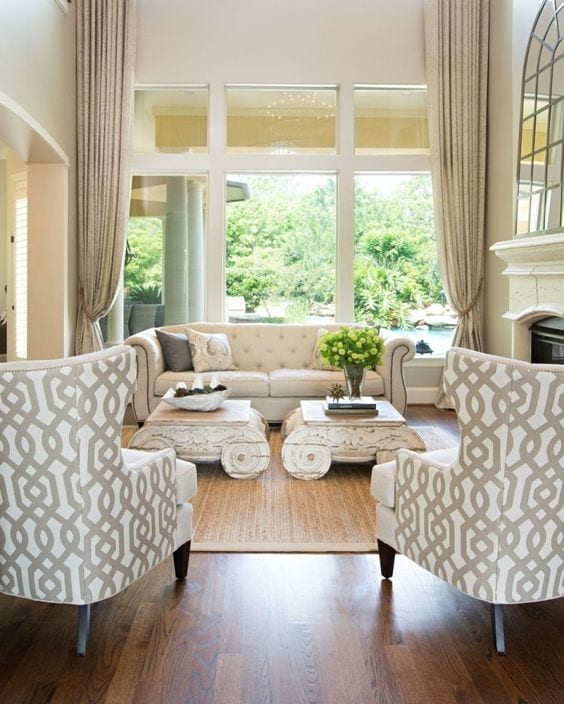 6. Green Velvet
Gray-blue walls are brilliantly paired with emerald-green velvet sofas and a delicately carved fireplace in cream.
There's no need for any other rich patterns or colors!
And when it comes to details, gold metallic highlights are the way to go!
Polished gold features compliment this style of interior design.
Art, whether it's a statue or a painting, is another vital element you can add to complete a Parisian-inspired formal living room like this one!
7. Facing A Window
If you have the luxury of large windows, take advantage of them by pulling a few armchairs to face them, rather than installing a window bench.
It's the ideal spot for a nap or a quiet reading session too and also to enjoy the magnificent views outside!
If you happen to have a pair of windows, place the furniture so that the windows are to the side of where your guests will sit. Pull back the curtains or just go without curtains!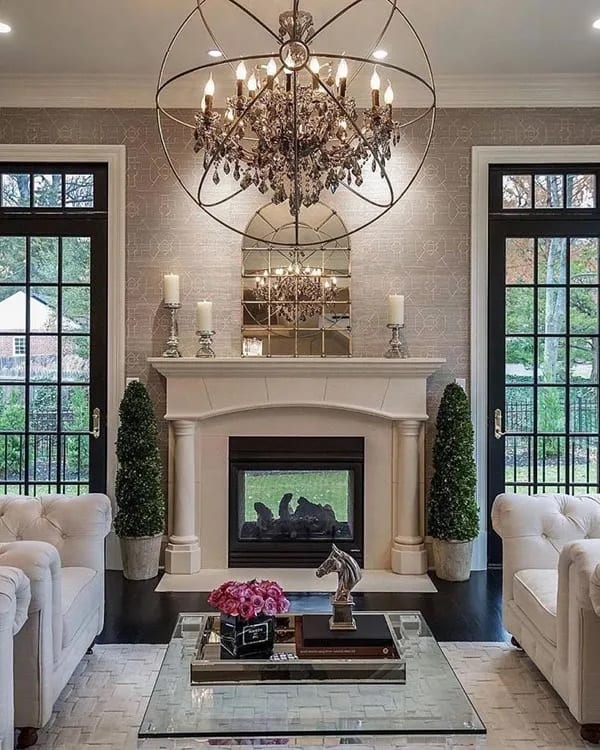 8. Four Armchairs
Similar to the photo above, a four-armchair setting is perfect for a formal living room. And it naturally encourages eye contact and conversation!
Plus, it makes the interior look more sophisticated.
Wingback chairs are an excellent fit to any living room because they are not only stunning but also comfortable!
These light beige wingback chairs look lovely with the baby blue tufted ottoman!
For a contemporary twist, try facing the chairs straight on instead of at an angle:
Like in this simple and elegant beige and white formal living room!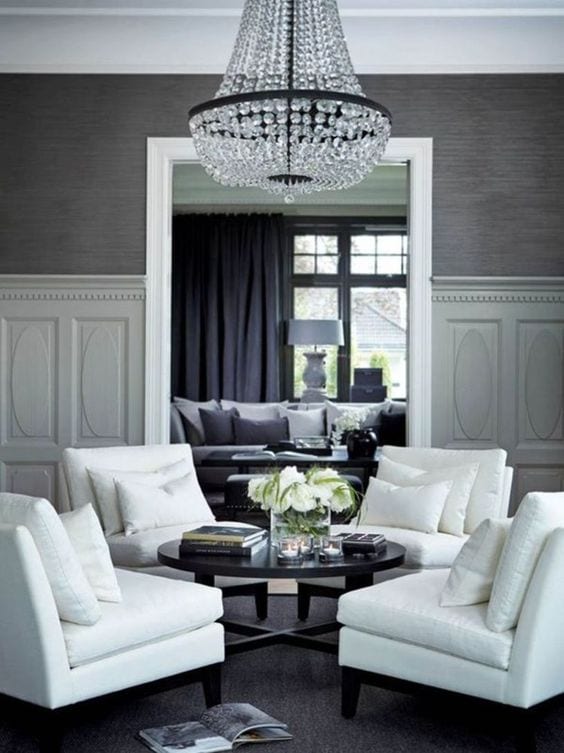 9. Glass Divider
Partitions can be as visually appealing, and black industrial frames like the one below blend in seamlessly with many different interior styles.
At the same time, they define a clear separation between a formal living room and the rest of your home!
10. Warm Tones
This living room seating area is modern, warm, natural, and cosy! Warm tones work well with neutral palettes like greys, white, or even cream.
Hardwood floors and antique wooden furniture add warmth to this space.
Also, the patterned rug and pillows keep the neutral space feeling lively and inviting! Stick to smaller-sized prints in similar hues for a cohesive look!
11. Picture Gallery
If you have a collection of treasured paintings, putting them together on a gallery wall makes a unique and authentic display just like in this living room!
Intentionally keeping family photos out of this gallery wall makes the space feel more formal, if that is your intention.
Choose simple frame styles (of similar thickness) if you want to create a more uniform gallery wall.
Althernatively:
Look at this neutral gallery wall – the colors are muted, but there are a variety of textures and materials to keep things interesting.
Because of the limited, neutral color scheme, this gallery wall design would work especially well in a smaller location, such as a corridor or a staircase landing.
12. Vintage
Combining antique and modern styles is not as hard as you think:
Though for this formal living room, the ratio of antiques is greater than the modern pieces. Which as far as we can tell, is just the coffee table and painting frames.
And even though, there is sufficient natural light flooding this room, the table lamps are not too much. They highlight the paintings as well as the armchairs.
13. Timeless
The right shade of white paint can really shape the tone for a space and make it look timeless. Together with furniture pieces of classic silhouettes.
This soft off-white color scheme visually expands the space. And there are no bright colors or loud patterns to distract from conversations that take place in this formal living room.
14. Rustic
Thick fabrics or cottage-inspired decor objects are still appropriate for a formal living room interior. Just stave off bright colors and bold floral prints and you'll still get the warm, inviting feeling!
A prominent feature in this living room is the wooden beams on the ceiling:
15. Brass Elements
Forget rose-gold, brass is the metal of choice for a formal living room. It adds a touch of class and modernity if you choose clean lines.
Handles, mirrors, photo frames, and lighting fixtures are just a few ways to inject brass tones into your space.
Here's another elegant formal living area full of gold coloured brass accessories. With more classic shapes:
16. Cheerful
Colour has the power to change the ambiance in any area, but especially in your living room!
Throughout this cheerful living area, soft yellow accents playfully blend with green and blue tones. Not to mention that the floral print on the club chairs matches the green-patterned curtain fabric.
To keep things from looking too casual and laidback:
There are metallic elements (e.g. painting frame, curtain railing, footstool, etc) thrown in. The solid stone coffee table and pentagon-shaped side tables help too!
17. Monochrome
Black and white is ever the contemporary, stylish, and attractive color combination.
Be wary of adding too much black in a small space. Instead, try a hint of black like the dark, metallic window frames, sleek furniture frames, and the black feature wall in this room:
18. Dark
Dark tones don't have to be depressing; if done well, they may be elegant, chic, and quite calming.
An assortment of lamps and lights should be utilized to draw attention to a particular area and to brighten up corners.
The golden brass components in this space stand out in the interior while also reflecting more light into this dark formal living room.
19. Complimentary Colors
Complementary colors really make a space look put together.
The vivid blue chair in this room stands out, but pairs well with the room's other neutral, textured components.
Note the clever use of red and orange in small doses. This is by no accident as red and orange are the complementary colors for blue and teal (the walls) too.
20. Pops Of Color
When colors look intentional, it looks like you've had a professional design your space. Besides adding flair to an otherwise bland environment.
If you have a space with a lot of brown and wood, consider using a deep blue, teal, or green as an accent color.
In a pinch, merely repeat the chosen color twice, as with the teal blue cushions and the book on the coffee table in this living room.
The idea is to locate a rug that incorporates both your sofa's grey, brown, or beige hues as well as the vibrant accent color you're introducing!
21. Circular
The circular sofa is a perfectly fashionable way to add more seating to a room while softening sharp angles.
A matching pair looks fitting in a formal living room! We love the vintage print rug too!
22. Clean Lines
You can't go wrong with a clean-lined sofa and sleek plain surfaces when it comes to decorating an airy loft.
Their modesty emulates effortless grace! For a livelier atmosphere, add warmth with a faux hide and plenty of plants like this interior.
Additionally, wood elements, a neutral colour palette, soft furnishings, and comfy textiles are all possible considerations:
23. Touch of Safari
Animal prints can look classy – and of course, we mean faux ones!
You just need one or two pieces in any area of your living space. A single animal-print accessory creates an instant focus point in more traditional rooms!
For instance, this zebra striped ottoman brings attention to the centre of the space right away. The pattern stands out against the room's design's gentle monotone hue.
The leopard print throw pillows in this living room are more of a background feature than a focal point. Demonstrating that animal patterns are a grounding alternative to solid neutrals.
24. Greenery
Plants can assist you when you run out of decorating ideas for your living space. They do not look out of place in a formal living room either.
You can have one large potted plant in the corner, or a variety of little plants, as seen in this living room!
For some semblance of formality, you can specifically choose plants of a similar green hue, and avoid those with distracting shapes and brightly colored flowers.
25. Moody
Deep, dark colour schemes may be intimidating but they also give depth to your space. And can be very elegant and calming.
Also, darker shades of green, such as pine or emerald, provide an earthy yet sophisticated atmosphere to this living area!
Or you can pick a moody shade for your couch as this smart and sophisticated interior demonstrates.
Dark sofas with light accents, such as the all-white wall in this area, will make your home feel trendy rather than depressing!
Embracing natural light in your house is a critical part in keeping dark décor schemes from seeming heavy or dreary.
This beige room with strong, black furnishings and plenty of natural light still looks spacious!
26. Minimal
Minimalism does not have to imply plain, uninteresting, or low-cost furnishings and accessories.
The notion of 'less is more', can actually help you focus the intention of the room. And allows you to allocate your budget for quality furniture that will outlast trendy pieces!
A minimal living room looks rather formal too:
The wainscoting, carpet, and floor panelling contribute some texture among the all that gray and white!
27. Alternative Coffee Tables
With good reason, the ottoman coffee table is popular in today's households.
As the current focus is on practical home decor and reduced home sizes, this multipurpose piece of furniture has a lot to offer!
Large neutral-coloured block ottomans, such as this one, make the space feel cosier and more complete.
Place a throw blanket on top for added decor or just use the ottoman as a substitute for a coffee table!
A nesting coffee table is another terrific way to give your living area more dimension. Isn't this four-piece nested table elegant?
28. Wood Accents
Try to match up the wood tones of your furniture and floorboards in your living room for a harmonious interior.
And if your living room lacks a traditional fireplace or mantle, a wooden accent wall is a viable option for visual interest and to serve as a focal point in the room!
With wood elements, even this modest living room appears inviting!
29. Wood Panelling
Consider floor-to-ceiling wood panels for a dramatic finish that is normally associated with historic structures.
This aesthetic is expensive, but definitely adds character to your home and may even improve its future worth!
Floor to ceiling wooden panels can be seen in both these rooms, and they look wonderful!
30. Low Lying
Low lying furniture is suitable for an open-concept layout but has a way of making any room look bigger than it is too!
Soft cool tones are used in this formal living area to create a relaxing contemporary atmosphere. With recessed track lights to distribute light evenly throughout darker corners.
This style of using low-lying sectionals works in lighter shades too. And still looks formal as long as there are no obvious prints or competing colors.
Conclusion
What distinguishes a regular living room from a formal one? Here are all the ways you can make your living room look stately and sophisticated!
Further Reading