20 Brilliant Bookshelves Design Ideas For Your Living Room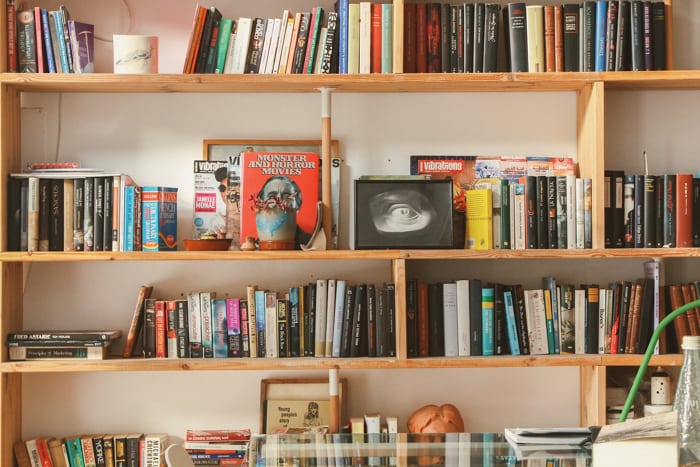 Think you have more books than space in your living room? Or maybe you want an unusual way to display your favorite books?
Here are 20 bookshelf designs that you can use to maximize book storage in your living room, many of these can work as wall art too!
How many of these have you seen before?
1. Frames
What better way to frame your priced book or magazine collection than with frames?
These wooden frames are minimal but are sufficient to store books upright and on display on your wall.
This modern picture gallery/ wall bookshelf is intentionally arranged for balance and color.
The pop-out frame cubbyholes of this wall bookshelf are cute and a great way of reusing vintage frames!
And for the really ambitious, you can use a single giant frame to adorn your entire bookshelf:
2. Trippy
Granted, this is definitely not the best design for space optimization but it's quirky and full of personality!
And this bookshelf is guaranteed to cause some anxiety in your guests!
3. Birdcages
Maybe don't do this for books you will be reaching out for often! It's just for display, this is pretty neat for rustic or Bohemian inspired decor!
Stack cages, hang them or put them on a console table!
4. Hanging Shelf
Another excellent bookshelf idea! You might not notice it at first but there is a bar at the back of these to prevent the books from falling out.
It can double as a room divider too. Put it on mobile rack and you can change its location easily! Just make sure the wheels can support the weight of all those books!
5. Coffee Table
A carousel bookcase that also serves as a coffee table! Very accessible for the kids too.
A taller carousel bookshelf like this one would not look out of place in a Victorian interior:
6. Ottoman
Put a cushion on top for a mobile ottoman! You can make this out of pallet crates!
7. Doorway
Doorways are often underused when it comes to storage! A bookshelf that goes around the doorway will make good use of that space!
Keep a ladder close by or build one in so you can access the books on the very top shelves!
8. Floor To Ceiling
Don't waste the opportunity to have impressive floor-to-ceiling bookcases if your home has high ceilings!
The hallway can be turned into a useful space to store books too! Rather than putting a console table that obstructs passage!
This particular hallway also uses a sliding door across the bookshelf to save space.
Alternatively, you can have floor-to-ceiling shelves that stop halfway to create a TV cavity. The shelf height is adjustable for this modular shelf.
9. Staircase
The back of a staircase is yet another storage opportunity that is seldom utilized unless it's already a closet:
So is the side of the staircase – this one doesn't waste any space!
And this is a bookshelf up on the staircase itself so you might not even need a bookshelf in your living room!
Or you can also make a literal book staircase shelf!
Although this design would make more sense along a staircase so you can grab the books without needing a ladder!
Staircases provide a natural space for a reading nook too!
10. Geometric
Whatever shape works as long as it can hold the books! And not necessarily upright either!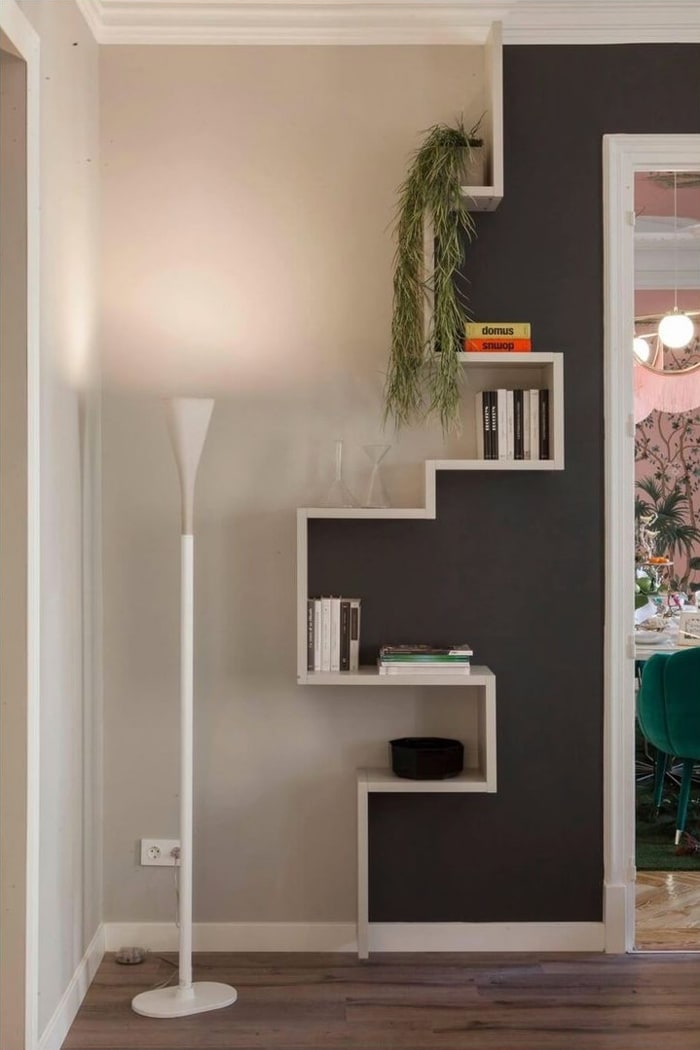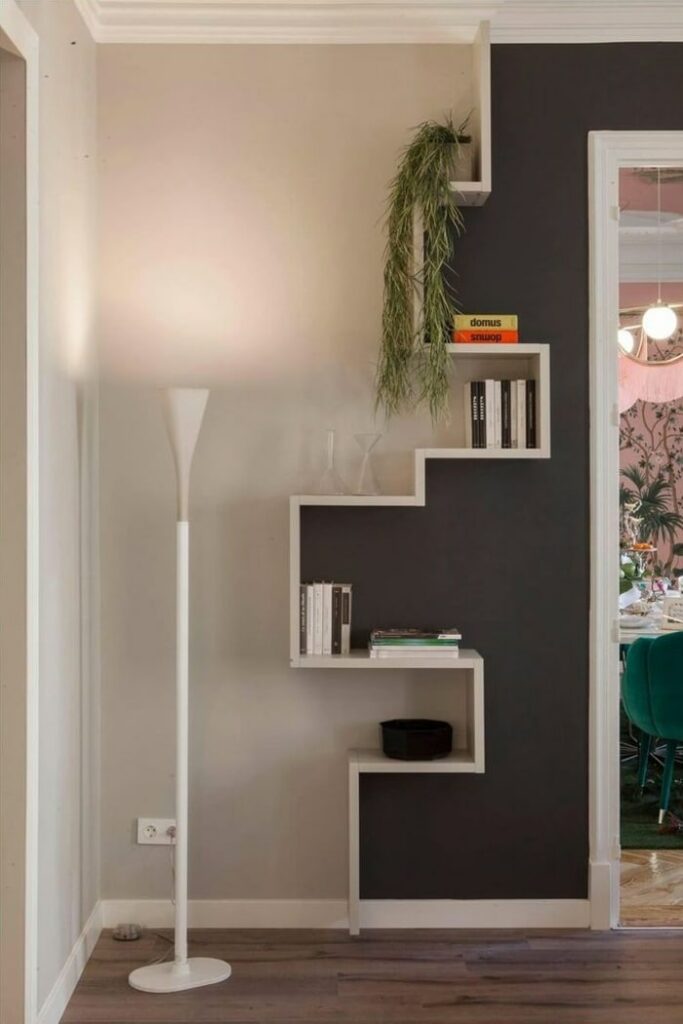 11. Mapped Out
On the subject of irregular shapes, why not have your home state on the wall? Or the entire USA for that matter?
Notice how this bookshelf ends in a desk on the right.
12. Industrial Pipes
This industrial pipe bookshelf doubles as an eye-catching wall feature! Add some filament lights on top!
13. Go Natural
Use branches to support your bookshelves! Or at least give the illusion that they do!
Or make a bookshelf ladder shelf like this one:
This would fit well above a TV cabinet or a doorway.
14. Pull out Drawers
Much like a filing cabinet system, this will protect precious book collections from pests and sunlight!
15. Piano Shelf
For something you don't see every day, the hull of a grand piano has a unique shape that will definitely stand out in your living room.
16. Invisible Shelves
This will give kids (and adults) something to wonder about:
Invisible book shelves look cool too when stacked next to each other to make a longer shelf that stretches along your wall.
17. Reading Nooks
More reading nooks! Because you can never have too many in your home!
Even better when you have a reading nook by a window!
18. Corner Shelf
What about built-in cavity shelves for a minimal or Scandinavian interior?
You can also use a combination of wood boards and industrial piping to make a custom shelf for that awkward corner in your home too!
For larger corners, consider a reading nook like this one:
19. Stacked
Your imagination is the limit when it comes to using crates for book shelves! There are so many ways to configure them!
They work for tight corners too!
20. Book Door
Admit it, you always wanted a secret bookcase door as a kid! Now you have the chance to put one in your home!
Not so hidden variations:
Including this barn door with dual-purpose – we like how it hides the laundry room in this home!
Conclusion
There are some impractical bookshelf designs in this list. But they will draw attention to a bare wall if that is your intention!
We've included some space optimizing designs in the mix too. Keep this post handy for your next home renovation or DIY project!
Further Reading