20 Casual Indoor Swimming Pool Design Ideas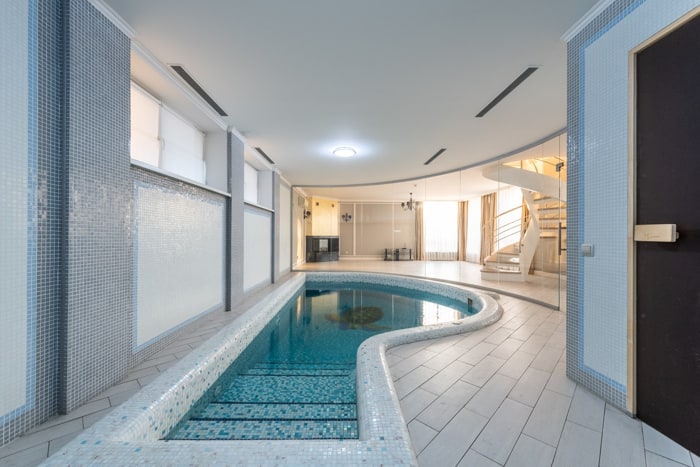 Having an indoor swimming pool doesn't mean you have to make it grand or fancy.
On the other hand, some of the following photos can be used as inspiration for designing a small indoor pool to look more resort-like.
Whatever interior style you fancy, there're a great variety of ways to dress up an indoor pool!
1. Modern
Keep it simple and modern with plain lights, walls, and outlines in the same few colors. Sliding doors will keep the rest of your home from getting wet. But still easily accessible!
You can integrate this on a smaller scale too:
2. Plants
Even if the pool room is not very spectacular to begin with, plants can drastically change that!
All that green is very calming and just the thing to make you feel like you're on a tropical holiday!
3. Pond like
On days when you're not swimming, your pool can just be a lovely pond or water feature. With mindful landscaping and more plants, you can effectively disguise your pool!
4. Open Doors
This is how you can still get fresh outdoor air while swimming in your indoor pool! It also makes a small endless pool feel less claustrophobic!
And on rainy days, just close the doors and you can still enjoy the pool!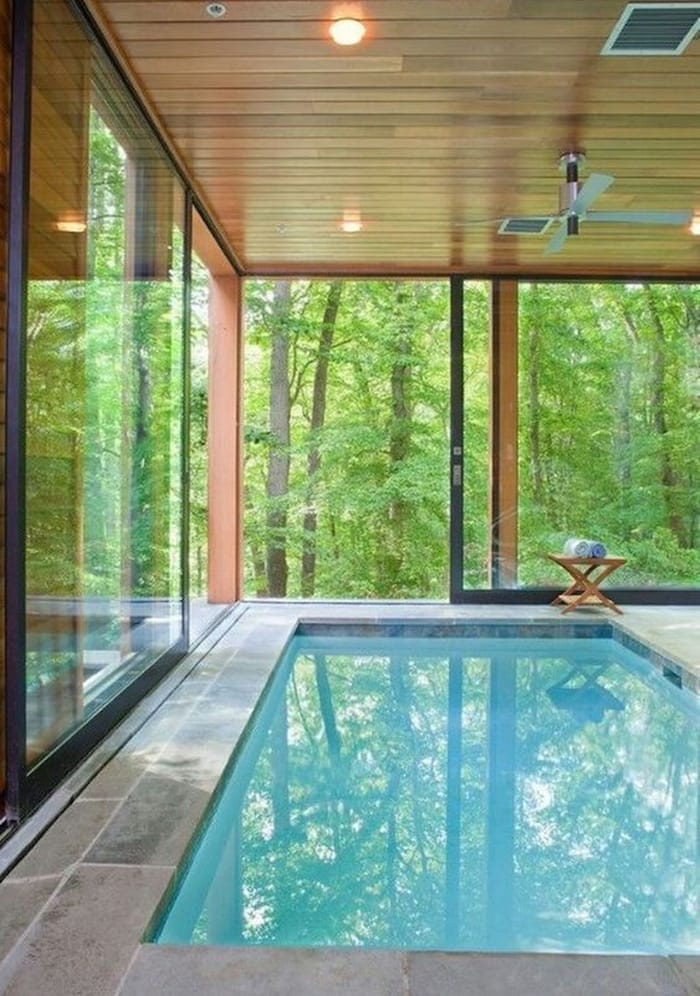 5. Shed
An ordinary shed can house an indoor pool comfortably out of sight and very inconspicuously.
Here's an indoor pool in a glasshouse – another way to hide the fact that you have a pool. Or to keep leaves from always falling into your pool!
A bigger shed has room for deck chairs, besides a larger pool to swim in:
And this one appears to be a converted barn in the countryside:
6. Mirrors
Any interior can look bigger with some mirrors, including the room where you house your indoor pool!
It's a great way to add more natural light too!
7. Sunroom
Instead of the traditional sunroom with armchairs, you can fit an indoor pool into the sunroom! So you can have your dose of sunshine while you exercise!
It'll also stop the wildlife from visiting your pool for an unsolicited swim!
8. Party Ready
Depending on your definition of casual:
This pool will be the heart of any house party, with a bar and seating all around. Plus, guests will be able to swim regardless of the weather outside!
9. Skylights
Even small indoor pools can benefit from having skylights installed! The additional natural light helps create a welcoming and luxurious atmosphere.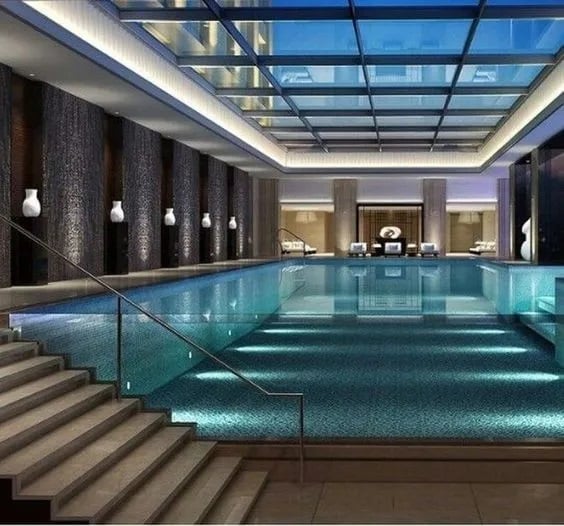 Even for smaller indoor pools like these two:
10. Irregular Shape
For an indoor swimming pool that looks less intimidating and formal, try an unconventional and more organic shape!
Of course, this isn't ideal if you always count laps!
11. Greek Tiles
The tiles you choose for your indoor pool can significantly impact the way you want your pool to look.
In this case, the ceiling lights and Greek tiles lining the edges and bottom of the pool make the whole room look very cohesive and elegant!
12. White walls
White walls can look boring. And not to mention, claustrophobic if the room is already small. But adding recesses and niches creates more visual interest and drama.
The painting at the far end of this room cleverly draws the viewer's eye down the length of the room too.
13. Curtains
Besides adding some privacy, curtains diffuse any direct light entering the room.
Translucent/ sheer curtains feel very dreamy and spa-like too.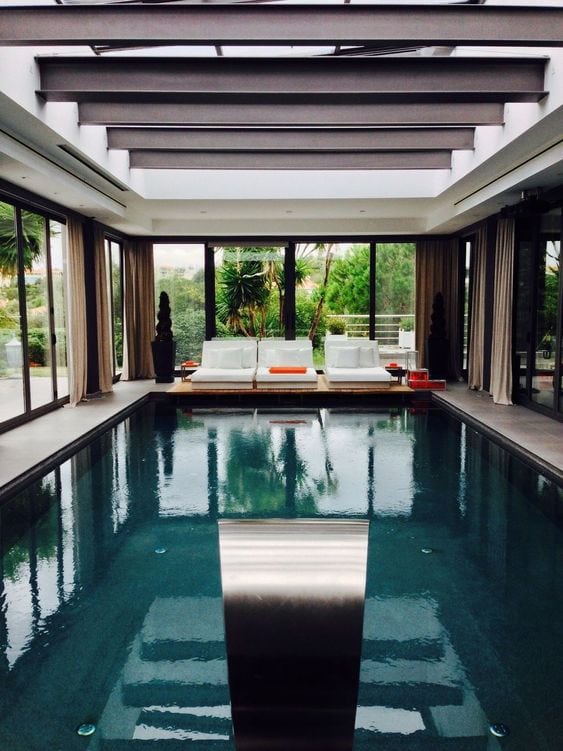 14. Timber
As with the previous reference photo, the extensive use of timber might seem impractical for an area that will always get wet.
But if keeping them dry is not a problem for you, timber decking looks really incredible around a pool!
It's enough to have wooden beams and rafters above the pool too: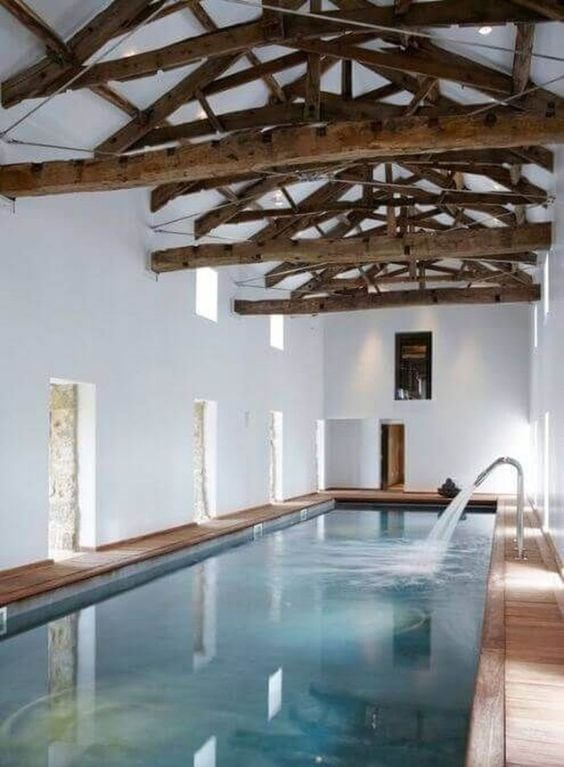 15. No Windows
Bizarrely, indoor pools can be really elegant and just as inviting without windows present!
The key is lighting placement.
The concave ceilings and sand-toned walls of this indoor swimming pool keep it looking less like a dreary cellar or flooded basement!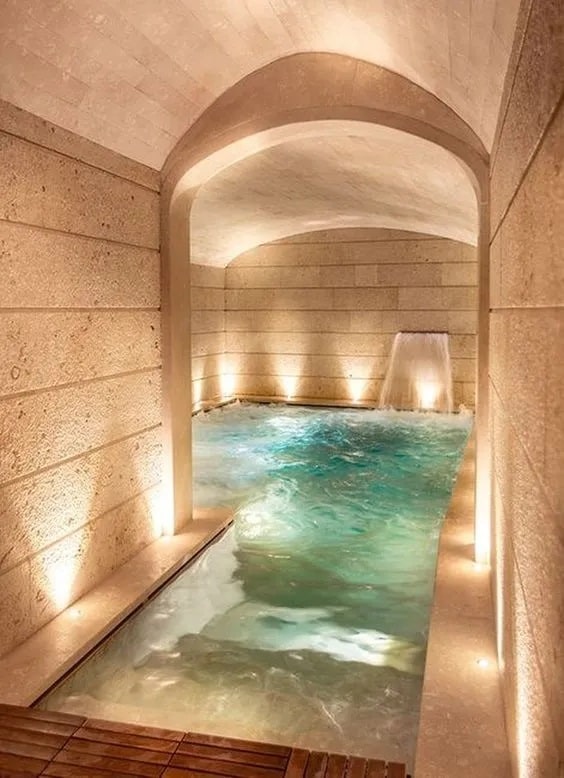 16. Raised
Raised pools or above-ground pools require lower maintenance than their in-ground counterparts.
Young children and pets are less likely to accidentally fall into these indoor pools!
They can be cheaper too! But to avoid them looking like cheap kid-sized pools, timber all around the edges usually does the job!
17. Plaster Ceilings
Along the same lines of keeping white walls from looking like you're boxed in, plaster ceilings add a sense of luxury to your indoor pool room.
Provided that you take extra care to keep the humidity levels of your indoor pool room below 70% humidity!
Furthermore, there is something called acoustical plaster if you want better sound absorption at the same time!
18. Pockets Of Light
Rather than having huge windows all around your indoor pool, you can limit the light to high windows or skylights at the perimeter of the pool.
That way, you get a lot of privacy, and natural light even if someone flies a drone over your property!
19. Windows Looking In
In addition to windows facing outside the pool, you can have some that face the interior of your home too.
Which is another way to make a small indoor pool feel less stuffy.
20. Partially Indoors
Lastly, your indoor pool doesn't have to be completely indoor.
Especially if you want an infinity edge!
High walls on either side make narrow outdoor pools feel like indoor swimming pools:
Conclusion
Design-wise, indoor swimming pools are a lot more versatile than they get credit for. There are ways to make a larger indoor pool look less formal, and a smaller indoor pool more impressive!
Which of these stunning indoor swimming pools are you taking for your inspiration?