20 Cute And Cool Front Porch Décor Ideas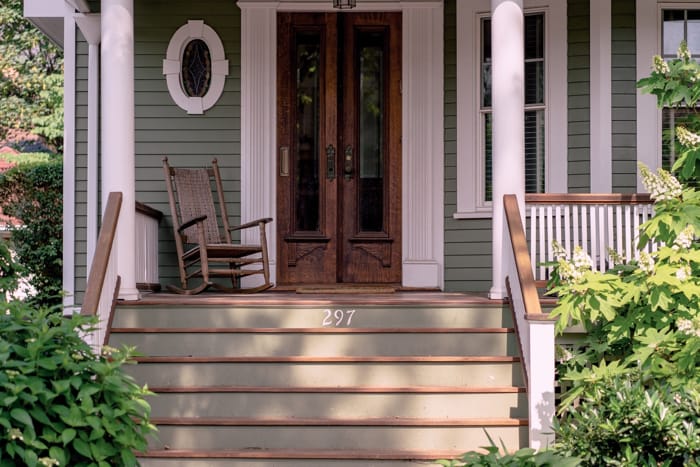 Your front porch gives your visitors the first impression of your home. Besides, your garden anyway. And the front porch can serve as extra seating too!
Or a cozy reading space to get some fresh air!
Here are 20 ways to dress up your front porch whether it's large or small!
1. Pops Of Yellow
Best way to brighten up the mood of your guest before even they walk in the door!
Yellow looks really good with grey or green.
A yellow front door will lift your own spirits after coming home from work!
2. Add A Swing
Swings are fun and that says something about you when you put one of these at the front of your home!
They're also a nice place to read a book!
Swap out a pair of rocking chairs for swings instead!
This bench swing is long enough for you to nap on, all for the whole family to enjoy the porch at once!
3. Hang Curtains Up
For some privacy, additional shade, and a feminine touch to your porch!
4. Use Different Textures
Combining different textures in similar shades is an interesting look! Especially if your style leans towards Bohemian!
5. Rocking Chairs
Give this classic a twist by painting it an unusual color – perhaps, bright yellow or red?
6. Touch Of Vintage
Give antique furniture a second life with a fresh coat of paint! Explore your local thrift shop and see what you can find!
You can choose one piece of furniture to be in a bold color. Use this for your accent color. While the other furniture (if any)can be painted in neutral colors or white.
7. Incorporate Natural Materials
Natural materials like rattan, wicker, jute, and wood, blend very well together and make your space look very cozy!
8. Farmhouse Inspiration
Shabby chic can take center stage on your front porch! Combine different materials like metal, wood, glass, and plants!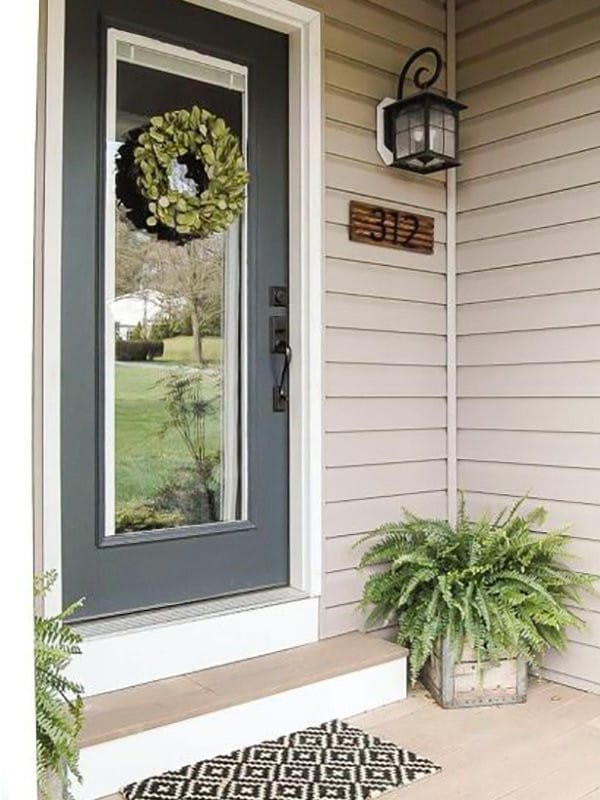 9. Muted Shades
Continuing the farmhouse vibes, pick dull shades that give off a weathered look.
We like this vintage metal mail box!
10. Put Up Fairy Lights
Fairy lights are an affordable solution to add more light (and warmth) to your front porch.
11. Install A Hammock
Imagine chilling in this space in the early morning or evening! You can set up wooden blinds for some privacy.
Put some plants and be generous with rugs, throws, and pillows for a truly Bohemian feel!
12. Minty Fresh
A modern take on the farmhouse aesthetic:
Light mint, cream and light woods are a match made in heaven! As an accent color, mint is not visually heavy.
When used with a lot of white, your porch can look more spacious!
Mint is paired with white and light yellow in this front porch:
13. Garden Trolley
Another excuse for more plants! We like that you can just push the trolley out of the shade when the plants need more sunshine!
Swap out the plants as the season changes!
14. Play With Symmetry
Full-on symmetry always looks grand. That applies to window and light fixture placement. As well as plants!
But a bit of variation doesn't hurt! Stick to the same color palette for more cohesiveness. And you'll get the same effect!
15. Galoshes
Doesn't this just make you smile? Who would've thought that an old pair of galoshes could be used this way?
16. Change The Front Door
Front doors are the usually the first thing that people notice about a porch!
Doors with windows (Dutch doors) look elegant and friendly at the same time. The color you go for can be significant too.
Take this mainly-white front porch for example:
Another example is this light coral door:
It makes you feel like there couldn't possibly be anything dangerous behind the door! Notice how the floral cushion cover ties back to the color of the door subtly.
The coral door brings life to the grey walls and tiles of this porch too.
Versus the dark paintwork of this front door:
If it didn't have windows, it would look pretty imposing and intimidating! That's not a bad thing, and it's up to your personal preference.
To us, dark-colors look more wintry while lighter colors appear more summery or spring-like:
So if you will be changing up your front porch decor according to the seasons, it may bother you to have a coral or bright pink door in the winter!
17. Bird Cages
We're not in favor of keeping birds in cages but empty bird cages can be very attractive on the front porch!
Put fairy lights or candles in them, plants, or just leave them empty!
18. Chandelier
If your house has a large porch, you can add a chandelier for more grandeur!
19. Plants In The Window
An understated way to decorate your front porch:
Plants offer privacy for the occupants of a home when placed at the window. But at the same time, they look marvelous from the outside!
20. Say Hello
Whether it's a giant sign (like in the picture below), etched on the front door, or on your welcome mat:
This harmless greeting has the effect of making guests feel welcome even before you answer the door!
Conclusion
Our favorite way to dress up a front porch is rustic farmhouse style – rocking chairs and all. Especially with antique furniture! Potted plants instantly make a front porch look less naked too!
You can always change up the way your front porch looks every season. So experiment with different styles and see what you like!