20 Creepy Halloween And Fall Ideas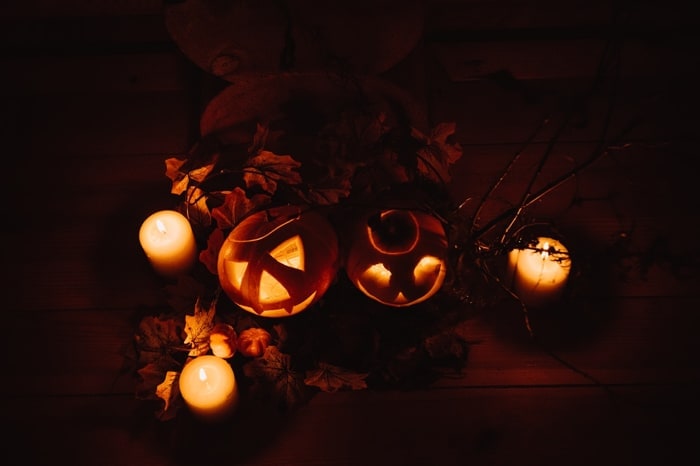 Spooky season just around the corner? Get prepare with these creepy Halloween and fall ideas!
Creepy and not scary, mind you. We're saving that for another post! This post is more of ideas that can blend in with your autumn decor but still add a spooky factor!
Fair warning, those with aversions to creepy crawlies and blood may want to exit this post!
1. Black And Gold
Paint some pumpkins black and gold and arrange them around your usual autumn decor. The black crow and cat, grinning gold skull, and birdcage are extras!
2. Ghastly Curtains
As long as you have somewhere to hang them from, this should be an easy enough project!
Layer some distressed transparent white fabric around your porch. Perhaps old baby muslin cloths or sheer curtains? No one would be the wiser.
And your house will look creepier for it!
3. Eyes On You
It doesn't matter if the resulting eyes look a little wonky, this is another easy project you can do by adding papier-mâché around the bottle necks and forming some eyelids.
Paint some simple eyes on. You can think of them as 3 partially hidden circles – black first, the colored iris, and the smallest black circle for the pupil!
Then paint the rest of the bottles a matte black! Stand them where they won't be exposed to strong winds!
4. Haunted Victorian
Stop by your neighborhood thrift store and pick up some old paintings. Anything that looks like it belongs in a haunted Victorian manor.
Collect glassware of assorted shapes, and stick coffee stained labels on them. Brown bottles look more mysterious.
Like they belong to an old apothecary or part of a witch's stash of ingredients!
5. Bleeding Candles
To get this effect, you'll need red candles and regular ones. Simply hold a red wax candle over a plain lit candle.
The red wax will drip down the white candle making it appear like it is bleeding! Black candles look really good as a base candle too!
Get some candelabras to amp up the drama!
5. Undead
We know that this photo is likely photo-shopped. But let it inspire you! Use broken parts of a mannequin or model skeleton, and partially bury them in pots of soil!
6. Bring It Inside
Even if you have a bright and airy looking home, there are ways to bring Halloween into your home without it looking tacky!
The trick is to avoid bright colors. Trinkets in black and tarnished metals will do just fine!
7. Who's Hungry?
Invite some extra guests to your dining table! A table centerpiece with skulls and candles will look quite lovely as Halloween decor too!
8. Snakes!
You can make this yourself with a plain bramble wreathe and toy rubber snakes!
Spray them all a matte black (you can paint the tongues of the snakes red if you want) to make trick or treaters think twice!
9. Blackberries
Put them in a basket together with other dark fruit (e.g. plums, black raspberries or grapes) or squeeze and serve them for a non alcoholic party beverage!
10. Mirror Mirror
Some of the scariest movies we've seen involve mirrors! But that doesn't mean you have to bring an old mirror into your home.
And there is no sense in breaking a mirror just for Halloween decor! Instead, you can intentionally make a mirror look like an antique!
11. Spiders
They don't have to be this huge either! Sticking a trail of rubber spiders along your porch rail or front door will be more than enough!
12. Doll Parts
The bell jars are a nice touch.
But if you don't have those, empty glass jars will do too. You'll need one broken doll and some paint to add cracks and dirt! Keep the eyes or don't, depending on which you find creepier!
If you want to take it a step further, look up "DIY creepy scary doll" on Youtube!
13. Bales Of Hay
If you live on a farm, you can do this one easily! Arrange some old lanterns, pumpkins, crows, or a scarecrow around some bales of hay!
14. Stuffed
Taxidermy is not everyone's cup of tea but it certainly makes for convincing Halloween decor.
15. Take A Page
Find an old biology textbook on anatomy or botany in a thrift store and pick out a page to age with some coffee. Frame it up to add on your shelf or mantle!
You can also design your own spell book pages to print and frame up!
16. Poser
Get creative with the way you choose to pose or dress up your skeleton model! It doesn't always have to be sinister!
Put them in a chair wearing a fancy dress or suit holding up a cigar up if you want! Or on your sofa so your guests can sit next to them!
17. Face Off
Put this creepy wall decoration together with an antique frame, a doll or mannequin head, some good old Mod Podge, and a plain white muslin!
Don't drench the muslin entirely with glue. Leave some spots free from glue so that they can form wrinkles (i.e. some ripples in the fabric).
18. White And Black
If your home has a mostly minimal or Scandinavian interior, a couple of painted pumpkins (in black and white of course) in the hallway will look chic but still exude the Halloween spirit!
PS: This chill yoga skeleton from Michael's came out in 2020, but you can probably find something similar online.
19. Special Ingredients
This is a way to fill up jars without requiring liquid! Use sticks, dried bracken, etc and tie up the jar with hemp and jute!
20. Black Candles
There's something really elegant about black candles, don't you agree?
Conclusion
Halloween decor does not have to be loud and obvious to be creepy! Many of these can be done on a budget too!
Which of these creepy Halloween and fall ideas are you going to try this year?