20 Totally Comfy Backyard Hammock Décor Ideas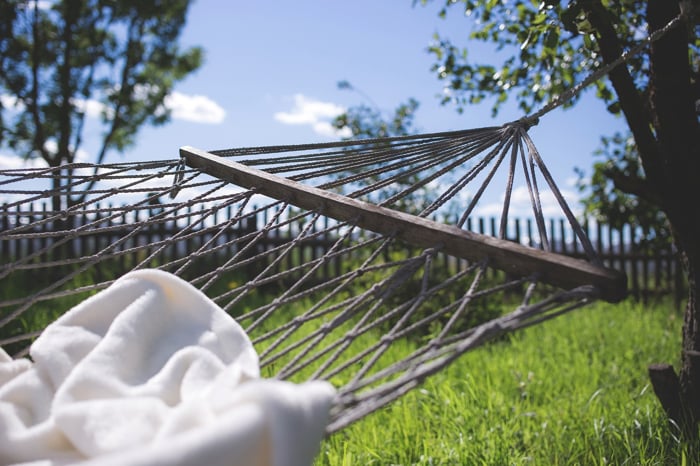 Here are 20 ways you can style your backyard hammock!
What better place to chill than your own private deck with hammock included? Especially when the house feels a little stuffy!
Some of these backyard hammock decor ideas look like they could belong at a holiday resort! While others are simpler and won't take you long to replicate!
1. Into The Woods
We love how isolated this one feels!
If your property has thick foliage like this, you can recreate this dreamy look with a simple arch, string lights, and a couple bags of gravel.
Extras could be a fire pit, one or two more chairs, potted plants, you get the idea!
2. Mediterranean
That is the vibe we're getting from this wooden hammock stand! Use different textures for the pillows and rugs, and in this case, side table too.
Throw in some snake plants, cacti, succulents, palms, etc depending on where you live and enjoy your cozy backyard retreat!
3. Private Grove
The high wooden fence and tree provide ample privacy for this backyard hammock set up. Laying down pebbles and a tidy stone pathway feels luxurious too.
Don't forget the string lights and candles for a romantic mood!
4. Corner Ivy
This is another beautiful backyard hammock setup that doesn't need a trellis or a tree. But it's the hanging ivy and string lights that really makes this effortlessly cozy!
The striped fabric of the hammock contrasts beautifully with the light wood tones and white bricks of the fence too.
5. Greenhouse Glam
Unless you live in a steamy state, this could be a viable and comfortable option in the winter. The warm colors used for the cushions and flowers around the hammock truly feel inviting!
6. Minimal Zen
Or you may prefer to have less items rolling in the hammock with you. This narrow backyard has become a peaceful corner to soak in some sunshine and greenery!
The bamboo thicket behind affords plenty of privacy!
7. Room For Four
A multi-hammock set up like this would allow you to chill with up to 3 of your close pals!
8. One Tree Hill
You clearly don't need 2 trees to hang up a hammock. In this setup, the single tree has been made the focus of this little backyard.
The difference in the ground level makes it appears even taller, as does that long rope swing which indirectly draws the viewer's eye up!
9. British Inspired
Evoke the charms of the English countryside with a set of wrought iron garden chairs and table beside a cloth hammock.
The fringed umbrella adds style and provides shade from the glare of the sun while you're trying to read! Maintain a monotonous color palette with mainly off whites, creams, and light grays.
We think this set up looks best in an open property.
10. Garden Trellis
Say that you do have a trellis in your backyard, why not use it to string a hammock? You can grow ivy or other creepers on the trellis or just leave it bare.
Or you can put up some string lights, and other hanging decorations like an empty birdcage or hanging plant!
Put a small fire pit close by for cooler nights!
11. Blend In
Use nature to inspire the color palette your backyard hammock decor. This green string hammock blends into its surroundings.
12. Contrast
Or take the opposite route and just use a contrasting color like red or orange for your hammock!
And instead of organic shapes for the stone path (as in the previous picture), you can lay rectangular slabs placed in a loose Herringbone style but at 90 degrees.
13. Back Porch
Pretend that this is a gazebo in a backyard garden and not a back porch. Putting tiles down would feel blissfully cool in sweltering summer heat.
And the minty color of the rafters plus the white support beams and fence further amplify this effect!
14. Bali Vibes
You'll need a lot of timber to pull off a Bali resort style. This wide hammock is raised over low dwarf shrubs and overlooks a lovely modern water feature with lily pads.
We would not be surprised if there is a water fountain too!
16. Simplicity
Nothing complicated here:
Just plop your hammock stand out in the center of your backyard and add some random cushions of your favorite colors and prints with careless abandon!
The main attraction here is the abundant greenery around this backyard! The branches of the willow tree seem to encircle the hammock stand too.
17. Wooden
Here's another minimal backyard hammock setup. With just a fur throw to offset the hard wooden rungs of the hammock.
There are no bold colors. Just green, and the subtle brown tones of the wood hammock and stand. Against the white walls and gray pebbles.
18. Fairytale
If Snow White had a hammock, her setup might possibly look like this.
With flowers around (not potted) and no signs of concrete. Just wooden posts for the hammock and wooden slabs for the pathway.
19. Classy In White
Those who want to have a dose of nature without worrying about critters can consider a setup like this but using glass or mesh to keep bugs away.
The stark white of the trellis against the green foliage is elegant.
And along with fluffy throw and delicate cushion covers:
The jute and hemp material (used for the hammock, plant pot cover, rug, and floor cushion) make this setup feel like it would not be out of place in a five star beach resort!
20. Rockscape
And this backyard hammock decor idea is for those who are confident in their landscaping and rock-scaping abilities!
Bonus: Tent Hammocks
If you have the space for one, a tent hammock is something the whole family can relax in!
Conclusion
Even though backyard hammocks look good on their own without anything fancy, putting in some extra effort is worth it!
And you might consequently find yourself using your hammock more than you expect!