20 Affordable Playground Design Ideas For Kids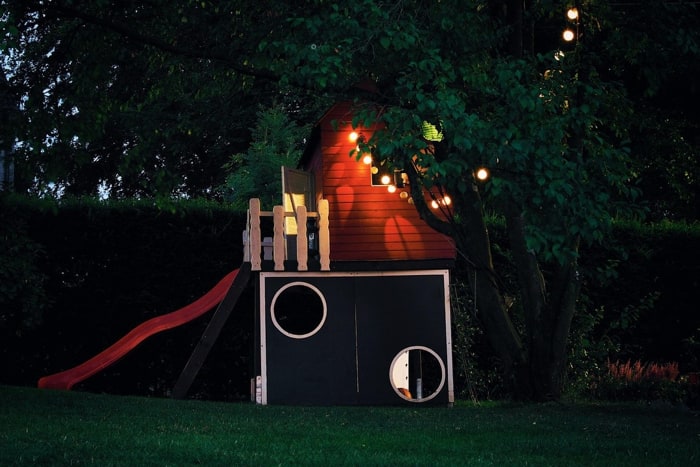 Need some affordable playground design ideas for kids?
We all know how kids will get bored with the same toys easily. Why not get them interested in the outdoors with some fun but reasonable ideas that can be done in your own backyard!
It'll keep your children entertained for an afternoon out in the sun!
1. Chalkboard
You can get a cheap chalkboard and some chalk sticks at your nearest craft supplies store and use some nails to pin it to your backyard fence.
So the kids can draw or write whatever they fancy without messing up the walls in your home!
It also stimulates their brains by giving them the opportunity to change the landscape of their play area.
2. Obstacle Course
Your backyard can serve as a personal and customized obstacle course for your kids!
Shop your own backyard for natural materials like branches, logs, or unused pipes from your garage or basement to make an American Ninja Warrior course!
Save space by paring an obstacle course with a fort or treehouse!
3. Boat Channel
Mount a gutter along your fence and create a space for your kids to float boats. So simple but it will result in fun for hours!
To reduce cost, recycled materials can be used to make your gutter and float boats can be cut out of empty bottles and cups.
You can suggest to your kids that they can add water obstacles and have a little competition to see whose boats last till the end!
4. Balancing Act
Natural playgrounds use environmental features like a log or grassy hill to encourage movement in children.
You can try something like this only which only requires some trunks (or tires) and planks of wood.
If you don't have that many materials, here's another balancing equipment that requires just 4 stumps and a single plank of wood.
Although, you will have to fix up some chains to hold up the plank.
5. Tires
Suspend old or flat tires like so with a sturdy wood frame and cords. This will serve as a fun rocking toy for young kids. 
And this one's more for the older kids:
You can also turn tires into a tunnel for your kids to crawl through or towers to climb around.
Or halve a tire and fix a plank on top. Paint it and add googly eyes for a cute ride!
6. Swings
Parents who want to create something special in their backyard for their kids can make a modern swing set from scratch by themselves.
Here are two possible designs, that including climbing ropes too.
If you already have a garden trellis, you can fix a swing to it!
Unwanted tires can also become a makeshift swing if you have a sturdy tree branch in your garden.
7. Seesaw
Make a basic seesaw with basic carpentry skills, a stump and a plank of wood for your backyard.
After you are done building your seesaw, leave it plain or make a family project out of it by painting it together with your kids!
If you don't happen to have a tree stump at your disposure, another alternative is a half tire:
8. Playhouse
Combining a playhouse and climbing frame together will create a wonderland for kids to immerse themselves in for a whole afternoon!
Based on how much space you have in your backyard, there are a variety of options to get the most bang for your buck.
Raise up the playhouse significantly and you can attach a slide, a swing set, some monkey bars, or even a climbing wall.
Get your kids to join in the building process and make it your own family DIY project.
9. Sandbox
Whether you choose to build your own from scrap wood and tarp, or buy a sand box, or use an old plastic kiddie pool:
Sandboxes are tremendous fun for kids! You just have to make sure it's securely covered when not in use!
This sandbox is shaped like a boat – complete with a sail of sorts!
10. Treehouse
If you have a mature tree in your backyard, you basically have the base for a great fort!
A waterproof sheet acts a quick roof for this simple fort:
While this treehouse requires a higher level of carpentry experience and determination!
11. Outdoor Kitchen
Do not rush to dispose of any containers, shelves, pots and pans in your kitchen:
Instead, reuse, and recycle them to create a mud kitchen for the kids in your backyard.
This one actually looks pretty functional:
12. Music Station
Look around for yard sales happening around your neighborhood and see if there are unwanted musical instruments.
Thrift shops are another good source for discarded musical instruments, bells, and toys.
When you have amassed a few different ones, you can assemble them into an outdoor music station for your kids' outdoor playscape.
PVC tubes can simulate a drum set.
13. Jungle Gym
Gather some thick logs and branches to form a makeshift jungle gym for your kids.
Use nails and rope to reinforce the bars. You can use the rope to make a climbing net.
In this inspiration photo, a swing hangs from the center of the gym.
14. Ship
With a little bit of scrap wood, wood glue, some nails, and a hammer, you can piece together a small ship for your kids to play in.
At the very least, there needs to be a steering wheel!
A pirate flag is optional:
Let your kids be part of the building process too!
And for this design, it's easy to see how you can turn the middle section into a sandbox!
15. Tent
Use shipping pallets to make a backyard hideout. Just be sure to sand down all the rough edges first!
Besides the pallets, you'll need at least 4 long sticks to form the main frame of the tent too.
Varation 1:
Variation 2:
16. Fort
With the right tools and online tutorials, you can easily make a fort that would cost half of what it would cost you to buy them.
It doesn't need to be a highly sophisticated design for kids to have fun either:
A tree with low spreading branches already forms the base and roof of a fort:
And this is another fort built around a taller tree.
You can rig up a canopy with some tarp too as in the case of this multi-tiered fort:
17. Sprinklers
Water is always a good way to spice up the fun.
There are plenty of ready-made splash pads you can get to put in your backyard.
18. Beach Fun (Water & Sand Play)
Turn an old picnic table into a beach experience for the kids! While it's much smaller than a real beach, the amount of joy it'll bring will be worth the effort!
To craft this specialized table, find 2 plastic tubs that will fit the dimensions of the table if you were to remove the center planks.
Then use some slats of wood to create a cavity in the middle of the table that the tubs can rest on.
Fill one tub with playsand and the other side with water so your kids will have the best of both worlds!
And don't throw away those center planks, you can use them to cover up the table when it is not in use!
19. Hopscotch
Paint extra tiles with numbers for your kids to play Hopscotch on. You can lay the tiles on your grass or in the sandbox!
20. Alternative Swings
For a more interactive swing set:
Drill holes at either end of similar-sized branches, sand them down, and string them up in 3s to make a ladder swing!
You'll need to hang this up on either a mature tree, your porch, or garden trellis!
Conclusion
You do not need to burn a hole in your wallet to make your backyard fun for your kids. There are a variety of options to transform your backyard into a personal playground!
Besides that, you can spend more quality time with the kids and motivate them to get outdoors more!