30+ Totally Inspiring Backyard Studio Office Decor Ideas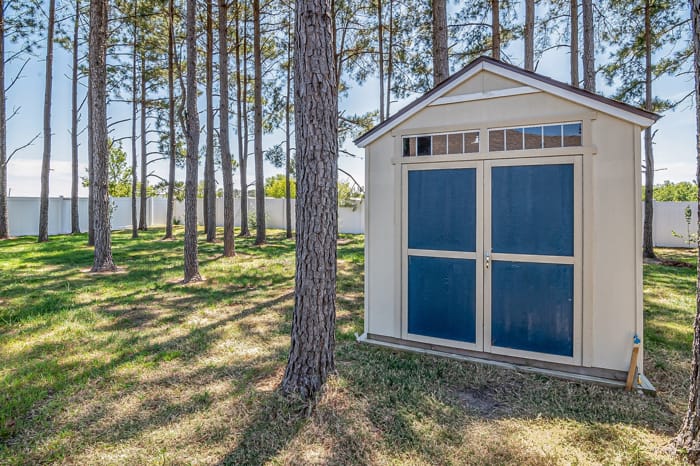 Did you know that some of the more modern sheds are designed for more than just storage? And these sheds can serve as an extra guest room too!
This way, you'll be able to work at home without any distractions. And without disturbing the rest of your household!
So get ready to make the most of your backyard with these backyard studio office ideas to inspire you!
1. Huge Doors
Windows aren't necessary when you have doors these large! Plus, you can throw them open so the shed feels less claustrophobic!
2. Full Wood Interior
Because their footprint is smaller, this is an opportunity to have that sandy wood interior you've always dreamed off!
3. Add A Porch
We can totally see ourselves lounging on those deck chairs to take a call! Or just to have a quick reset in the outdoors before heading back in!
4. Lofted
A loft is one way to maximize the vertical space in your backyard shed. Adding a skylight and floor-to-ceiling windows makes the space feel anything but cramped!
And with a hot tub in front? You'll have a 5-star guest house right in your backyard!
From the side:
5. Scandinavian
If you stay in a remote area or have really high backyard walls, you may not mind losing some privacy with a completely transparent wall on one side of your office shed!
Although guests may feel very uncomfortable with this arrangement! One-way glass or installing some blinds are possible solutions for that.
6. Prefab Chic
Prefab sheds will save you a whole lot of drama. They don't look half bad either!
Here's another smaller prefab work shed (or office pod rather):
7. Wooden Rafters
Try to imagine this shed without those gorgeous wooden beams! It wouldn't look half as cozy without them!
8. Sandbox
Cool toned on the outside, warm on the inside. This shed offers some privacy and lots of natural light at the same time!
Thanks to that generous skylight in the ceiling!
9. Maximize Storage
Go vertical to utilize the most of your office shed! Floor-to-ceiling cabinets for the back wall of this shed offer further storage!
10. All White Interior
A small space can look and feel a lot bigger with a white interior.
11. Elevated
The raised platform of this office shed serves as additional outdoor seating!
Here's another angle of the same office shed from further away:
12. Japandi
There's something so calming about this light shade of wood! Even in a narrow backyard. Keeping the garden layout minimal makes it appear less cramped too.
13. Black Accents With Wood
This is the modern take on a log cabin. With stained wood slats, vertical siding, and a black metal trim for the roof and doors!
A very elegant space for doing what you love!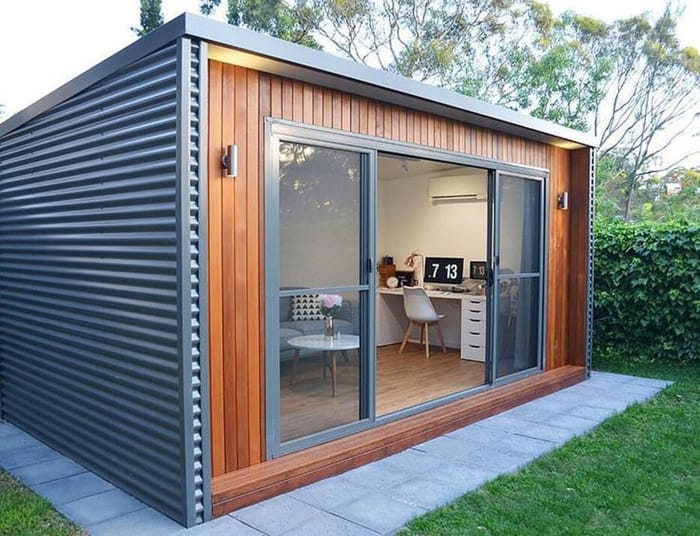 14. Tiny House
Who said the office shed had to look like a shed? If you've always wanted a cottage of your own, this is your chance!
15. Gazebo
On a similar note, why have a shed when you could make a fancy office space out of a gazebo?
If you're no longer going to use the space for your office, a swap of furniture can turn it into an outdoor patio!
16. Overgrown
For those that have green thumbs:
17. Rustic
Reclaimed material adds to the shabby chic of this office shed! White doors and windows frame the interior beautifully as well.
18. Corner Shed
If the corner of the backyard is all you can spare, these designs will do nicely!
19. Neutral Shades
Stick to a neutral palette for a discreet-looking office shed that will not take away from the highlights in your home!
20. Circular
While the shape is not practical, it's definitely eye-catching and sure to get some conversations started!
21. Cube
Don't have a lot of space in your backyard? This could serves as inspiration for a tiny office pod.
22. Industrial
Black can be a bold color choice for an office shed. Embrace it further with a full glass front and thick window frames.
In this office shed design, the black exterior stands out even more because the white interior can be seen!
23. All White Cottage
On the other hand, a white exterior can be just as appealing:
It looks good with few windows too:
24. Cheery Yellow
Play with color psychology by painting your office shed yellow. Yellow can lift up your mood and energy levels!
25. Tree-house
This backyard shed takes tree-house to a whole other level! Going to work is not as daunting when you get to work in a place that looks like it came out of a fairytale!
26. Mini Sun Room
Get all the sunshine you crave with a sun room in your workspace! The half door and weather vane are nice touches to this cottage-inspired shed too!
27. Farmstyle But Black
Everything is painted matte black for this shed. And that extends to the backyard fence and lighting fixtures!
The end result looks professional but not intimidating!
28. Folding Doors
A lot of tiny house designs feature folding doors for a reason:
They really bring the indoors outdoors!
29. Simple
A fresh coat of paint and one window might be all you need to transform an old shed to your office! You can also replace the door with one that has a window!
30. Log Cabin
Take inspiration from log cabins and you'll have yourself one comfortable-looking backyard office shed!
That provides sufficient privacy too!
31. AirStream
A vintage AirStream trailer can be renovated to become a mobile office!
Conclusion
Do these backyard studio office ideas have you looking forward to building your home office right in your backyard?